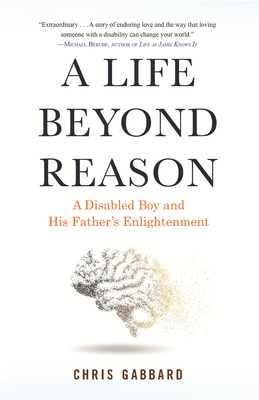 A Life Beyond Reason
A Disabled Boy and His Fathers Enlightenment
Paperback

* Individual store prices may vary.
Other Editions of This Title:
Digital Audiobook (5/27/2019)
Hardcover (5/28/2019)
Description
An unflinching and luminous memoir that explores a father's philosophical transformation when he must reconsider the questions what makes us human? and whose life is worth living?

Before becoming a father, Chris Gabbard was a fast-track academic finishing his doctoral dissertation at Stanford. A disciple of Enlightenment thinkers, he was a devotee of reason, believed in the reliability of science, and lived by the dictum that an unexamined life is not worth living. That is, until his son August was born.

Despite his faith that modern medicine would not fail him, August was born with a severe traumatic brain injury as a likely result of medical error and lived as a spastic quadriplegic who was cortically blind, profoundly cognitively impaired, and nonverbal. While Gabbard tried to uncover what went wrong during the birth and adjusted to his new role raising a child with multiple disabilities, he began to rethink his commitment to Enlightenment thinkers—who would have concluded that his son was doomed to a life of suffering. But August was a happy child who brought joy to just about everyone he met in his 14 years of life—and opened up Gabbard's capacity to love. Ultimately, he comes to understand that his son is undeniably a person deserving of life.

A Life Beyond Reason will challenge readers to reexamine their beliefs about who is deserving of humanity.
Praise For A Life Beyond Reason: A Disabled Boy and His Fathers Enlightenment…
"This is both a memoir of a child's short life and a father's journey from an academic who thought that love was a weakness to a thoughtful, questioning adult who values the capacity to give and receive love. Parents and caregivers will find plenty of inspiration in these moving, empathetic pages."
—Kirkus Reviews

"A timely exploration of medical error, a moving disability memoir, and an elegy for the blithe spirit of a much-loved child."
—Sandra M. Gilbert, coauthor of The Madwoman in the Attic

"This gorgeously eloquent memoir is . . . in the top most moving, troubling, and ultimately rewarding reading experiences I've ever had."
—Elizabeth McKenzie, author of The Portable Veblen

"Gabbard writes with wit and humility about how caring for August prompted him to reexamine his deepest assumptions about the value and purpose of human life. This book should be required reading for parents, caregivers, teachers, and doctors."
—Rachel Adams, author of Raising Henry

"A Life Beyond Reason is an extraordinary book, telling a story that needs to be told—and heard. It is a story of extreme caregiving . . . . It is also a story of enduring love, and the way that loving someone with a disability can change your world . . . . This bracingly unsentimental book is moving, illuminating, and deeply rewarding."
—Michael Bérubé, author of Life As Jaime Knows It

"Stunning."
—Terry Castle, author of The Literature of Lesbianism

"A must read."
—Lennard Davis, author of Enabling Acts

"If you have ever questioned the very foundation of your beliefs—you will want to read this book."
—Andrea Lunsford, author of The Everyday Writer

"Invites you to bask in its heartening warmth."
—Ralph James Savarese, author of Reasonable People

"Candid and unexpected."
—Mike Northen, editor of Wordgathering

"Gabbard's story of his son August's life will leave you thinking about . . . the very definition of being alive and human."
—Mark Woods, author of Lassoing the Sun

"Loving and unsentimental . . . Chris Gabbard deftly explores the fraught, overlapping territories of caregiving, parenting, disability, and medicine."
—George Estreich, author of The Shape of the Eye
Beacon Press, 9780807028384, 240pp.
Publication Date: May 26, 2020
About the Author
Chris Gabbard is an associate professor of English at the University of North Florida. He serves on the editorial board of The Journal of Literary and Cultural Disability Studies, and his writing about disability, literature, and the Enlightenment has appeared in numerous academic publications and journals. He lives with his family in Jacksonville, FL.
or
Not Currently Available for Direct Purchase