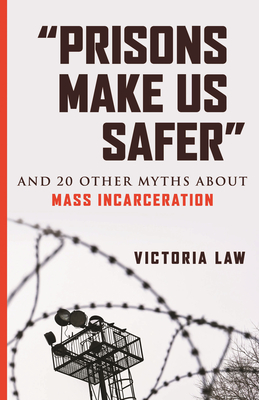 "Prisons Make Us Safer"
And 20 Other Myths about Mass Incarceration (Myths Made in America)
Paperback

* Individual store prices may vary.
Other Editions of This Title:
Compact Disc (6/1/2021)
MP3 CD (6/1/2021)
Description
An accessible guide for activists, educators, and all who are interested in understanding how the prison system oppresses communities and harms individuals.

The United States incarcerates more of its residents than any other nation. Though home to 5% of the global population, the United States has nearly 25% of the world's prisoners—a total of over 2 million people. This number continues to steadily rise. Over the past 40 years, the number of people behind bars in the United States has increased by 500%.

Journalist Victoria Law explains how racism and social control were the catalysts for mass incarceration and have continued to be its driving force: from the post-Civil War laws that states passed to imprison former slaves, to the laws passed under the "War Against Drugs" campaign that disproportionately imprison Black people. She breaks down these complicated issues into four main parts:

   1. The rise and cause of mass incarceration
   2. Myths about prison
   3. Misconceptions about incarcerated people
   4. How to end mass incarceration

Through carefully conducted research and interviews with incarcerated people, Law identifies the 21 key myths that propel and maintain mass incarceration, including:

   • The system is broken and we simply need some reforms to fix it
   • Incarceration is necessary to keep our society safe
   • Prison is an effective way to get people into drug treatment
   • Private prison corporations drive mass incarceration

"Prisons Make Us Safer" is a necessary guide for all who are interested in learning about the cause and rise of mass incarceration and how we can dismantle it.
Praise For "Prisons Make Us Safer": And 20 Other Myths about Mass Incarceration (Myths Made in America)…
"Convincing, creatively effective arguments for the dismantling of mass incarceration."
—Kirkus Reviews

"Law has offered us a very important tool. Her careful and accessible analysis, her feminist approach, and her methodical demystification of widely held views about incarceration enable precisely the kind of understanding we need at this moment."
—Angela Y. Davis, Distinguished Professor Emerita, University of California, Santa Cruz

"Law brilliantly uses facts, figures, and moving and enraging stories from incarcerated people to bring to light important and misunderstood facets of our singularly massive criminal legal system. . . . An essential book that demands attention and action."
—Piper Kerman, author of Orange Is the New Black: My Year in a Women's Prison

"In this timely, powerfully persuasive, and relevant book, Law looks at some of the most damaging myths and misconceptions about mass incarceration. This is a must-read for those interested in the truth about mass incarceration and solutions to address it."
—Talitha LeFlouria, author of Chained in Silence

"Think you haven't fallen prey to the myths around mass incarceration? Think again. . . . This is the book we need, as movements sweep across the US challenging injustices in policing and incarceration, to show us our history, analyze our current policies, and chart the way forward."
—Jeanne Theoharis, author of A More Beautiful and Terrible History
Beacon Press, 9780807029527, 240pp.
Publication Date: April 6, 2021
About the Author
Victoria Law has been researching and writing about incarceration, gender, and resistance since 2000. She is the author of Resistance Behind Bars and the coauthor of Prison By Any Other Name. Law has written about prisons and other forms of confinement for outlets including the New York Times, The Nation, Wired, and Bloomberg Businessweek. She is a cofounder of Books Through Bars–NYC and the longtime editor of the zine Tenacious: Art and Writings by Women in Prison. Connect with her at victorialaw.net or on Twitter @LVikkiml.