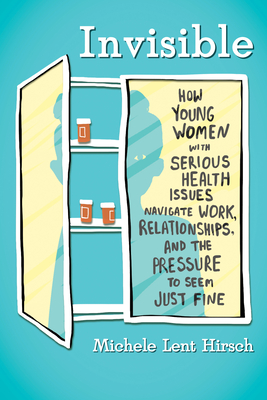 Invisible
How Young Women with Serious Health Issues Navigate Work, Relationships, and the Pressure to Seem Just Fine
Paperback

* Individual store prices may vary.
Other Editions of This Title:
Digital Audiobook (2/26/2018)
MP3 CD (3/13/2018)
Hardcover (2/27/2018)
Compact Disc (3/13/2018)
Description
Featured in The Advocate, New York Times, Literary Hub, Autostraddle, and New York magazine's The Cut

This is a vital exploration of the ways society overlooks—and fails—young women with disabilities and chronic illnesses

Miriam's doctor didn't believe she had breast cancer. She did.

Sophie navigates being the only black scientist in her lab while studying the very disease, HIV, that she hides from her coworkers.

For Victoria, coming out as a transgender woman was less difficult than coming out as bipolar.

Michele Lent Hirsch knew she couldn't be the only woman who's dealt with serious health issues at a young age, as well as the resulting effects on her career, her relationships, and her sense of self. What she found while researching Invisible was a surprisingly large and overlooked population—and now, with long COVID emerging, one that continues to grow. 

Though young women with serious illness tend to be seen as outliers, young female patients are in fact the primary demographic for many illnesses. They are also one of the most ignored groups in our medical system—a system where young women, especially women of color and trans women, are invisible.

And because of expectations about gender and age, young women with health issues must often deal with bias in their careers and personal lives. Not only do they feel pressured to seem perfect and youthful, they also find themselves amid labyrinthine obstacles in a culture that has one narrow idea of womanhood.

Lent Hirsch weaves her own experiences together with stories from other women, perspectives from sociologists on structural inequality and inequity, and insights from neuroscientists on misogyny in health research. She shows how health issues and disabilities amplify what women in general already confront: warped beauty standards, workplace sexism, worries about romantic partners, and mistrust of their own bodies. By shining a light on this hidden demographic, Lent Hirsch explores the challenges that all women face.
Praise For Invisible: How Young Women with Serious Health Issues Navigate Work, Relationships, and the Pressure to Seem Just Fine…
"An essential read for all."
—Library Journal, Starred Review

"It is an untapped, niche area for advice that Hirsch covers with relatability, grace, and empathy."
—Publishers Weekly

"A well-researched account . . . At a moment when women's experiences in the workplace have come to the fore, Hirsch's eye-opening study of gender-based disparity surrounding illness will hopefully help spawn a similar reckoning for women's health."
—Kirkus Reviews

"If you're young and have a chronic illness, chronic pain, or disability of some sort, you should definitely read this book. If you don't deal with any of those things—or know someone who does—you should absolutely read this book."
—Global Comment

"I know what it means to work really hard to conceal the pain, struggle, and heartache in one's life, to appear 'fine' just for the sake of other people. Because the reality of my life might have made others momentarily uncomfortable, I'd hide my own discomfort. It's a hard habit to break and one that women have become adept at, one that is reinforced in the way our society treats, talks about, and engages with women who are ill or struggling. Thank you, Michele, for freeing us from the burden of being fine and shining a light on all the hidden pain women have been working so hard to conceal."
—Nora McInerny, podcast host for Terrible, Thanks for Asking and author of It's Okay to Laugh
Beacon Press, 9780807029817, 240pp.
Publication Date: February 26, 2019
About the Author
Michele Lent Hirsch is a writer and editor who specializes in science, gender, and health. Her nonfiction has appeared in or on the Atlantic, the Guardian, Smithsonian, Psychology Today, and Consumer Reports, among other outlets, and her poetry in the Bellevue Literary Review and Rattle. She has taught journalism at Manhattanville College, conducted research as a writer-in-residence at the New York Public Library, and been nominated for a Pushcart Prize. A native New Yorker, she is also a member of Columbia University's Neuwrite network, a selective group of writers and scientists. She lives in Brooklyn, NY.
or
Not Currently Available for Direct Purchase