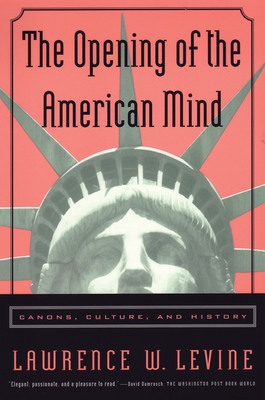 The Opening of the American Mind: Canons, Culture, and History (Paperback)
Canons, Culture, and History
Beacon Press (MA), 9780807031193, 240pp.
Publication Date: August 14, 1997
Description
Publicly greeted as the definitive answer to recent attacks on the university, Lawrence W. Levine's book is a brilliantly argued positive vision of American education and culture.
About the Author
Lawrence W. Levine is professor of history at George Mason University and Margaret Byrne Professor of History emeritus at the University of California, Berkeley. His studies of American culture include Black Culture and Black Consciousness and High-Brow/Low-Brow.
Praise For The Opening of the American Mind: Canons, Culture, and History…
Elegant, passionate, and a pleasure to read, offering a welcome historical depth. --David Damrosch, The Washington Post Book World

"Here are grounds . . . for rejoicing. . . . [Levine] confronts the conservative critics of multiculturalism with the rigorous scholarship and lucid analysis usually absent in their own work." --Martin Duberman, The Nation

"Levine . . . knows more about the history of the American college curriculum than almost anyone who has assailed it, and it turns out to be a rollicking tale of partisan strife." --Amy Schwartz, The Washington Post

"Lawrence Levine, one of our era's most original historians, offers here an acute and sensitive analysis of the state of the American academy at the end of this century. . . . An excellent, readable, and redoubtable contribution to the debate over the culture wars." --Henry Louis Gates, Jr.

"A forceful rebuttal of conservative critics who have dominated recent debate about higher education. . . . This book should be required reading for anyone interested in the culture wars." --Allan Winkler, Times Higher Education Supplement

"A book that has relevance for everyone. . . . You never feel like you're in the hands of a sloganeer or a person who is locked up in some ivory tower without a connection to contemporary life, or to your life." --Ingrid Sischy, Interview

"Raises the entire debate about American education to the level of dignity and honor it deserves. A wise and reasoned book. I hope it reaches a huge audience." --Jonathan Kozol, author of Savage Inequalities
Advertisement