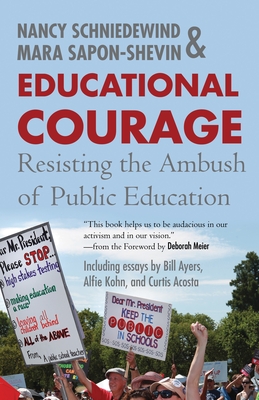 Educational Courage (Paperback)
Resisting the Ambush of Public Education
Beacon Press, 9780807032954, 240pp.
Publication Date: September 4, 2012
* Individual store prices may vary.
Description
Lost amid the debate over educational policies are the stories of the educators, parents, and students who are most affected by legislation such as No Child Left Behind and Race to the Top. In Educational Courage, veteran educators and activists Nancy Schniedewind and Mara Sapon-Shevin bring together the voices of those who are resisting market-driven initiatives such as high-stakes testing, charter schools, mayoral control, and merit pay. The diverse narrators who write in this volume confront the educational agendas that undermine teachers' judgment and knowledge, ignore the different backgrounds of students and parents, and debase the learning process. Yet these educators, parents, and activists also offer stories of resistance and hope as they fight to uphold the ideals of democratic public education.
About the Author
Nancy Schniedewind teaches in the master's program in humanistic/multicultural education at the State University of New York-New Paltz. Among her publications are Open Minds to Equality and Women: Images and Realities.

Mara Sapon-Shevin is professor of inclusive education at Syracuse University. Her publications include Because We Can Change the World and Widening the Circle.
Praise For Educational Courage: Resisting the Ambush of Public Education…
"In an age when the teachers of our nation and the public schools in which they work have been under fierce attack, these are the dynamic stories of resistance—of educators fighting back against the anti-democratic forces and benighted corporate agenda that are killing off the spirits of our children. A powerful book of intelligent defiance for which our badly battered teachers will be grateful."—Jonathan Kozol, author of The Shame of the Nation and Fire in the Ashes
 
"Educational Courage shows the disastrous consequences of current reforms, as well as the insight and fortitude of educators whose classroom teaching and community organizing are nothing short of inspiring. You will find yourself hugging this book to your heart even as you share it with all those with whom you teach and learn and live."—Kevin Kumashiro, author of Bad Teacher! How Blaming Teachers Distorts the Bigger Picture
 
"This inspirational volume documents various forms of formal and informal resistance struggles that courageously call for a reclaiming of public education as a core democratic principle of our society."—Angela Valenzuela, author of Subtractive Schooling and Leaving Children Behind

"With this earnest compilation of essays and exposés, teachers and activists Schniedewind (Open Minds to Equality) and Sapon-Shevin (Because We Can Change the World) aim impassioned, statistic-tipped arrows at the political and corporate forces responsible for endangering the American public education system, and encourage readers to learn more about these forces. Through themes of disbelief, outrage, cooperative resistance, and activism, the authors introduce firsthand accounts from educators, parents, lawmakers, and students. The book sheds new light on this "ambush of public education" and the opportunities for poor students living in at-risk school districts, seen here as direct results of dysfunctional policies and institutions (No Child Left Behind, Race to the Top, Teach for America, corporate-funded charter schools) supposedly designed to integrate a socially just system for students and teachers. Standout contributors include a master's degree candidate who had been denied her high school diploma because of a lone failing test score, and a public school teacher who, in a moment of hopelessness, accidentally became the leader of a grassroots campaign for reform. Though there's much to bemoan about the current state of public education, we also learn there's much that can be done."
—Publishers Weekly

"This book helps us to be audacious in our activism and in our vision."—from the Foreword by Deborah Meier

"Schniedewind and Sapon-Shevin knit together the stories of teachers, parents, scholars, and activists who have found imaginative ways to say no and "to act with courage and hope.""
—Rethinking Schools