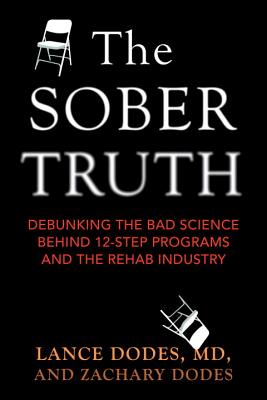 The Sober Truth
Debunking the Bad Science Behind 12-Step Programs and the Rehab Industry
Hardcover

* Individual store prices may vary.
Other Editions of This Title:
Paperback (3/17/2015)
Description
An exposé of Alcoholics Anonymous, 12-step programs, and the rehab industry—and how a failed addiction-treatment model came to dominate America.
 
AA has become so infused in our society that it is practically synonymous with addiction recovery. Yet the evidence shows that AA has only a 5–10 percent success rate—hardly better than no treatment at all. Despite this, doctors, employers, and judges regularly refer addicted people to treatment programs and rehab facilities based on the 12-step model.
 
In The Sober Truth, acclaimed addiction specialist Dr. Lance Dodes exposes the deeply flawed science that the 12-step industry has used to support its programs. Dr. Dodes analyzes dozens of studies to reveal a startling pattern of errors, misjudgments, and biases. He also pores over the research to highlight the best peer-reviewed studies available and discovers that they reach a grim consensus on the program's overall success.
 
But The Sober Truth is more than a book about addiction. It is also a book about science and how and why AA and rehab became so popular, despite the discouraging data. Dr. Dodes explores the entire story of AA's rise, from its origins in early fundamentalist religious and mystical beliefs to its present-day place of privilege in politics and media.
 
The Sober Truth includes true stories from Dr. Dodes's thirty-five years of clinical practice, as well as firsthand accounts submitted by addicts through an open invitation on the Psychology Today website. These stories vividly reveal the experience of walking the steps and attending some of the nation's most famous rehabilitation centers.
 
The Sober Truth builds a powerful response to the monopoly of the 12-step program and explodes the myth that these programs offer an acceptable or universal solution to the deeply personal problem of addiction. This book offers new and actionable information for addicts, their families, and medical providers, and lays out better ways to understand addiction for those seeking a more effective and compassionate approach to this treatable problem.
Praise For The Sober Truth: Debunking the Bad Science Behind 12-Step Programs and the Rehab Industry…
"A searing critique of the rehab industry."
—Psychotherapy Networker

"As always, Dr. Dodes offers a humane, science-based, global view of addiction. The Sober Truth is an essential, bracing critique of the rehab industry and its ideological foundations that we have much to learn from."
—Gabor Maté M.D., author of In The Realm of Hungry Ghosts: Close Encounters With Addiction

"Like Breaking Addiction and The Heart of Addiction, The Sober Truth makes an important contribution to the field by raising central questions about how treatment and self-help programs operate and whether commonly used treatments for addiction are effective. Dodes and Dodes thoughtfully and rigorously trace the history of alcohol treatment and the role of such treatment within the "rehab" setting. Perhaps most importantly, The Sober Truth examines the failure of science to provide answers to fundamental questions about addiction treatment. People struggling with addiction deserve more than science has provided, and The Sober Truth should stimulate a fundamental dialogue that can move the field forward. Finally, and not to be missed, this book also serves as a treatment guide for anyone seeking help with their own or a loved one's alcohol use."
—Howard J. Shaffer, Ph.D., Associate Professor, Harvard Medical School; Director, Division on Addiction, The Cambridge Health Alliance

"Lance Dodes and Zachary Dodes have the guts to take on clearly, perceptively, and with solid scientific grounding the nude king of American addiction treatment: AA and the 12 steps. Not only do these shibboleths yield no benefit for the mass of alcoholics and addicts in America, they leave cold—even harm—far more people than they help. Read this book!"
—Stanton Peele, Ph.D., author of Recover!

"Provocative, illuminating, persuasive, and lucid, The Sober Truth will enrage some, reassure others, but inform all. The Dodes's write beautifully (so rare in this field), and they also hold fast to common sense (also rare) while backing up their contrarian statements with utterly convincing evidence. Read this book before committing to any 12-step course of treatment, then decide for yourself."
—Edward Hallowell, M.D., author of Answers to Distraction and Superparenting for ADD
Beacon Press, 9780807033159, 192pp.
Publication Date: March 25, 2014
About the Author
Lance Dodes, MD, has been treating people with addictions for more than three decades. He is the author of The Heart of Addiction and Breaking Addiction. He is a Training and Supervising analyst emeritus with the Boston Psychoanalytic Society and Institute and recently retired assistant clinical professor of psychiatry at Harvard Medical School. He lives in Southern California.

Zachary Dodes is a freelance writer based in Southern California. He earned a BA from Yale University and an MFA from the University of Southern California.
Coverage from NPR
or
Not Currently Available for Direct Purchase