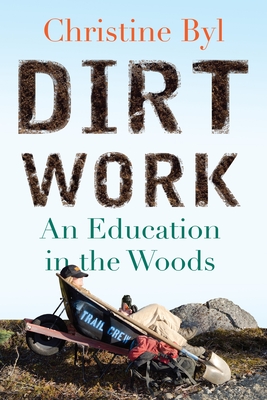 Dirt Work
An Education in the Woods
Paperback

* Individual store prices may vary.
Other Editions of This Title:
Hardcover (4/16/2013)
Description
A lively and lyrical account of one woman's unlikely apprenticeship on a national-park trail crew and what she discovers about nature, gender, and the value of hard work
 
Christine Byl first encountered the national parks the way most of us do: on vacation. But after she graduated from college, broke and ready for a new challenge, she joined a Glacier National Park trail crew as a seasonal "traildog" maintaining mountain trails for the millions of visitors Glacier draws every year. Byl first thought of the job as a paycheck, a summer diversion, a welcome break from "the real world" before going on to graduate school. She came to find out that work in the woods on a trail crew was more demanding, more rewarding—more real—than she ever imagined.
 
During her first season, Byl embraces the backbreaking difficulty of the work, learning how to clear trees, move boulders, and build stairs in the backcountry. Her first mentors are the colorful characters with whom she works—the packers, sawyers, and traildogs from all walks of life—along with the tools in her hands: axe, shovel, chainsaw, rock bar. As she invests herself deeply in new work, the mountains, rivers, animals, and weather become teachers as well. While Byl expected that her tenure at the parks would be temporary, she ends up turning this summer gig into a decades-long job, moving from Montana to Alaska, breaking expectations—including her own—that she would follow a "professional" career path.
 
Returning season after season, she eventually leads her own crews, mentoring other trail dogs along the way. In Dirt Work, Byl probes common assumptions about the division between mental and physical labor, "women's work" and "men's work," white collars and blue collars. The supposedly simple work of digging holes, dropping trees, and blasting snowdrifts in fact offers her an education of the hands and the head, as well as membership in an utterly unique subculture. Dirt Work is a contemplative but unsentimental look at the pleasures of labor, the challenges of apprenticeship, and the way a place becomes a home.
 

 
Praise For Dirt Work: An Education in the Woods…
"[It] blends beauty and crudeness, grit and grace… With language that is lyrical despite the earthiness of its subject, Byl turns the words of work into found poetry ("brake on, choke on, pull, pull, fire"), offering a bridge for readers to those "who would not speak like this themselves"—a beautiful memoir of muscle and metal." —Publishers Weekly, Starred Review

"A beguiling journey of self-discovery." —Kirkus Reviews
"Here is a love story that encompasses wild country, skillful labor, hand tools, crusty workmates, and lingo formal and foul.  As a woman, and a small one at that, the author must persuade the males on her crews that she can more than hold her own at hiking, trail-building, and swearing.  She begins by convincing the man who becomes her husband, and ends by convincing the reader.  You'll find plenty to relish here, in a narrative that's gritty, witty, and wise."  —Scott Russell Sanders, author of A Conservationist Manifesto
"Christine Byl has been summering on trail crews for more than a decade and a half. A first-rate storyteller, she details the techniques and tools, and the spirit of fellowship and feel of the woods. If you love getting into the back country, or even if you're an armchair backpacker as Iam now at age eighty, you'll love Dirt Work."  —William Kittredge, author of Hole in the Sky and The Nature of Generosity
"Every denizen of wild places from Laotse to St. Francis to Rachel Carson to black bears to field mice has depended upon trails. But rarely have we considered the people, tools, or toil that lay our favorite trails down. Dirt Work is a spectacular correction of this omission. Imbued with a tough-minded, ribald reverence for honest labor that brings to mind a female Gary Snyder or Wendell Berry (if you can imagine that!), Christine Byl does epic justice to the whole-bodied satisfactions that come of staying out in the weather, staying alert, and working one's ass off for others with love, tenacity and skill." —David James Duncan, author of The River Why and Sun House
"Byl's is not a world of groomed nature, inert tools, or nostalgic rituals, but a vibrant landscape inhabited by people and animals and layered by idea and history. She means this book as a love song, she writes, and it is, not only from her to her fellow laborers, but from the mind to the body, the hand to the tool, the human to the wild." —Sherry Simpson, author of The Accidental Explorer: Wayfinding in Alaska
"While Byl does not romanticize nature or her work, she skillfully uses poetic language, daring the reader to feel the grit, grim, and sore muscles of working ten hour shifts digging, chopping, clearing, and creating trails… Dirt Work is highly recommended for readers who love the outdoors, and especially those who have hiked in a national park or forest, and benefited from the hard work of trail crews." —Women's Adventure Magazine
"'Our work speaks for us,' Byl writes, speaking on behalf of all traildogs, who seldom brag about what they do. And it speaks volumes for this woodswoman and wordsmith." —High Country News
Beacon Press, 9780807033272, 256pp.
Publication Date: March 11, 2014
About the Author
Christine Byl lives on a few acres of tundra north of Denali National Park outside the town of Healy, Alaska, with her husband and an old sled dog. She received her MFA in fiction from the University of Alaska-Anchorage, and her stories and essays have appeared in magazines, journals, and anthologies. She owns and operates a small trail design and construction business.