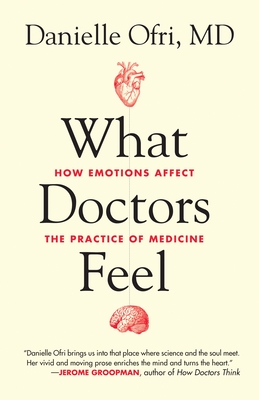 What Doctors Feel (Paperback)
How Emotions Affect the Practice of Medicine
Beacon Press, 9780807033302, 232pp.
Publication Date: May 6, 2014
Other Editions of This Title:
Hardcover (6/4/2013)
MP3 CD (7/5/2016)
* Individual store prices may vary.
Description
While much has been written about the minds and methods of the medical professionals who save our lives, precious little has been said about their emotions. inicians and patients, understanding what doctors feel can make all the difference in giving and getting the best medical care.
 
Digging deep into the lives of doctors, Dr. Danielle Ofri examines the daunting range of emotions—shame, anger, empathy, frustration, hope, pride, occasionally despair, and sometimes even love—that permeate the contemporary doctor-patient connection. Drawing on scientific studies, including some surprising research, Dr. Ofri offers up an unflinching look at the impact of emotions on health care.
 
Dr. Ofri takes us into the swirling heart of patient care, telling stories of caregivers caught up and occasionally torn down by the whirlwind life of doctoring. She admits to the humiliation of an error that nearly killed one of her patients. She mourns when a beloved patient is denied a heart transplant. She tells the riveting stories of an intern traumatized when she is forced to let a newborn die in her arms, and of a doctor whose daily glass of wine to handle the frustrations of the ER escalates into a destructive addiction. Ofri also reveals that doctors cope through gallows humor, find hope in impossible situations, and surrender to ecstatic happiness when they triumph over illness.
About the Author
Danielle Ofri, MD, PhD, is an associate professor of medicine at the New York University School of Medicine and has cared for patients at New York's Bellevue Hospital for more than two decades. Ofri's books and articles have become academic staples in medical schools, universities and residency programs. She is the editor in chief of the Bellevue Literary Review and writes regularly for the New York Times.
Praise For What Doctors Feel: How Emotions Affect the Practice of Medicine…
"Taut, vivid prose. . . . She writes for a lay audience with a practiced hand." —New York Times

" In her lucid and passionate explanations of the important role that emotions play in the practice of medicine and in healing and health, Danielle Ofri tells stories of great importance to both doctors and patients." —Perri Klass, author of Treatment Kind and Fair

"An invaluable guide for doctors and patients." —Kirkus Reviews


"Insightful and invigorating…makes the case that it's better for patients if a physician's emotional compass-needle points in a positive direction." —Booklist, starred review
A fascinating journey into the heart and mind of a physician struggling to do the best for her patients while navigating an imperfect health care system." —Boston Globe

"Ofri gives voice and color to the heartbreak, stress, and joy that attends medical practice." —Library Journal 

"A fabulous read." —Greater Good

"Essential reading in Medical HumanitiesShe weaves together personal anecdotes and medical learning in a compelling account of her medical decisions and reflections. Highly recommended."—Sara van den Berg, Professor of English, Saint Louis University

"Dr. Ofri's real-life experiences can be incorporated into a variety of health science curricula bringing course theory together with practical application. Readers gain critical insight into why applying theory in the practice of medicine requires empathy for the physicians."—Christine Whittrock, Department of Pharmaceutical Sciences, Temple University

"Part of medical education now is not only core competencies from a factual standpoint but also a social standpoint. Dr. Ofri has a way of communicating those lessons in a clear a cogent and very personal fashion."—Beth Dollinger M.D., Arnot Ogden Medical Center

"The perfect book for my teaching on the subject of lack of empathy in medical school students."—James Asa Shield, Jr., MD, Professor, Chairman, Department of Psychiatry, Virginia Commonwealth University