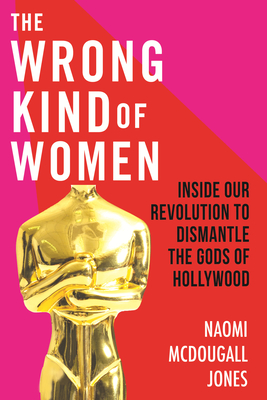 The Wrong Kind of Women
Inside Our Revolution to Dismantle the Gods of Hollywood
Hardcover

* Individual store prices may vary.
Other Editions of This Title:
Paperback (2/2/2021)
Description
A brutally honest look at the systemic exclusion of women in film—an industry with massive cultural influence—and how, in response, women are making space in cinema for their voices to be heard.

Generation after generation, women have faced the devastating reality that Hollywood is a system built to keep them out. The films created by that system influence everything from our worldviews to our brain chemistry. When women's voices are excluded from the medium, the impact on society is immense. Actor, screenwriter, and award-winning independent filmmaker Naomi McDougall Jones takes us inside the cutthroat, scandal-laden film industry, where only 5% of top studio films are directed by women and less than 20% of leading characters in mainstream films are female. Jones calls on all of us to act radically to build a different kind of future for cinema—not only for the women being actively hurt inside the industry but for those outside it, whose lives, purchasing decisions, and sense of selves are shaped by the stories told.

Informed by the journey of her own career; by interviews with others throughout the film industry; and by cold, hard data, Jones deconstructs the casual, commonplace sexism rampant in Hollywood that has kept women out of key roles for decades. Next, she shows us the growing women-driven revolution in filmmaking—sparked by streaming services, crumbling distribution models, direct-to-audience access via innovative online platforms, and outside advocacy groups—which has enabled women to build careers outside the traditional studio system. Finally, she makes a business case for financing and producing films by female filmmakers.
Praise For The Wrong Kind of Women: Inside Our Revolution to Dismantle the Gods of Hollywood…
"Drawing on more than 100 hours of interviews and abundant studies and news articles, actress, writer, and producer Jones makes her book debut with a spirited critique of the film industry's treatment of women at all levels . . . . Jones offers concrete suggestions for change within and outside of the industry, including by filmgoers who should 'vote with your dollars.' A bold, convincing call for new voices and perspectives in cinema."
—Kirkus Reviews

"Debuts with a timely look at how women are undervalued in Hollywood, on and off the screen. . . . Film viewing will never be the same after reading Jones's insightful look at the reality of being female in Tinseltown."
—Publishers Weekly

"An intriguing read about how influence works in the film industry, for people in it; also relevant for the way it spun conversations around #MeToo."
—Library Journal

"Writer and producer Jones draws on data, personal experience, and interviews with industry professionals to reveal the systemic sexism that continues to shut women out of film. . . . But while Jones is clear-eyed about the problems women face in film, she is also optimistic about the future, identifying strategies to create more inclusive movies and highlighting the work of those endeavoring to change the industry. Well written, passionate, and occasionally shocking, this urgent and necessary book will appeal to film buffs and feminists alike."
—Booklist

"We need truth. The curtain must be pulled back, and Naomi McDougall Jones has done just that."
—Rose McGowan, director and author of Brave

"Over the last several years, the true nature of Hollywood has been revealed. Naomi McDougall Jones adds to the discourse and shines a stark and brutal light on the patriarchal and racist systems that women experience in all facets of the Hollywood system. The Wrong Kind of Women is a call to arms for both men and women who desire the industry to be more equitable and inclusive."
—Melissa Silverstein, founder and publisher, Women and Hollywood

"A stunning eye-opener . . . . Naomi's extensive research is extraordinary, and her charming, sly, and witty voice invites us to understand the problem while still enjoying the process and imagining solutions. The Wrong Kind of Women is a must-read textbook for every introductory film class. Moreover, it's a superb resource for anyone interested in issues of gender equality in American media."
—Jan Eliasberg, veteran film and television director and writer

"The Wrong Kind of Women is a unique and refreshing combination of honest memoir, incisive journalism, and farsighted prescription for the sexist practices that have hurt not only Hollywood but society in general."
—Jack Lechner, former studio executive, producer of Blue Valentine and The Fog of War
Beacon Press, 9780807033456, 272pp.
Publication Date: February 4, 2020
About the Author
Naomi McDougall Jones is an award-winning actress, writer, and producer. Her TED Talk, "What It's Like to Be a Woman in Hollywood," ignited a global outpouring of support for the women in film movement. Naomi has written, produced, and acted in two award-winning independent feature films, Imagine I'm Beautiful (2014) and Bite Me (2019). Connect with her at naomimcdougalljones.com and on Twitter (@NaomiMcDougallJ).
or
Not Currently Available for Direct Purchase