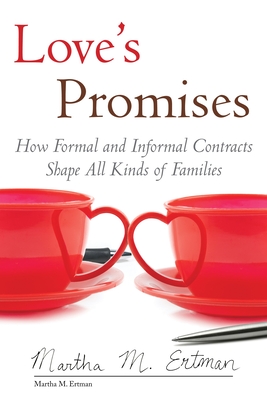 Love's Promises
How Formal and Informal Contracts Shape All Kinds of Families (Queer Ideas/Queer Action)
Hardcover

* Individual store prices may vary.
Other Editions of This Title:
Paperback (5/24/2016)
Description
Blends memoir and legal cases to show how contracts can create family relationships
 
Most people think of love and contracts as strange bedfellows, or even opposites. In Love's Promises, however, law professor Martha Ertman shows that far from cold and calculating, contracts shape and sustain families. 

Blending memoir and law, Ertman delves into the legal cases, anecdotes, and history of family law to show that love comes in different packages, each shaped by different contracts and mini-contracts she calls "deals." Family law should and often does recognize that variety because legal rules, like relationships, aren't one size fits all. The most common form of family—which Ertman calls "Plan A"—come into being through different kinds of agreements than the more uncommon families that she dubs "Plan B." Recognizing the contractual core of all families shows that Plan B is neither unnatural nor unworthy of legal recognition, just different.

After telling her own moving and often irreverent story about becoming part of a Plan B family of two moms and a dad raising a child, Ertman shows that all kinds of people—straight and gay, married and single, related by adoption or by genetics—use contracts to shape their relationships. As couples navigate marriage, reproductive technologies, adoption, and cohabitation, they encounter contracts. Sometimes hidden and other times openly acknowledged, these contracts ensure that the people they think of as "family" are legally recognized as family in the eyes of the law.  

Family exchanges can be substantial, like vows of fidelity, or small, like "I cook and you clean." But regardless of scope, the agreements shape the emotional, social, and financial terrain of family relationships. Seeing the instrumental role contracts will help readers better understand how contracts and deals work in their own families as well as those around them. 

Both insightful and paradigm-shifting, Love's Promises lets readers in on the power of contracts and deals to support love in its many forms and to honor the different ways that our nearest and dearest contribute to our daily lives.
Praise For Love's Promises: How Formal and Informal Contracts Shape All Kinds of Families (Queer Ideas/Queer Action)…
"Ertman's book will help lawyers, policymakers, and families better navigate the current landscape—and offers a vital reminder that we're all on the same map."
—Dana Rudolph, Women's Review of Books

"At a time of dramatic transformations in Americans' family lives, Love's Promises offers unique insights into how to manage diverse intimate arrangements. Blending vivid personal memoir with legal analysis, Ertman makes a compelling case for why, when, and how contracts can enhance loving relationships. A pioneering book that should be read by all those concerned with current and future families."
—Viviana A. Zelizer, Lloyd Cotsen '50 Professor of Sociology at Princeton University, and author of The Purchase of Intimacy and Economic Lives

"Love's Promises is a skillful melding of law and intimate relationships. Increasingly these interrelationships exist outside of marriage, in part because of the reluctance of our state governments to extend the legal protections of marriage to the unconventional relationships that have become so common. Ertman shows that private contracts can go far to substitute for formal marriage, because judges are far more willing, in the name of free choice, to give private contractual arrangements the stamp of legality than legislatures are to update their marriage codes." 
—Judge Richard A. Posner, U.S. Court of Appeals for the 7th Circuit and author of Sex and Reason

"Love's Promises is the North Star for 'Plan B' parenting. In sharing her experiences as a mother, and expertise as a lawyer, Ertman charts a course to parenthood protected by the letter and the loving care of the law."
—The Reverend Dr. Susan Newman Moore, pastor, counselor, and author

"Readers will delight in basking in the company of  Ertman's utterly original, provocative mind, work, and self."
—Judith Stacey, Professor Emerita of Social and Cultural Analysis and Sociology at New York University, author of Unhitched and In the Name of the Family

"A unique and refreshing take on age-old topics of law, love, and intimacy. Nobody with a family will want to miss this."
—Jennifer Levi, Transgender Rights Project Director, GLAD

"Anybody practicing or teaching in the fields of family law and contracts could benefit greatly by reading and thinking about Love's Promises."
—Art Leonard, New York Law School

"Makes families' challenging circumstances much easier by giving us language and a way to organize our complex lives. Love's Promises fuses the personal and political to protect ourselves and those we love."
—Kate Kendell, Executive Director, National Center for Lesbian Rights
Beacon Press, 9780807033661, 280pp.
Publication Date: May 26, 2015
About the Author
Martha Ertman is a law professor at the University of Maryland Carey Law School and has taught, written, and spoken about contracts and family law for two decades. She edited Rethinking Commodification: Cases and Readings in Law and Culture and lives in Washington, DC, with her family.
or
Not Currently Available for Direct Purchase