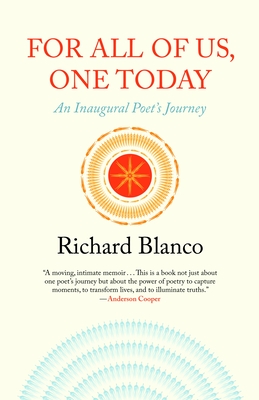 For All of Us, One Today
An Inaugural Poet's Journey
Paperback

* Individual store prices may vary.
Description
For All of Us, One Today is a fluid, poetic story anchored by Richard Blanco's experiences as the inaugural poet in 2013, and beyond. In this brief and evocative narrative, he shares for the first time his journey as a Latino immigrant and openly gay man discovering a new, emotional understanding of what it means to be an American. He tells the story of the call from the White House committee and all the exhilaration and upheaval of the days that followed. He reveals the inspiration and challenges behind the creation of the inaugural poem, "One Today," as well as two other poems commissioned for the occasion ("Mother Country" and "What We Know of Country"), published here for the first time ever, alongside translations of all three of those poems into his native Spanish. Finally, Blanco reflects on his life-changing role as a public voice since the inauguration, his spiritual embrace of Americans everywhere, and his vision for poetry's new role in our nation's consciousness. Like the inaugural poem itself, For All of Us, One Today speaks to what makes this country and its people great, marking a historic moment of hope and promise in our evolving American landscape.

In 2017, U2 is featuring "One Today" during their Joshua Tree tour throughout the United States and Europe. The poem will be projected on the stage screens as people enter the stadium to reflect and discuss America and the American experience. 

2014 International Latino Awards Winner: Best Biography – Spanish or Bilingual
Praise For For All of Us, One Today: An Inaugural Poet's Journey…
"This is a beautifully made record of an important moment in poetry."
—Booklist

"In this charming and engrossing book, Richard Blanco traces his personal and literary development that led to his appointment as the inaugural poet. The high drama here is the backstage look into the pressure and process of writing the poem itself and the thrill of reading it to the world."
—Billy Collins

"In this moving, intimate memoir Richard Blanco reveals how a poet works—where the words he uses, the images he creates, come from. This is a book not just about one poet's journey, but about the power of poetry to capture moments, to transform lives, and to illuminate truths."
—Anderson Cooper

"Blanco showed great courage…and it's courage that is the most important of all virtues because without courage, you can't practice any other virtue consistently."
—Dr. Maya Angeleou

"In a testament to the beauty of the American spirit, Richard Blanco recounts his inspiring journey—from the traditions of his childhood to the magic of an historic presidential inauguration. Through the lens of this one man's amazing personal journey, we are transfixed by another uniquely American story."
—House Leader Nancy Pelosi

"Richard's story is at once deeply personal and uniquely, universally American. The specifics of our lives may not be the same, but we all share a relationship with a country that is an ongoing work in progress, and as Richard elegantly reveals through his experiences, what we do defines that work for those who follow. America shapes the people within her, and in return we shape America. This is a portrait of a nation and its people, each working to make the other better."
—Anthony D. Romero, executive director of the American Civil Liberties Union

"With an engineer's eye for design and a poet's ear for truth, Richard Blanco tells the fascinating story of one poem's journey from a kitchen table in a small-town Maine to the grand stage of a president's inauguration. Blanco's memoir is a powerful reminder that we all pursue our diverse dreams and aspirations under one sky, sharing 'One Today.'"
—Senator Susan Collins (R-Maine)

"'Every story begins inside a story that's already begun by others,' Inaugural Poet Richard Blanco tells us, and in this lovely, layered memoir he brings us into his story and makes it ours. We are there with Richard as his family comes to America, as his partner Mark prepares him to voice his images and words, and as his Inaugural poem celebrates the us that make the country and the day and the hope. Blanco writes of America, family, and, through all, love, and it is the beautiful story of all of us that day and every today."
—Evan Wolfson, founder and president of Freedom to Marry

"This is the story of a poem. But it is our story too. The inaugural poet, Richard Blanco, shows us how 'to love a country as if you've lost one.' This is a wonderful, wise and incredibly personal book. There is something unique and deeply profound when someone like Richard, born in Cuba, writes about his love—our love—for America. Richard Blanco's journey is America's journey. This great book—a must read—allows us to see this country in a completely new and exciting way."
—Jorge Ramos, anchor for Noticiero Univision and host of Al Punto

"Richard Blanco's memoir is breathtaking; a new paradigm of the American dream. Blanco constructs a moving manifesto in support of human rights and humanity writ large. For All of Us, One Today is a societal call-to-action for the soul and spirit. I repeat: breathtaking."
—Timothy Gunn, Project Runway

"As one of only five poets in U.S. history to have presented a poem at a Presidential Inauguration, Richard Blanco has rare insight into poetry's power to create a vision for the future and engage a contemporary American audience. The process of writing and then delivering one of the most important occasional poems in our history led Blanco to a new understanding of himself and our country, and gave him 'hope for poetry in America.' May poets, teachers, and readers heed Blanco's call for more poetry in our nation's classrooms and for poetry's greater presence on the American cultural landscape."
—Jennifer Benka, American Academy of Poets

"With grace and humility, Richard Blanco tells a captivating story about being chosen to become the poet at President Obama's inauguration. It's an honor that changed his life and made all of us in Maine intensely proud. The beauty and eloquence of Richard's poems together with his inspiring story make this a very special book."
—Congresswoman Chellie Pingree (D-Maine)
Beacon Press, 9780807033807, 120pp.
Publication Date: November 19, 2013
About the Author
Selected by President Obama to be the fifth inaugural poet in history, Richard Blanco joined the ranks of such luminary poets as Robert Frost, Maya Angelou, Miller Williams, and Elizabeth Alexander. Standing as the youngest, first Latino, first immigrant, and first openly gay person to serve in such a role, he read his inaugural poem, "One Today," as an honorary participant in the official ceremony on January 21, 2013. Blanco was made in Cuba, assembled in Spain, and imported to the United States, meaning that his mother, seven months pregnant, and the rest of the family arrived as exiles from Cuba to Madrid, where he was born. Only forty-five days later the family emigrated once more and settled in Miami, where Blanco was raised and educated. The negotiation of cultural identity and universal themes of place and belonging characterize his three collections of poetry, which include City of a Hundred Fires (awarded the Agnes Starrett Poetry Prize from the University of Pittsburgh Press), Directions to the Beach of the Dead (recipient of the Beyond Margins Award from the PEN American Center), and Looking for The Gulf Motel (winner of the Patterson Poetry Prize, a Maine Literary Poetry Award, and the Thom Gunn Award). His poems have also appeared in the Best American Poetry, and Great American Prose Poems series, and he has been featured on CBS Sunday Morning, and National Public Radio's All Things Considered and Fresh Air, as well as major U.S. and international media, including CNN, Telemundo, AC360, the BBC, Univision, and PBS. Blanco is a fellow of the Bread Loaf Writers Conference, recipient of two Florida Artist Fellowships, and a Woodrow Wilson Visiting Fellow. A builder of cities as well as poems, he is also a professional civil engineer currently living in Bethel, Maine.