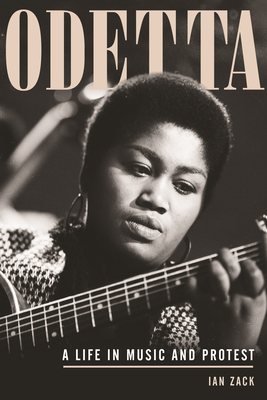 Odetta
A Life in Music and Protest
Hardcover

* Individual store prices may vary.
Other Editions of This Title:
Digital Audiobook (5/11/2020)
MP3 CD (5/19/2020)
Paperback (4/13/2021)
Compact Disc (5/19/2020)
Description
An AudioFile Best Audiobook of 2020

The first in-depth biography of the legendary singer and "Voice of the Civil Rights Movement," who combatted racism and prejudice through her music.

Odetta channeled her anger and despair into some of the most powerful folk music the world has ever heard. Through her lyrics and iconic persona, Odetta made lasting political, social, and cultural change.

A leader of the 1960s folk revival, Odetta is one of the most important singers of the last hundred years. Her music has influenced a huge number of artists over many decades, including Bob Dylan, Janis Joplin, the Kinks, Jewel, and, more recently, Rhiannon Giddens and Miley Cyrus.

But Odetta's importance extends far beyond music. Journalist Ian Zack follows Odetta from her beginnings in deeply segregated Birmingham, Alabama, to stardom in San Francisco and New York. Odetta used her fame to bring attention to the civil rights movement, working alongside Joan Baez, Harry Belafonte, and other artists. Her opera-trained voice echoed at the 1963 March on Washington and the Selma to Montgomery march, and she arranged a tour throughout the deeply segregated South. Her "Freedom Trilogy" songs became rallying cries for protesters everywhere.

Through interviews with Joan Baez, Harry Belafonte, Judy Collins, Carly Simon, and many others, Zack brings Odetta back into the spotlight, reminding the world of the folk music that powered the civil rights movement and continues to influence generations of musicians today.

Listen to the author's top five Odetta hits while you read:

1. Spiritual Trilogy (Oh Freedom/Come and Go with Me/I'm On My Way)
2. I've Been Driving on Bald Mountain/Water Boy
3. Take This Hammer
4. The Gallows Pole
5. Muleskinner Blues

Access the playlist here: https://spoti.fi/3c2HnF4
Praise For Odetta: A Life in Music and Protest…
"A thoughtful portrait of an artist who never quite became as famous as she deserved to be . . . A much needed biography of a crucial American artist and activist."
—Booklist, Starred Review

"Fascinating . . . . Odetta fans will delight in this timely biography."
—Publishers Weekly, Starred Review

"Those unaware of her work will be compelled to learn more. An illuminating, stirring biography of the extraordinary 'Queen of American Folk.'"
—Library Journal, Starred Review

"Zack . . . is convincing in his argument that Odetta Holmes has been underappreciated for too long . . . . An effective biography that demonstrates Odetta's wide, deep legacy."
—Kirkus Reviews

"A solid work of reportage and writing . . . there are many excellent details in Zack's biography."
—The New York Times

"Odetta's charisma is a touchstone in Mr. Zack's engaging, revelatory chronicle . . . . Mr. Zack offers a much-needed corrective, restoring Odetta's place as a performer who breathed new life into traditional American song. She regarded music and social protest as intertwined. By merging the two, she channeled her own pent-up rage at prejudice and injustice into a universal message of hard-won hope and reconciliation."
—Wall Street Journal

"Both Zack and Belafonte had it right: Odetta's effect on folk music and Black culture is immeasurable and deserves much attention."
—Chicago Review of Books

"Odetta's life story takes on huge significance and scale in Zack's book, as he explains how the winds of American history buffeted her talent like a tree flexing in the wind. Biographies can help us to conceptualize the slippery phenomenon we call being alive, especially as it relates to the passing of time. Is life made out of instants, like lightning flashing on a face in a storm, or is it some mystical force which flows across time, bigger than any one person? Odetta brims with the life of its forgotten subject, showing us that we have a lot of cultural history to re-learn, and many losses yet to mourn."
—The New Republic

"There is a celebration of Odetta's life and legacy to be enjoyed, recalled—or discovered—in her 25 albums and this wonderful biography."
—San Francisco Classical Voice

"An inherently fascinating and thought-provoking biography."
—Midwest Book Review

"Ian Zack has captured her essence in an authoritative biography of the singer, guitarist, lyricist, actor, civil-rights activist, and cultural icon."
—Acoustic Guitar

"Ian Zack's inspiring biography [reminds] readers of her place in the pantheon."
—MOJO Magazine

"Odetta deserved better during her lifetime, but this biography moves toward properly cementing her legacy."
—Downbeat

"This book is so interesting and well written that it might make many readers feel nostalgic for the good old days they never grew up in . . . . To have a better understanding of our nation's rich cultural and musical heritage, of what came before the present and why the Times They are a Changin' is the benefit of reading a good book like this."
—The Mercury (Kansas)

"An absorbing portrait of a seminal artist. Odetta was my Queen."
—Joan Baez, musician and activist

"Deeply respectful but not naïvely uncritical, this is a well-researched and beautifully read portrait of an artist whose life deserves to be more widely known."
—AudioFile Magazine

"Ian Zack has captured the essence of one of music's most legendary icons. Odetta is a definitive and revelatory biography, truly worthy of the queen herself."
—Ronald D. Cohen, coauthor of Roots of the Revival and Folk City

Praise for Ian Zack's Say No to the Devil: The Life and Musical Genius of Rev. Gary Davis

"[A] magisterial biography . . . Half saint, half sinner, all singer-songwriter . . . the Rev. Gary Davis is that blind man you brushed by on your way to the stadium to see the big act perform. Zack's brilliant account compels us to pause for a long look at an artist who was always there, even if we didn't see him."
—The Wall Street Journal

"Long time comin' and here at last! This fabulous book is for those who want to read, hear, and troll the depths of Americana music for incredible artists. Once you come across Rev. Gary Davis, you are forever hooked by his creative brilliance. From his earliest recordings to his last, Zack illuminates what made 'the Rev' so unique. Enjoy yourself! It's a good un'!"
—Taj Mahal
Beacon Press, 9780807035320, 288pp.
Publication Date: April 14, 2020
About the Author
Ian Zack has been a writer and editor for two decades. His writing has appeared in the New York Times, Forbes, and Acoustic Guitar. Zack's award-winning first book, Say No to the Devil: The Life & Musical Genius of Rev. Gary Davis, was called "magisterial" by the Wall Street Journal.
or
Not Currently Available for Direct Purchase