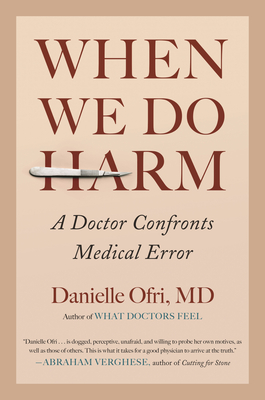 When We Do Harm
A Doctor Confronts Medical Error
Hardcover

* Individual store prices may vary.
Other Editions of This Title:
Paperback (9/21/2021)
Description
Medical mistakes are more pervasive than we think. How can we improve outcomes? An acclaimed MD's rich stories and research explore patient safety.

Patients enter the medical system with faith that they will receive the best care possible, so when things go wrong, it's a profound and painful breach. Medical science has made enormous strides in decreasing mortality and suffering, but there's no doubt that treatment can also cause harm, a significant portion of which is preventable. In When We Do Harm, practicing physician and acclaimed author Danielle Ofri places the issues of medical error and patient safety front and center in our national healthcare conversation.

Drawing on current research, professional experience, and extensive interviews with nurses, physicians, administrators, researchers, patients, and families, Dr. Ofri explores the diagnostic, systemic, and cognitive causes of medical error. She advocates for strategic use of concrete safety interventions such as checklists and improvements to the electronic medical record, but focuses on the full-scale cultural and cognitive shifts required to make a meaningful dent in medical error. Woven throughout the book are the powerfully human stories that Dr. Ofri is renowned for. The errors she dissects range from the hardly noticeable missteps to the harrowing medical cataclysms.

While our healthcare system is—and always will be—imperfect, Dr. Ofri argues that it is possible to minimize preventable harms, and that this should be the galvanizing issue of current medical discourse.
Praise For When We Do Harm: A Doctor Confronts Medical Error…
"What makes this book special is Ofri's perceptive and compassionate nature; she sees her own patients as real people and is candid with readers about her concerns and vulnerabilities. . . . Thorough analysis of a challenging problem executed with a personal touch that makes it highly readable."
—Kirkus Reviews, starred review

"An essential read for anyone involved or interested in the care of patients."
—Booklist

"Anyone familiar with Dr. Danielle Ofri's books or blogs knows that she is in the company of other physician writers who share a deep commitment to ensuring that humanity is always at the heart of healthcare. Her readers know, too, that she is a skilled and compassionate healthcare provider."
—New York Journal of Books

"This book is a must read for anyone entering a hospital as a patient, and for family members and patient advocates. Doctors, nurses, and hospital administrators will also benefit. It should be required reading in nursing and medical schools."
—Medium

"One of the leading physician-authors of our time, Danielle Ofri masterfully diagnoses the reasons for our pervasive problem of medical errors. Beyond a systematic dissection that every patient can understand, she provides solutions for how to get healthcare on track."
—Professor Eric Topol, author of Deep Medicine

Praise for Dr. Danielle Ofri

"The world of patient and doctor exists in a special sacred space. Danielle Ofri brings us into that place where science and the soul meet. Her vivid and moving prose enriches the mind and turns the heart."
—Jerome Groopman, author of How Doctors Think

"Danielle Ofri is a finely gifted writer, a born storyteller as well as a born physician."
—Oliver Sacks, author of Awakenings

"With the meticulous care of Oliver Sacks and the deep humanism of Atul Gawande, Danielle Ofri . . . presents compelling evidence that even as doctoring appears to be dominated by technology, the human, affective relationship is at the very center of responsible practice."
—Andrew Solomon, author of Far from the Tree

"[Ofri offers] taut, vivid prose. . . . She writes for a lay audience with a practiced hand."
—Katie Hafner, New York Times

"Ofri adroitly balances presentation of her own experiences and those of others. . . . Her voice is one that deserves to be heard and listened to carefully, as what she describes carries great significance for all of us within the health care system, patients and healers alike."
—Dennis Rosen, The Boston Globe

"Danielle Ofri has so much to say about the remarkable intimacies between doctor and patient, about the bonds and the barriers, and above all about how doctors come to understand their powers and their limitations."
—Perri Klass, MD, author of A Not Entirely Benign Procedure
Beacon Press, 9780807037881, 304pp.
Publication Date: March 23, 2020
About the Author
Danielle Ofri, MD, PhD, is a clinical professor of medicine at the New York University School of Medicine and has cared for patients at New York's Bellevue Hospital for more than two decades. She is the author of several acclaimed books, including When We Do Harm; What Patients Say, What Doctors Hear; What Doctors Feel; and Singular Intimacies. Dr. Ofri is a regular contributor to the New York Times as well as to the New England Journal of Medicine and the Lancet. Her writings can be found at danielleofri.com and on Twitter (@danielleofri). She lives in New York City.
or
Not Currently Available for Direct Purchase