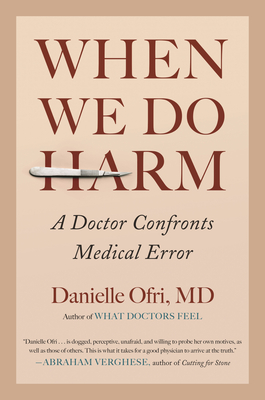 When We Do Harm (Hardcover)
A Doctor Confronts Medical Error
Beacon Press, 9780807037881, 240pp.
Publication Date: April 21, 2020
* Individual store prices may vary.
Description
Studies claim medical mistakes could be the third leading cause of death in the US. Is it a new epidemic? How do we fight it? An acclaimed MD's rich stories and research explores patient safety.

Practicing physician and acclaimed author Danielle Ofri investigates how medical error could be killing 10% of patients and causing 33% of hospital deaths. Although staggering success has been the dominant theme in medicine for centuries, that narrative leaves no space for discussion around the potential adverse outcomes of medical treatment. Through research and interviews with physicians, nurses, administrators, and many patients, Dr. Ofri explores the causes of medical error, and points to the changes needed to reduce risk of negative outcomes--including death. She advocates for changes as small (and proven) as checklists and as large as full-scale culture shifts in the relationship between medical staff and their patients. Woven through the book is the particularly harrowing tale of one patient, Jay, whose experience with a seemingly innocuous mistake likely cost him his life. These stories force us to reconsider what happens when the medical system does us harm.
About the Author
Danielle Ofri, MD, PhD, is an associate professor of medicine at the New York University School of Medicine and has cared for patients at New York's Bellevue Hospital for more than two decades. She is the author of several acclaimed books, including What Patients Say, What Doctors Hear; What Doctors Feel; and Singular Intimacies. Dr. Ofri is a regular contributor to the New York Times' Well blog and Op-Ed page, as well as to the New England Journal of Medicine and Lancet. She lives in New York City. Connect with her at danielleofri.com and on Twitter (@danielleofri).