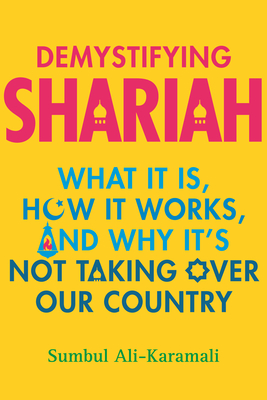 Demystifying Shariah
What It Is, How It Works, and Why It's Not Taking Over Our Country
Hardcover

* Individual store prices may vary.
Other Editions of This Title:
Digital Audiobook (8/10/2020)
Paperback (5/11/2021)
MP3 CD (5/12/2020)
Compact Disc (5/12/2020)
Description
A direct counterpoint to fear mongering headlines about shariah law—a Muslim American legal expert tells the real story, eliminating stereotypes and assumptions with compassion, irony, and humor

Through scare tactics and deliberate misinformation campaigns, anti-Muslim propagandists insist wrongly that shariah is a draconian and oppressive Islamic law that all Muslims must abide by. They circulate horror stories, encouraging Americans to fear the "takeover of shariah" law in America and even mounting "anti-shariah protests" . . . . with zero evidence that shariah has taken over any part of our country. (That's because it hasn't.) It would be almost funny if it weren't so terrifyingly wrong—as puzzling as if Americans suddenly began protesting the Martian occupation of Earth.

Demystifying Shariah explains that shariah is not one set of punitive rules or even law the way we think of law—rigid and enforceable—but religious rules and recommendations that provide Muslims with guidance in various aspects of life. Sumbul Ali-Karamali draws on scholarship and her degree in Islamic law to explain shariah in an accessible, engaging narrative style—its various meanings, how it developed, and how the shariah-based legal system operated for over a thousand years. She explains what shariah means not only in the abstract but in the daily lives of Muslims. She discusses modern calls for shariah, what they mean, and whether shariah is the law of the land anywhere in the world. She also describes the key lies and misunderstandings about shariah circulating in our public discourse, and why so many of them are nonsensical.

This engaging guide is intended to introduce you to the basic principles, goals, and general development of shariah and to answer questions like: How do Muslims engage with shariah? What does shariah have to do with our Constitution? What does shariah have to do with the way the world looks like today? And why do we all—Muslims or not—need to care?
Praise For Demystifying Shariah: What It Is, How It Works, and Why It's Not Taking Over Our Country…
"Taking something as complex as the Sharia and exploring it succinctly, lucidly, and without oversimplification is where this book excels. Well-suited—and highly recommended—for general readers (both Muslim and non-Muslim) with an interest in Sharia."
—Booklist, Starred Review

"With clarity and wit, [Ali-Karamali] describes shariah's origins, central texts, methodologies, and schools of thought, exploring something that was never a code of law, but rather a system of interpretation designed to evolve and be flexible . . . This is a remarkably nuanced and thought-provoking history."
—Publishers Weekly, Starred Review

"Highly recommended for readers interested in learning more about Sharia and Muslim American communities."
—Library Journal, Starred Review

"Refreshingly, she shies away from giving a simple definition, instead characterizing Shariah as a broad and in some ways all-encompassing system of Islamic wisdom . . . Ali-Karamali's explanation of Shariah is a useful counter to the perceptions of many in the West . . . Her book is significant in a time of continued misconceptions about Islam."
—Kirkus Reviews

"An engaging, elegant, and accessible book on a subject everyone needs to understand. With clarity, compassion, and even humor, Sumbul Ali-Karamali explains shariah in a relatable narrative format, far from abstract, and guaranteed to resonate with those interested in separating the truth about shariah from all the myths and tall tales circulating in the public discourse."
—Reza Aslan, best-selling author of Zealot

"An extraordinary, much-needed book and a great read. It tackles a controversial and misunderstood topic: shariah and its role in Muslim life. Critically, Demystifying Shariah is based on the author's expertise in shariah and Islamic law, as well as much of the best scholarship available today. But Ali-Karamali's genius is her ability to tackle a controversial subject and explain it in a clear and engaging style, making the book a pleasure to read not only by policymakers and media but also an educated general public."
—John L. Esposito, professor of religion and international affairs, Georgetown University, and author of The Future of Islam

"Sumbul Ali-Karamali is able to speak to both Muslims and others about Islam with clarity and expertise. Shariah has been demonized in the United States for nakedly political purposes in a way that Roman Catholic canon law was in the nineteenth century, and in the way that halakhah or Jewish law has been by modern anti-Semites. Ali-Karamali expertly clears away the ideological cobwebs and lays out the facts about shariah and Muslim practice, and manages to make it all a page-turner."
—Juan Cole, professor of history, University of Michigan, and author of Muhammad

"Purveyors of Islamophobia today often promote mischaracterizations of shariah in order to demonize Muslims. Ali-Karamali's book represents a critically important antidote to this willful ignorance. It offers the uninformed reader a helpful background in the basics of shariah relative to Muhammad and the early Islamic community before exploring the many dimensions of shariah today with laudable clarity. With dual qualifications as both a lawyer and a specialist in Islamic law, Ali-Karamali is perfectly positioned to help the public disentangle itself from the thicket of misinformation and disinformation nurtured by the latest advocates of religious intolerance."
—Peter Gottschalk, professor of religion, Wesleyan University, and author of American Heretics
Beacon Press, 9780807038000, 256pp.
Publication Date: August 11, 2020
About the Author
Sumbul Ali-Karamali is a Muslim American who grew up in California, answering questions on Islam ever since she can remember. After becoming a corporate lawyer, she earned an additional degree in Islamic law. She specializes in synthesizing academic material for general audiences and is the author of The Muslim Next Door and Growing Up Muslim. A popular speaker on topics related to Islam and Muslims, she hopes to promote intercultural understanding with her work, at least when she's not watching Star Trek reruns, listening to opera, or (reluctantly) white-water rafting with her husband. Connect with Sumbul on her website: www.sumbulalikaramali.com.
or
Not Currently Available for Direct Purchase