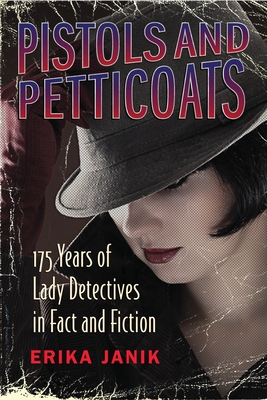 Pistols and Petticoats
175 Years of Lady Detectives in Fact and Fiction
Hardcover

* Individual store prices may vary.
Other Editions of This Title:
Paperback (2/28/2017)
Description
A lively exploration of the struggles faced by women in law enforcement and mystery fiction for the past 175 years

In 1910, Alice Wells took the oath to join the all-male Los Angeles Police Department. She wore no uniform, carried no weapon, and kept her badge stuffed in her pocketbook. She wasn't the first or only policewoman, but she became the movement's most visible voice.

Police work from its very beginning was considered a male domain, far too dangerous and rough for a respectable woman to even contemplate doing, much less take on as a profession. A policewoman worked outside the home, walking dangerous city streets late at night to confront burglars, drunks, scam artists, and prostitutes. To solve crimes, she observed, collected evidence, and used reason and logic—traits typically associated with men. And most controversially of all, she had a purpose separate from her husband, children, and home. Women who donned the badge faced harassment and discrimination. It would take more than seventy years for women to enter the force as full-fledged officers.

Yet within the covers of popular fiction, women not only wrote mysteries but also created female characters that handily solved crimes. Smart, independent, and courageous, these nineteenth- and early twentieth-century female sleuths (including a healthy number created by male writers) set the stage for Agatha Christie's Miss Marple, Sara Paretsky's V. I. Warshawski, Patricia Cornwell's Kay Scarpetta, and Sue Grafton's Kinsey Millhone, as well as TV detectives such as Prime Suspect's Jane Tennison and Law and Order's Olivia Benson. The authors were not amateurs dabbling in detection but professional writers who helped define the genre and competed with men, often to greater success.

Pistols and Petticoats tells the story of women's very early place in crime fiction and their public crusade to transform policing. Whether real or fictional, investigating women were nearly always at odds with society. Most women refused to let that stop them, paving the way to a modern professional life for women on the force and in popular culture.
Praise For Pistols and Petticoats: 175 Years of Lady Detectives in Fact and Fiction…
"A history of the intrepid women who ventured into male territory to solve crimes. Janik investigates nearly two centuries of policewomen, female detectives, and fictional sleuths in this lively look at women's adventuresome careers...Janik points out that sleuthing seemed a logical career for unmarried women, in both fact and fiction. Agatha Christie's clever, observant Miss Marple and Dorothy Sayers's 'quick-witted' Miss Katherine Climpson are two examples, among many others. Women broke through police ranks as well, first taking positions as matrons in police stations and prisons, where they forged connections to social workers...Janik creates vivid portraits of many feisty women, including contemporary TV detectives such as Jessica Fletcher of Murder, She Wrote and Jane Tennison of Prime Suspect. An entertaining history of women's daring, defiant life choices."
—Kirkus Reviews

"A fascinating mix of the history of early policewomen and their role in crime fiction—positions that were then, and, to some extent even now, in conflict with societal expectations."
—Library Journal

"A truly exceptional, inherently fascinating, consistently compelling, informed and informative read, Pistols and Petticoats: 175 Years of Lady Detectives in Fact and Fiction is an impressive and unique work of deftly written history combined with a thoughtful and thought-provoking literary study."
—Midwest Book Review

"Fiction and reality meet and mingle in this fascinating work of cultural history. Who are the great female detectives in literature? Who were their historical precedents? How did they make their way in a predominantly male world, whether we're talking about the Pinkerton Detective Agency in 1861 or SVU on NBC? The best study of this hugely popular genre that I have ever read."
—William Martin, author of Back Bay and The Lincoln Letter

"Erika Janik does a fine job tracing the history of women in police work while at the same time describing the role of females in crime fiction. The outcome, with a memorable gallery of characters, is a rich look at the ways in which fact and fiction overlap, reflecting the society surrounding them. A treat for fans of the mystery—and who isn't?"
—Katherine Hill Page, Agatha Award–winning author of The Body in the Belfry and The Body in the Snowdrift

"Vivid, engaging, and informative. Erika Janik presents a fascinating gallery of pioneering female crime solvers and the fictional heroines they inspired."
—Daniel Stashower, Edgar Award–winning author of The Hour of Peril and Teller of Tales
Beacon Press, 9780807039380, 248pp.
Publication Date: April 26, 2016
About the Author
Erika Janik is an award-winning writer, historian, and the executive producer of Wisconsin Life on Wisconsin Public Radio. She's the author of five previous books, including Marketplace of the Marvelous: The Strange Origins of Modern Medicine. She lives in Madison, Wisconsin.
or
Not Currently Available for Direct Purchase