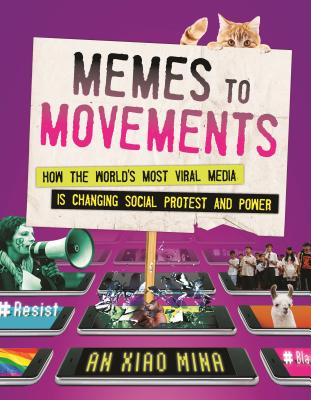 Memes to Movements
How the World's Most Viral Media Is Changing Social Protest and Power
Paperback

* Individual store prices may vary.
Other Editions of This Title:
Digital Audiobook (1/7/2019)
Hardcover (1/8/2019)
Description
A global exploration of internet memes as agents of pop culture, politics, protest, and propaganda on- and offline, and how they will save or destroy us all.

Memes are the street art of the social web. Using social media–driven movements as her guide, technologist and digital media scholar An Xiao Mina unpacks the mechanics of memes and how they operate to reinforce, amplify, and shape today's politics. She finds that the "silly" stuff of meme culture—the photo remixes, the selfies, the YouTube songs, and the pun-tastic hashtags—are fundamentally intertwined with how we find and affirm one another, direct attention to human rights and social justice issues, build narratives, and make culture. Mina finds parallels, for example, between a photo of Black Lives Matter protestors in Ferguson, Missouri, raising their hands in a gesture of resistance and one from eight thousand miles away, in Hong Kong, of Umbrella Movement activists raising yellow umbrellas as they fight for voting rights. She shows how a viral video of then presidential nominee Donald Trump laid the groundwork for pink pussyhats, a meme come to life as the widely recognized symbol for the international Women's March.

Crucially, Mina reveals how, in parts of the world where public dissent is downright dangerous, memes can belie contentious political opinions that would incur drastic consequences if expressed outright. Activists in China evade censorship by critiquing their government with grass mud horse pictures online. Meanwhile, governments and hate groups are also beginning to utilize memes to spread propaganda, xenophobia, and misinformation. Botnets and state-sponsored agents spread them to confuse and distract internet communities. On the long, winding road from innocuous cat photos, internet memes have become a central practice for political contention and civic engagement.

Memes to Movements unveils the transformative power of memes, for better and for worse. At a time when our movements are growing more complex and open-ended—when governments are learning to wield the internet as effectively as protestors—Mina brings a fresh and sharply innovative take to the media discourse.
Praise For Memes to Movements: How the World's Most Viral Media Is Changing Social Protest and Power…
"Shows how memes are so much more than an internet phenomenon . . . Incisive and illuminating"
—Kirkus Reviews, Starred Review

"This is a thoughtful and engaging look at the complex role and power of memes in global politics and social movements and a worthy addition to media and internet studies collections."
—Booklist

"This work is a first purchase that provides a thought-provoking examination of an important aspect of social media and digital communication."
—Library Journal

"Memes to Movements is essential reading. . . . An's work demonstrates why we should be taking [memes] seriously."
—Jonny Sun, author and illustrator of everyone's a aliebn when ur a aliebn too

"Brilliantly reveals how internet culture, social movements, and political agendas are intimately entwined . . . [Memes to Movements] offers a critical intervention at a moment when the public is anxious about technology and political life."
—danah boyd, author of It's Complicated: The Social Lives of Networked Teens

"A visionary and sweeping history of the internet phenomenon. . . . Whatever your thoughts about our digitized world, this brilliant and original book will challenge them to evolve."
—Paul D. Miller, aka DJ Spooky, author of Rhythm Science

"No one does a better job than An Xiao Mina of tracing the deep connections between the inventive and playful culture of memes . . . and political conversations among people who often lack other outlets for public speech."
—Clay Shirky, author of Cognitive Surplus and Here Comes Everybody

"Internet sleuth An Xiao Mina takes readers on a journey around the social media globe. Memes to Movements is the quintessential guide for understanding the how and why of this social media phenomena. Mina is a voice for social change—and a voice of reason—in this visually overwhelming world."
—Alicia Eler, visual art critic/reporter at the Minneapolis Star Tribune and author of The Selfie Generation

"An Xiao Mina is a wide-ranging explorer of the frontier where technology meets social change. Her keen understanding of the contrasting ways that social media operate in different countries means she is ideally placed to offer a global perspective on their growing social and political impact."
—Tom Standage, deputy editor of The Economist and author of Writing on the Wall: Social Media—The First 2,000 Years and The Victorian Internet

"As internet culture has moved from niche to mainstream, and as it has developed into an unprecedented global force, we're evermore in need of incisive, clarifying work about what exactly we mean when we say 'internet culture.' It's a rare thinker who can look at the internet as it actually is—a spectrum that runs from memes and image macros to social movements and sophisticated forms of political speech—and draw conclusions that include the richness of that spectrum without shying away from the humor and playfulness of the web. But An Xiao Mina is just such a thinker. To truly attempt to understand internet culture, one must occupy many places at once. Mina lives across digital spaces and cultures, and she brings that perspective and authenticity to all her work and now, finally, in book form with Memes to Movements."
—Scott Lamb, VP of International, BuzzFeed
Beacon Press, 9780807039908, 240pp.
Publication Date: January 2, 2080
About the Author
An Xiao Mina is an American technologist, researcher, and artist. She served as a contributing editor for the book Ai Weiwei: Spatial Matters, and her own work has been exhibited in museums and galleries across the US and around the world. Her writing has appeared in the Atlantic, Wired, the New Inquiry, the Los Angeles Review of Books, Al Jazeera English, and Hyperallergic. A 2016–17 research fellow at the Berkman Klein Center for Internet and Society at Harvard University and product director at the technology company Meedan, her home is wherever the Wi-Fi is.
or
Not Currently Available for Direct Purchase