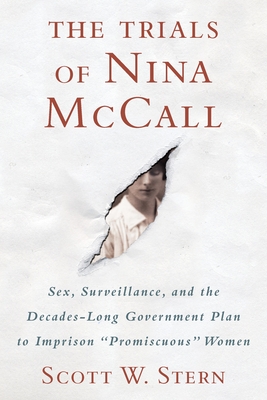 The Trials of Nina McCall
Sex, Surveillance, and the Decades-Long Government Plan to Imprison "Promiscuous" Women
Hardcover

* Individual store prices may vary.
Other Editions of This Title:
Compact Disc (5/8/2018)
Paperback (2/26/2019)
MP3 CD (5/8/2018)
Description
The nearly forgotten story of the fight against the American Plan, a government program designed to regulate women's bodies and sexuality

"A consistently surprising page-turner . . . a brilliant study of the way social anxieties have historically congealed in state control over women's bodies and behavior." —New York Times Book Review

Nina McCall was one of many women unfairly imprisoned by the United States government throughout the twentieth century. Tens, probably hundreds, of thousands of women and girls were locked up—usually without due process—simply because officials suspected these women were prostitutes, carrying STIs, or just "promiscuous."

This discriminatory program, dubbed the "American Plan," lasted from the 1910s into the 1950s, implicating a number of luminaries, including Eleanor Roosevelt, John D. Rockefeller Jr., Earl Warren, and even Eliot Ness, while laying the foundation for the modern system of women's prisons. In some places, vestiges of the Plan lingered into the 1960s and 1970s, and the laws that undergirded it remain on the books to this day.

Nina McCall's story provides crucial insight into the lives of countless other women incarcerated under the American Plan. Stern demonstrates the pain and shame felt by these women and details the multitude of mortifications they endured, both during and after their internment. Yet thousands of incarcerated women rioted, fought back against their oppressors, or burned their detention facilities to the ground; they jumped out of windows or leapt from moving trains or scaled barbed-wire fences in order to escape. And, as Nina McCall did, they sued their captors. In an age of renewed activism surrounding harassment, health care, prisons, women's rights, and the power of the state, this virtually lost chapter of our history is vital reading.
Praise For The Trials of Nina McCall: Sex, Surveillance, and the Decades-Long Government Plan to Imprison "Promiscuous" Women…
"A consistently surprising page-turner . . . a brilliant study of the way social anxieties have historically congealed in state control over women's bodies and behavior."
—The New York Times Book Review

"For those of us who decry today's internationally unparalleled carceral crisis and wonder how we ended up here, Stern's beautifully written account of the American Plan and the life of Nina McCall offers some need but uncomfortable answers."
—The New York Review of Books

"A powerful report on a relevant women's movement deservedly brought to light over a century after it occurred."
—Kirkus Reviews

"McCall's story is captivating as pure biography, but it is all the more remarkable documentarily."
—The Times Literary Supplement

"Meticulously researched, utterly damning . . . The truths revealed in this book are truly shocking, and even more so because they are so little known."
—The New Republic

"A chilling look at a sadly relevant period in American history. Highly recommended for readers interested in women's studies and public health."
—Library Journal

"Stern breaks new ground by offering persuasive evidence of the [American Plan's] breadth, persistence, impact, and evolution from the World War I era into the 1970s. It's a shattering story."
—The Boston Globe

"A piece of historical detective work that unearths a horrifying facet of America's past."
—Pittsburgh Post-Gazette

"An engaging, exemplary report on a too-long buried part of America's gendered and assaultive treatment of women."
—Sexual Assault Report from the Civil Research Institute

"Before reading this book, I had never heard of either the American Plan or Nina McCall. After reading it, I will be unlikely to forget either. Scott W. Stern has done a remarkably thorough job of laying out the evidence, brick by brick by brick, that damns the systematic incarceration of women with dubious sexual histories as one of the more shameful chapters in our nation's history."
—Anne Fadiman, author of The Spirit Catches You and You Fall Down

"In this beautiful and most heart-wrenching narrative, Scott Stern renders newly legible a most disturbing chapter in our nation's long history of stigmatizing and criminalizing its most vulnerable citizens."
—Heather Ann Thompson, author of Blood in the Water

"Beautifully written, this book will dismay, outrage, and haunt you. Stern paints the horror of the decades-long American Plan, which surveilled and incarcerated thousands of vulnerable young women without due process. This chilling account of American policing run amok chronicles the logic of the incarcerators and recaptures their victims' voices. It is an exceptionally powerful intervention in our ongoing national conversation on law, order, and punishment."
—Glenda Elizabeth Gilmore, Peter V. and C. Vann Woodward Professor of History, Yale University

"This deeply researched book tells a profoundly important story, intentionally erased, about America in the twentieth century. Through the eyes of Nina McCall, Stern explores the American Plan, ostensibly implemented to control gonorrhea and syphilis but, in fact, causing the harassment, brutal medical mismanagement, and imprisonment of tens of thousands of women. In our own era, when harassment is a great national topic, this book could not be more timely."
—Mary Pipher, author of Reviving Ophelia and Women Rowing North

"In this time of 'reckoning' about sexual assault and harassment, Scott Stern's book offers a powerful historical reminder of the state's role in the incarceration of women and girls during World War I and its aftermath. In Stern's riveting narrative, Nina McCall's story is both sobering and shocking."
—Allan M. Brandt, author of No Magic Bullet: A Social History of Venereal Disease in the United States Since 1880
Beacon Press, 9780807042755, 368pp.
Publication Date: May 15, 2018
About the Author
Scott W. Stern is a graduate of Yale University, with a BA and MA in American Studies, summa cum laude. His thesis, on the American Plan, won Yale's Norman Holmes Pearson Prize. A native of Pittsburgh, Stern is continuing his studies at Yale Law School.