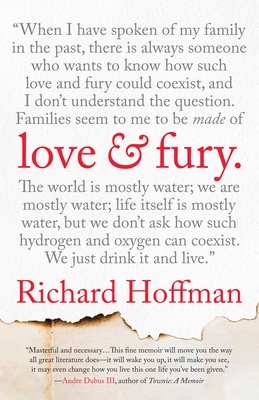 Love and Fury
A Memoir
Paperback

* Individual store prices may vary.
Other Editions of This Title:
Hardcover (6/3/2014)
MP3 CD (6/14/2016)
Description
An acclaimed author reflects on his upbringing in a post–World War II blue-collar family and comes to terms with the racism, sexism, and other toxic values he inherited.

Finalist for the 2014 New England Book Award in Non-Fiction

Richard Hoffman sometimes felt as though he had two fathers: the real one who raised him and an imaginary version, one he talked to on the phone, and one he talked to in his head. Although Hoffman was always close to the man, his father remained a mystery, shrouded in a perplexing mix of tenderness and rage. When his father receives a terminal cancer diagnosis, Hoffman confronts the depths and limitations of their lifelong struggle to know each other, weighing their differences and coming to understand that their yearning and puzzlement was mutual.
 
With familial relationships at its center, Love & Fury draws connections between past and present, from the author's grandfather, a "breaker boy" sent down into the anthracite mines of Pennsylvania at the age of ten, to his young grandson, whose father is among the estimated one million young black men incarcerated today. In a critique of culture and of self, Hoffman grapples with the way we have absorbed and incorporated the compelling imagery of post WWII America and its values, especially regarding class, war, women, race, masculinity, violence, divinity, and wealth.
 
A masterful memoirist, Hoffman writes not only to tell a gripping story but also to understand, through his family, the social and ethical contours of American life. At the book's core are the author's questions about boyhood, fatherhood, and grandfatherhood, and about the changing meaning of what it means to be a good man in America, now and into the future.
Praise For Love and Fury: A Memoir…
"Though he returns repeatedly to the notion that he can't comprehend his feelings, Hoffman's descriptions of them are often virtuoso.... His vision is rare." —Boston Globe

"An astute, thought-provoking and lyrical narrative." —Portland Press Herald

"Bracingly introspective." —Minneapolis Star Tribune

"Hoffman's writing is water for the heart, words that will quench those struggling with self-examination, family reconciliation, or damage done by physical or societal ills." —Concord Monitor

"Love & Fury is as clear, as elemental, as essential, as water. Richard Hoffman has a remarkable way of both conjuring his flesh and blood onto the page while at the same time allowing them to dissolve in our hands. He tracks what is known, what is remembered, what is surmised, and comes to the edge of what will always remain a mystery—then, again and again, takes one thrilling step across that threshold." —Nick Flynn, author of Another Bullshit Night in Suck City

"In a time when so much American writing seems to be inspired by situational comedies on television, by blockbuster films and sexy blogs, what a soul-saving joy it is to encounter Richard Hoffman's masterful and necessary Love & Fury. What makes Hoffman so good at the memoir form is a rare combination of honest self-scrutiny, fairness, intellectual rigor, and emotional bravery. But what makes this book so important is what Hoffman excavates here layer by layer: how shaped and often shackled we are by the past, one that is bloody, racist, patriarchal, and as class-stratified as ever. With a poet's ear and a short story writer's eye, this fine memoir will move you the way all great literature does—it will wake you up, it will make you see, it may even change how you live this one life you've been given."
—Andre Dubus III, author of Townie: A Memoir

"A terrific memoir by an articulate writer who has honed his literary skills over a lifetime, who knows what he is thinking and feeling at every moment (as opposed to what he should be thinking and feeling), Love & Fury sets new standards for honesty, daring and bracing self-examination. Hoffman peels away the lies, vanities and convenient half-truths in a struggle to attain that rarest and seemingly least-valued of contemporary virtues, humility. He is aided by a pack of troubles, which keeps the story-telling tense, gripping and fierce. Hoffman shows us just how complex a business is it to try to be decent, day to day, in a perfect storm of ambivalence."
—Phillip Lopate

"Love & Fury says something true and revelatory about the broken but stubborn connection between fathers and sons. I read page on page with my mouth open, my own heart-breaking memories flooding alongside Hoffman's. This is the book I needed—though when I took it up, I did not know that. I am grateful that this hard work has been done, and we have this comfort—an unsparing examination of just how resilient family can be."
—Dorothy Allison, author of Bastard Out of Carolina

"Sifting the connections between our fathers and ourselves is often an exhausting, frustrating and somehow irresistible business. Few have explored them with such rigor, compassion and exemplary self-scrutiny as Richard Hoffman. His Half the House, brilliant and challenging, is an extremely tough act to follow; in Love & Fury, Hoffman manages it with characteristic candor, insight and grace."
—Jabari Asim, author of The N Word

"A reckoning with searing disappointment, Love & Fury is, equally, the transformation of disappointment into the true expression that alone defines our hope."
—James Carroll, author of Warburg in Rome
Beacon Press, 9780807042809, 224pp.
Publication Date: March 31, 2015
About the Author
Richard Hoffman is the author of Half the House: A Memoir; the poetry collections Without Paradise, Emblem, and Gold Star Road, winner of both the 2006 Barrow Street Press Poetry Prize and the 2008 Sheila Motton Award from the New England Poetry Club; and the short story collection Interference and Other Stories. He is senior writer-in-residence at Emerson College and lives in Cambridge, Massachusetts.
or
Not Currently Available for Direct Purchase