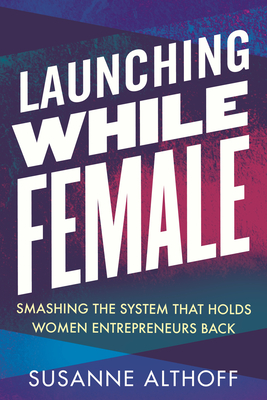 Launching While Female (Hardcover)
Smashing the System That Holds Women Entrepreneurs Back
Beacon Press, 9780807042977, 232pp.
Publication Date: October 27, 2020
* Individual store prices may vary.
Description
A rallying cry that exposes the obstacles that women and non-binary entrepreneurs face in the business world and a roadmap for a more inclusive and economically successful future

Journalist and professor Susanne Althoff exposes the ways in which the current start-up paradigm was engineered by and for white men, and the ways in which women, non-binary, and trans folks--especially those who are non-white--face impossible barriers to landing funding from venture capitalists to make their companies viable. Through interviews with over 100 founders of small start-ups, Althoff paints a picture of a systemically rigged start-up culture. She tackles the gendered perceptions of innovation and who is allowed to play; for example, why women are called "mompreneurs" rather than business women and why only 18 Black women founders of companies have been able to break the $1 million threshold for funding ... ever.

Althoff provides a way forward, providing proof that companies started by women are a boon to society and the economy, and offering advice for non-male people starting their own companies.
About the Author
Susanne Althoff is a veteran journalist and an assistant professor at Emerson College in Boston, where she teaches publishing entrepreneurship and women's media. She also works as advisor to female founders of media and tech companies. Before joining Emerson in 2015, Althoff worked 22 years as a magazine editor, including six years as the editor-in-chief of The Boston Globe's Sunday magazine. Her writing has appeared in WIRED, The Boston Globe, The Los Angeles Times, and other publications. Connect with her on Twitter @SusanneAlthoff.