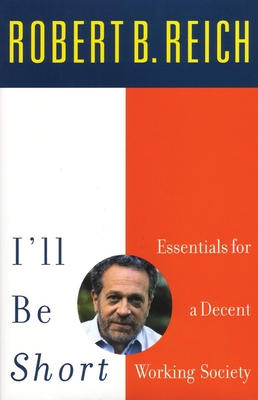 I'll Be Short: Essentials for a Decent Working Society (Paperback)
Essentials for a Decent Working Society
Beacon Press (MA), 9780807043417, 136pp.
Publication Date: May 15, 2003
* Individual store prices may vary.
or
Not Currently Available for Direct Purchase
Description
"'I don't like the basic philosophy that everyone is on their own, out for themselves, a kind of social Darwinism. It's bad for society, especially now. . . . Call me crotchety, but I can't help asking, whatever happened to the social contract?'"
The get-rich-quick exuberance of the late nineties may have temporarily blinded us to how dependent we are on one another. Subsequent events serve as reminders that the strength of our economy and the security of our society rest on the bonds that connect us. But what, specifically, are these bonds? What do we owe one another as members of the same society?
With his characteristic humor, humanity, and candor, one of the nation's most distinguished public leaders and thinkers delivers a fresh vision of politics by returning to basic American values: workers should share in the success of their companies; those who work should not have to live in poverty; and everyone should have access to an education that will better their chances in life.
An insider who knows how the economy and government really work, Reich combines realistic solutions with democratic ideals. Businesses do have civic responsibilities, and government must stem a widening income gap that threatens to stratify our nation. And everyone must get involved to help return us to a society that works for everyone.
About the Author
Robert B. Reich is university professor at Brandeis University and Maurice B. Hexter Professor of Social and Economic Policy at Brandeis's Heller Graduate School. He has served in three national administrations, most recently as secretary of labor under President Bill Clinton. He has authored eight books, including "The Work of Nations, Locked in the Cabinet, " and "The Future of Success, " and his writings have appeared in "The New Yorker, The Atlantic Monthly, The New York Times, The Washington Post, " and "The Wall Street Journal." Mr. Reich is co-founder and national editor of "The American Prospect." He lives in Cambridge, Massachusetts, with his wife, Clare Dalton. They have two sons.
Praise For I'll Be Short: Essentials for a Decent Working Society…
Reich is a big thinker and a great writer. --Nancy Folbre, The Washington Post

"Reich has a talent for mastering economic and social complexities and making them easy for the layperson to grasp." --Daniel Akst, The Wall Street Journal

"Reich writes in ways unusual for an economist; he is self-effacing, witty and more interested in exploring the world's complexities than in uncovering unvarying laws." --Alan Wolfe, The New York Times Book Review
Advertisement