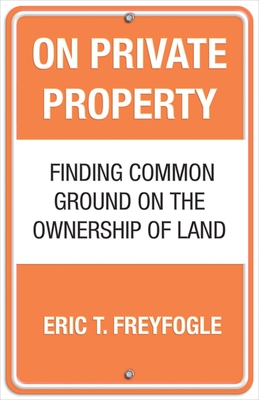 On Private Property: Finding Common Ground on the Ownership of Land (Paperback)
Finding Common Ground on the Ownership of Land
Beacon Press (MA), 9780807044179, 186pp.
Publication Date: March 1, 2009
Description
Urban sprawl. Disappearing wetlands. Historic preservation. Eminent domain. These and related land-use issues have put private-property rights on the public agenda in a contentious, visible way. In this provocative book, legal scholar and conservationist Eric T. Freyfogle presents the private-property debate in a surprising new light while suggesting how we can both respect private property and achieve communal goals.

Freyfogle's argument culminates in an intriguing Landowner Bill of Rightsfar different from property-rights measures now being discussed.
Praise For On Private Property: Finding Common Ground on the Ownership of Land…
Freyfogle's new book, which probably should have been titled Roll Over, John Locke, is just what the public debate over property rights needs: straight talk, and an invitation to open a conversation about the real issues.—Joseph L. Sax, author of Playing Darts with a Rembrandt: Public and Private Rights in Cultural Treasures

"In a work that eschews easy slogans, Eric Freyfogle proves the truth about American property rights-that original intent, early court opinions, and the realities of modern society all mandate that ownership brings with it weighty but reasonable responsibilities to the larger community. This beautifully articulated book, at once bold and thoughtful, is bound to become a classic in American constitutional and property law."—Charles Wilkinson, author of Crossing the Next Meridian: Land, Water, and the Future of the West

"Packed cover-to-cover with well-reasoned arguments that take both public and private needs into account, On Private Property is a welcome contribution to an ongoing dispute."—Midwest Book Review

"A fresh perspective and penetrating legal and historical analysis of an issue that will continue to be in the forefront of land policy in the twenty-first century."—Anthony Flint, Lincoln Institute of Land Policy, author of This Land: The Battle over Sprawl and the Future of America
Advertisement