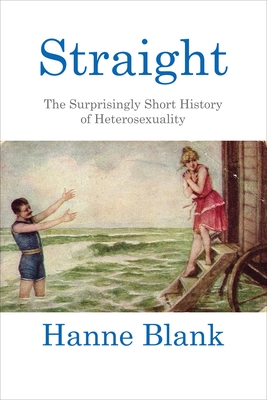 Straight (Paperback)
The Surprisingly Short History of Heterosexuality
Beacon Press, 9780807044599, 228pp.
Publication Date: August 28, 2012
Description
Like the typewriter and the light bulb, the heterosexual was invented in the 1860s and swiftly transformed Western culture. The idea of "the heterosexual" was unprecedented. After all, men and women had been having sex, marrying, building families, and sometimes even falling in love for millennia without having any special name for their emotions or acts. Yet, within half a century, "heterosexual" had become a byword for "normal," enshrined in law, medicine, psychiatry, and the media as a new gold standard for human experience. With an eclectic scope and fascinating detail, Straight tells the eye-opening story of a complex and often contradictory man-made creation that turns out to be anything but straight or narrow. From the Hardcover edition.
About the Author
Writer and historian Hanne Blank is the author of Virgin: The Untouched History and seven other books that explore the intersections of sexuality, gender, the body, and culture. From the Hardcover edition.
Praise For Straight: The Surprisingly Short History of Heterosexuality…
"Fascinating."—Vanity Fair

"[An] amusing, readable synthesis . . . Blank darts from one intriguing, thought-provoking point to another. . . . [And she] offers the provocative solution that soon we will move on from our present fixation on the binary to a more fluid understanding."—Abigail Zuger, New York Times

"Using wit and wisdom, Blank substantiates her argument that love and passion are not defined by biology."—EDGE Publications

"A lively, accessible synthesis of decades of scholarship on the history and sociology of sexuality."—CHOICE 

"Wry, witty and thoroughly researched."— Lavender Magazine

"Blank has produced a challenging, clear, and interesting study of how Western views of what it means to be 'straight' have changed over the past two centuries and continue to change."—Library Journal

"Blank's work reaches further and deeper into the history of heterosexuality…highly accessible."—Lambda Lit

"Straight …is accessible and engaging, often witty and penetrating in its insights."—New York Journal of Books

"Blank's tenacious research and insightful arguments make clear how malleable the attitudes of the world we live in really are."—Michelle Kehm, Bust

"Blank writes with great erudition and humor, so that, even a skeptical (or anxious) reader will be hard-pressed not to find it enjoyable and thought provoking."—Haaretz

"Hanne Blank has rendered a meticulously researched romp through the history of 'heterosexuality'—that pesky orthodoxy still looming over Western culture like smog. Her sweeping synthesis takes on everything from Freud to Larry Craig, expertly weaving this untold history with insight and a refreshing dose of irreverence."—Lisa M. Diamond, author of Sexual Fluidity: Understanding Women's Love and Desire

"The author uses wisdom and wit to substantiate her contention that love and passion are not definable by biology."—Kirkus

"From its thorough but brisk explorations of sexual orientation's intersections with sex, gender, and romance, this illuminating study examines our presuppositions and makes a powerful, provocative argument that heterosexuality—mazy, unscientific, and new—may be merely "a particular configuration of sex and power in a particular historical moment."—Publishers Weekly

"With impeccable research and detail, Hanne Blank uncovers the fascinating, often hidden, history of heterosexuality. Straight is a marvelous cultural history that is as entertaining as it is profoundly enlightening and necessary for understanding the world in which we live."—Michael Bronski, author of A Queer History of the United States

"What would it mean to dispense with our current categories of sexual identity? Writing with grace and wit, Hanne Blank demonstrates that what sounds like a radical proposition is also historically inevitable. This is a book that really shakes up an assumption or two!"—Laura Kipnis, author of How To Become a Scandal and Against Love
 
"Challenging our culture's deeply entrenched, stubborn assumption of heterosexuality, Straight helps us to think newly and critically. Starting from her own experience, Hanne Blank creatively analyses the unexamined idea that heterosexuality is given, unchanging, ahistorical."—Jonathan Ned Katz, author of The Invention of Heterosexuality and co-director OutHistory.org
Advertisement