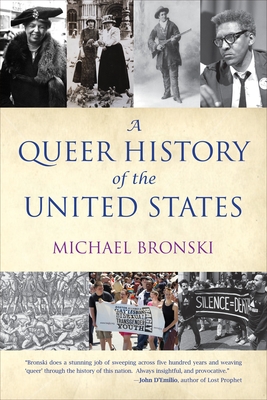 A Queer History of the United States (REVISIONING HISTORY #1)
Paperback

* Individual store prices may vary.
Other Editions of This Title:
Digital Audiobook (6/11/2018)
Paperback (6/11/2019)
Paperback (1/2/2080)
Description
Winner of a 2012 Stonewall Book Award in nonfiction

The first book to cover the entirety of lesbian, gay, bisexual, and transgender history, from pre-1492 to the present.

In the 1620s, Thomas Morton broke from Plymouth Colony and founded Merrymount, which celebrated same-sex desire, atheism, and interracial marriage. Transgender evangelist Jemima Wilkinson, in the early 1800s, changed her name to "Publick Universal Friend," refused to use pronouns, fought for gender equality, and led her own congregation in upstate New York. In the mid-nineteenth century, internationally famous Shakespearean actor Charlotte Cushman led an openly lesbian life, including a well-publicized "female marriage." And in the late 1920s, Augustus Granville Dill was fired by W. E. B. Du Bois from the NAACP's magazine the Crisis after being arrested for a homosexual encounter. These are just a few moments of queer history that Michael Bronski highlights in this groundbreaking book.
 
Intellectually dynamic and endlessly provocative, A Queer History of the United States is more than a "who's who" of queer history: it is a book that radically challenges how we understand American history. Drawing upon primary documents, literature, and cultural histories, noted scholar and activist Michael Bronski charts the breadth of lesbian, gay, bisexual, and transgender history, from 1492 to the 1990s, and has written a testament to how the LGBT experience has profoundly shaped our country, culture, and history.
 
A Queer History of the United States abounds with startling examples of unknown or often ignored aspects of American history—the ineffectiveness of sodomy laws in the colonies, the prevalence of cross-dressing women soldiers in the Civil War, the impact of new technologies on LGBT life in the nineteenth century, and how rock music and popular culture were, in large part, responsible for the devastating backlash against gay rights in the late 1970s. Most striking, Bronski documents how, over centuries, various incarnations of social purity movements have consistently attempted to regulate all sexuality, including fantasies, masturbation, and queer sex. Resisting these efforts, same-sex desire flourished and helped make America what it is today.
 
At heart, A Queer History of the United States is simply about American history. It is a book that will matter both to LGBT people and heterosexuals. This engrossing and revelatory history will make readers appreciate just how queer America really is.
Praise For A Queer History of the United States (REVISIONING HISTORY #1)…
"Bronski does a stunning job of sweeping across five hundred years and weaving 'queer' through the history of this nation. Always insightful, and provocative."—John D'Emilio, author of Lost Prophet

"The first book to cover all of LGBT history from 1492 through the present is Michael Bronski's A Queer History of the United States (Beacon Press). It is wonderfully readable and looks at the way we understand the history of the United States. The LGBT population moves from the margins to the mainstream and we see that the history of this country also is our history."—Windy City Times

"Bronski's book provides an excellent overview for readers new to the field of gay history. Summing Up: Essential. All levels/libraries..."—CHOICE Magazine 

"...A succinct distillation of the history of lesbians, gays, bisexuals, and transgenders in America… Bronski's impeccable research bolsters his arguments… a useful handbook for LGBT activist groups and other interested members of the gay community."—Boston Globe 

"In the age of Twitter and reductive history, we need a complex, fully realized, radical reassessment of history—and A Queer History of the United States is exactly that. Along the way, there are enough revelations and reassessments to fuel dozens of arguments about how we got to where we are today. I don't know when I have enjoyed a history so much."—Dorothy Allison, author of Bastard Out of Carolina
 
"Bronski has that rare ability to comprehensively synthesize a large body of material without simplifying or distorting it, taking as much care with historical evidence as with the shifts in language necessary to accurately understand it."—Martin Duberman, Distinguished Professor of History Emeritus, City University of New York
 
"This book is a revelation. Its lively and engaging narrative peels back layers of cultural interconnection—from the creation of corn flakes to curb masturbation to Bette Midler's rise to stardom that started at a gay bathhouse—and much more. Bronski has a Zinn-like grasp of the ties that bind us all together and how to illuminate them on the page."—Jewelle Gomez, activist and author of The Gilda Stories
 
"Bronski demonstrates with wit, insight, and impeccable scholarship that queer lives are, and always have been, woven into the very fabric of this country. Readable, radical, and smart—a must read."—Alison Bechdel, author of Fun Home
 
"Elegant, insightfully selective, and unremittingly intelligent, Bronski's survey—of the whys and the ways queer people's work and struggle have been integral in forming what we call 'the United States of America'—is an impressive and useful overview."—Samuel R. Delany, author of Times Square Red, Times Square Blue
 
"A savvy political, legal, literary (and even fashion) history, Bronski's narrative is as intellectually rigorous as it is entertaining."—Publishers Weekly, starred review 

"Bronski does a stunning job of sweeping across five hundred years and weaving 'queer' through the history of this nation. Always insightful, and provocative."—John D'Emilio, author of Lost Prophet

"[A] monumental achievement."—The Bay Area Reporter 
Beacon Press, 9780807044650, 312pp.
Publication Date: May 15, 2012
About the Author
Michael Bronski is professor of practice in media and activism in the Women, Gender, and Sexuality Program at Harvard University. He has written extensively on LGBT issues for four decades, in both mainstream and queer publications, and is the author of three other books and editor of several anthologies.