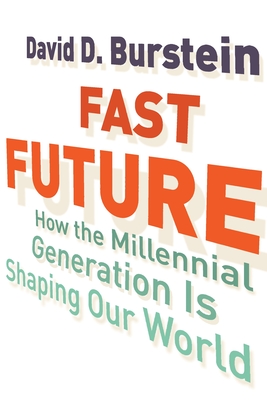 Fast Future
How the Millennial Generation Is Shaping Our World
Hardcover

* Individual store prices may vary.
Other Editions of This Title:
Paperback (2/25/2014)
Description
A millennial examines how his generation is profoundly impacting politics, business, media, and activism
They've been called trophy kids, entitled, narcissistic, the worst employees in history, and even the dumbest generation. But, argues David Burstein, the millennial generation's unique blend of civic idealism and savvy pragmatism will enable us to overcome a deeply divided nation facing economic and environmental calamities.
With eighty-million millennials (people who are today eighteen to thirty years old) coming of age and emerging as leaders, this is the largest generation in U.S. history, and, by 2020, its members will represent one out of every three adults. They are more ethnically and racially diverse than their elders and have begun their careers at a time when the recession has set back the job market. Yet they remain optimistic about their future and are deeply connected to one another. Drawing on extensive interviews with his millennial peers and compelling new research, Burstein illustrates how his generation is simultaneously shaping and being shaped by a fast-paced and fast-changing world.
Part oral history, part social documentary, Fast Future reveals the impact and story of the millennial generation—in its own words.
Praise For Fast Future: How the Millennial Generation Is Shaping Our World…
"The millennials are a unique generation with a strong entrepreneurial streak that has seen them create some of the most impactful businesses of this century. As a millennial entrepreneur, I found Fast Future to be an inspiring and powerful account of the world we live and work in every day."
—Ben Lerer, Founder & CEO, Thrillist

"An inspiring look at what the millennial generation is doing in America...Burstein's interviews and firsthand accounts bring to light these young people, and readers will gain a deeper appreciation and awareness of the rapid progress and changes that have occurred worldwide since the advent of the Internet. Stimulating accounts of what is being accomplished by an ambitious generation."
—Kirkus Reviews

"In Fast Future, David Burstein provides a personal and compelling picture of his generation. Millennials are pragmatic idealists and the first digitals, able to handle the fast pace of today's world while they remake our economic and democratic political systems. Read this book not only to understand the future but also how the millennials are poised to shape it."
—Michael D. Hais and Morley Winograd, authors of Millennial Momentum
 
"David Burstein's generation—a diverse, connected, and entrepreneurial lot that came of age around the Millennium—has already changed the face of politics from Washington to Cairo and beyond.  Millennials are distinct and powerful, though scholarship about them has been slapdash and haphazard. Enter David Burstein. With Fast Future, Burstein cements his reputation as the millennial generation's most thoughtful and insightful public intellectual."
—David King, Harvard University
 
"Today's young people really are unique. Technology has made them the best informed generation of young people that the world has ever seen. Their understanding of the problems facing the world has made them the most socially responsible generation ever. And finally their knowledge and understanding of how to use the tools of the digital and social revolution has made them the most powerful generation ever. David Burstein's excellent book tells the story of his own generation: read it and you'll know why we should all be listening to them."
—David Jones, Global CEO, HAVAS & Co-Founder, One Young World
 
"Young Boomers once transformed America's inner world, creating new visions and values that dazzled the firmament. Today's young Millennials are transforming America's outer world, moving at lightning speed to build new institutions, communities, and infrastructure  that will actually realize the ideals of their parents and grandparents. David Burstein, a Millennial at the forefront of his generation's obsession with making things work again, explains why this generational revolution started, how it is spreading, and where it is going."
—Neil Howe, coauthor of Millennials Rising
 
"This book is passionate, optimistic, witty, inspired, and inspirational.  David Burstein writes about his generation with great hope and confidence, but also with an uncanny ability to keep his feet on the ground and realize that his is not the first group of young people who expect to change the world. Yet his belief that his generation can in fact change the world will be refreshing and uplifting to readers of all ages."
—Michael O'Hanlon, coauthor of A War Like No Other and Bending History
 
"We are leaving the young with an unacceptable future—ballooning debts, unthinkable tax increases, historically slow growth, an economy vulnerable to crises, and a paralyzed politics.  Until now, the involvement of the young has been viewed as a combination of ignorance and apathy.  I was delighted to read Fast Future, a book with such a hopeful outlook."
—Pete Peterson, Former Secretary of Commerce and Co-Founder, The Blackstone Group
 
"Fast Future is an incisive look at the generation that elected Barack Obama and is changing the way we do everything. David Burstein has written a must read book about the most individually empowered generation in history—his own."
—Howard Dean, Former Governor of Vermont 
 
"Exponentially growing technology that we have all experienced over the past decade is daunting. But the generation at the forefront of this change is far from challenged. From technology to radical new business models, in Fast Future, David Burstein tells the compelling and truly unique story of how his generation is seizing opportunities to create a world of abundance."
—Peter H. Diamandis, Chairman and CEO, X PRIZE Foundation, coauthor of Abundance
 
"David Burstein breathes the pulse of the Millennial generation like no other. People may struggle to define us, but through David's voice we have a resounding advocate who expertly understands and articulates our commitment to social change."
—Adam Braun, Founder and CEO, Pencils of Promise
 
"The Millennial Generation is the biggest and most diverse in American history; soon they will run the country. In the great tradition of writers who help define their own generations, David Burstein offers a moving and insightful portrait of Millennial America."
—Peter Levine, Director of CIRCLE (Center for Information & Research on Civic Learning & Engagement)
 
"David Burstein is living proof of why the millennial generation is so promising. Like other millennials, Burstein is idealistic yet pragmatic, globally minded, and determined.  In Fast Future, Burstein pulls from his own experiences and observations to depict a generation well suited to tackle the seemingly insurmountable challenges before us. Fast Future is at least as much a telling of the generation's story as it is a declaration of its potential."
—David Gergen, Senior Political Analyst, CNN, Professor, Harvard Kennedy School

"Here David Burstein tackles how new technology and the millennial generation will forever make an impact on our country and the world. Whether it is through politics, economics, or computer science, David deftly demonstrates the large and small changes that are being made. A must read for anyone looking to understand where the world is going and how we got there."
—Paul Rieckhoff, Founder and Chief Executive Officer, Iraq and Afghanistan Veterans of America (IAVA)
 
"David's reflections are a fast, fun, informative read."
—Nancy Lublin, CEO, DoSomething.org
 
"As young social entrepreneurs, Fast Future spoke to our core by telling the story of an exciting turning point that will change the course of history. That is, if we can channel this energy.  David Burstein takes a deep and nuanced look at the potential young people have and the terrible missed opportunity of not capitalizing on the innovation of the millennial generation. David himself represents the savvy impatience, the industriousness, and the possibilities of the millennial generation: this book is not to be missed or ignored. And, in Fast Future, he presents us with the opportunity to re-imagine how generations can work together to create a more innovative, equitable world—today."
—Jessica Posner Odede and Kennedy Odede, Co-Founders, Shining Hope for Communities

"With careful research and thoughtful observation, David Burstein holds a mirror up to his own generation and tries to help all of us better understand who they are, what matters to them, and how they may shape the future. Everyone who is fascinated by Millennials—and how can we not be?—will learn something from this book."
—Judy Woodruff, PBS NewsHour

"Fast Future is a fantastic read for anyone who is curious about the mindset and perspective that the Millennial generation is bringing to their businesses, their politics, and their personal lives. Millennials will continue to shape that world as their ranks elevate to higher levels in corporations and governments and, if Fast Future is any indication, they'll not be shy about letting you know that they've arrived."—Forbes.com
Beacon Press, 9780807044698, 240pp.
Publication Date: February 12, 2013
About the Author
David D. Burstein is the founder and executive director of Generation18 and director of the documentary 18 in '08. A frequent contributor to Fast Company, Burstein has appeared as a commentator on youth and politics for a range of publications and media outlets, including CNN, ABC, NPR, the New York Times, USA Today, the Boston Globe, and the Philadelphia Inquirer. He lives in New York City.
Book Videos
or
Not Currently Available for Direct Purchase