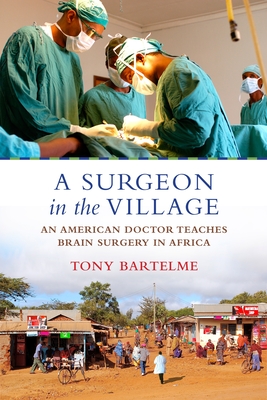 A Surgeon in the Village
An American Doctor Teaches Brain Surgery in Africa
Hardcover

* Individual store prices may vary.
Other Editions of This Title:
Paperback (3/27/2018)
Description
A "lyrical, inspirational" story of doctors who changed the health care of an African nation (Tom Brokaw, author of The Greatest Generation)

Dr. Dilan Ellegala arrives in Tanzania, shocked to find the entire country has just three brain surgeons for its population of forty-two million. Haydom Lutheran Hospital lacks even the most basic surgical tools, not even a saw to open a patient's skull. Here, people with head injuries or brain tumors heal on their own or die. When confronted with a villager suffering from a severe head trauma, Dilan buys a tree saw from a farmer, sterilizes it, and then uses it to save the man's life.

Yet Dilan realizes that there are far too many neurosurgery patients for one person to save, and of course he will soon be leaving Tanzania. He needs to teach someone his skills. He identifies a potential student in Emmanuel Mayegga, a stubborn assistant medical officer who grew up in a mud hut. Though Mayegga has no medical degree, Dilan sees that Mayegga has the dexterity, intelligence, and determination to do brain surgery. Over six months, he teaches Mayegga how to remove tumors and treat hydrocephalus. And then, perhaps more important, Dilan teaches Mayegga how to pass on his newfound skills. Mayegga teaches a second Tanzanian, who teaches a third. It's a case of teach-a-man-to-fish meets brain surgery.

As he guides these Tanzanians to do things they never thought possible, Dilan challenges the Western medical establishment to do more than send vacationing doctors on short-term medical missions. He discovers solutions that could transform health care for two billion people across the world.

A Surgeon in the Village is the incredible and riveting account of one man's push to "train-forward"—to change our approach to aid and medical training before more lives are needlessly lost. His story is a testament to the transformational power of teaching and the ever-present potential for change. As many as seventeen million people die every year because of a shortage of surgeons, more than die from AIDS, malaria, and tuberculosis combined. Dilan Ellegala and other visionaries are boldly proposing ways of saving lives.
Praise For A Surgeon in the Village: An American Doctor Teaches Brain Surgery in Africa…
"Bartelme writes knowingly of the dedication of a valiant doctor determined to change how modern medicine interacts with the world."
—Publishers Weekly

"Problem solving, improvising, and expressing compassion permeate this unusual and fascinating chronicle."
—Booklist

"A lyrical, inspirational and altogether rewarding account of first- and third-world surgeons working together to perform neurosurgery miracles in the heart of Africa."
—Tom Brokaw, author of The Greatest Generation

"A Surgeon in the Village turns the modern philanthropic paradigm on its head. In this inspiring story of cultivating medical sustainability, Tony Bartelme teases out the human dimensions of neurosurgery and illustrates how connection and mentoring have the power to transform entire nations."
—Danielle Ofri, MD, PhD, author of What Patients Say, What Doctors Hear

"This exceptionally well-written book, a compelling tribute to the human spirit and to generosity, brings into sharp focus the shortage of surgeons in sub-Saharan Africa. In poetic prose, Bartelme describes how a dedicated and caring mentor can transfer knowledge and neurosurgical skills to a Tanzanian clinician with little formal training so that the latter can perform simple neurosurgical procedures that save lives. This is a book that every student and practitioner of global surgery will find enjoyable and inspiring reading."
—Haile Debas, founding director of the University of California Global Health Institute

"In A Surgeon in the Village, Tony Bartelme deftly weaves history and current affairs into a powerful story of redemption and hope. This book is a page-turner that will leave you transfixed and transformed."
—James M. Scott, 2016 Pulitzer Prize finalist for Target Tokyo: Jimmy Doolittle and the Raid That Avenged Pearl Harbor
Beacon Press, 9780807044889, 288pp.
Publication Date: March 28, 2017
About the Author
Tony Bartelme has received numerous national awards for his investigative reports, including honors by the Scripps Foundation, Sigma Delta Chi, and Gerald Loeb Foundation. He has been a finalist for the Pulitzer Prize three times, including the series that is the basis for A Surgeon in the Village, which he spent four years researching and writing. He was the recipient of a 2011 Harvard University Nieman Fellowship and is a graduate of Northwestern University's Medill School of Journalism. He is senior projects reporter for the Post and Courier, in Charleston, South Carolina, where he lives.
or
Not Currently Available for Direct Purchase