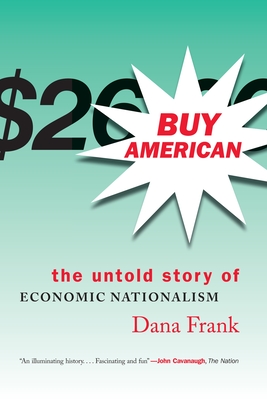 Buy American-The Untold Story of Economic Nationalism (Paperback)
Beacon Press, 9780807047118, 336pp.
Publication Date: April 7, 2000
Description
Are imports really to blame for disappearing American jobs? Tracing the history and politics of economic nationalism from the American Revolution to the present, labor historian Dana Frank demonstrates how "Buy American" campaigns are not a new idea. This entertaining story is full of surprises, including misguided heroes, chilling racism, and more than a few charlatans. Frank contributes a much needed new approach to the old debate between free trade and protectionism. She outlines a strategy that would serve the needs of working Americans instead of the interests of corporations and economic elites.
About the Author
Dana Frank is the author of multiple books including Bananeras: Women Transforming the Banana Unions of Latin America and, with Robin D.G. Kelley and Howard Zinn, Three Strikes: Miners, Musicians, Salesgirls and the Fighting Spirit of Labor's Last Century, and has written widely about human rights and US policy in Honduras since the 2009 coup. She is professor of History at the University of California, Santa Cruz.
Praise For Buy American-The Untold Story of Economic Nationalism…
An illuminating history. . . . Fascinating and fun. --John Cavanagh, The Nation

"Finally, some sanity on the Trade Wars! We all need to get on our knees and thank Dana Frank for her eloquent, lucid history of Buy American campaigns." --Robin D. G. Kelley, author of Yo' Mama's Disfunktional!

"Provocative and intelligent. . . . Frank does an excellent job of creating articulate arguments out of a complex blend of history, economics, and current events." --Donna L. Schulman, Library Journal
Advertisement