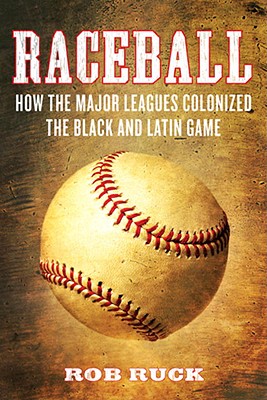 Raceball (Hardcover)
How the Major Leagues Colonized the Black and Latin Game
Beacon Press, 9780807048054, 288pp.
Publication Date: March 1, 2011
Other Editions of This Title:
Paperback (2/21/2012)
* Individual store prices may vary.
Description
The colliding histories of black and Latin ballplayers in the major leagues have traditionally been told as a story of their shameful segregation and redemptive integration. Jackie Robinson jumped baseball's color line to much fanfare, but integration was painful as well as triumphal. It gutted the once-vibrant Negro Leagues and often subjected Latin players to Jim Crow racism.
 
Today, Major League Baseball tightens its grasp around the Caribbean's burgeoning baseball academies, while at home it embraces—and exploits—the legacy of the Negro Leagues. Award-winning historian Rob Ruck explains the catalyst for this sea change while breaking down the consequences that cut across society. By looking at this history from the vantage point of black America and the Caribbean, Raceball unveils a fresh and stunning truth: baseball has never been stronger as a business, never weaker as a game.
About the Author
Rob Ruck teaches at the University of Pittsburgh. Author of Sandlot Seasons: Sport in Black Pittsburgh and The Tropic of Baseball: Baseball in the Dominican Republic, he made the Emmy Award–winning documentary Kings on the Hill: Baseball's Forgotten Men. He lives in Pittsburgh with his wife, Maggie Patterson, his coauthor for Rooney: A Sporting Life.
Praise For Raceball: How the Major Leagues Colonized the Black and Latin Game…
 "Ruck's gutsy account of this major sport with a tarnished past is thought provoking."—Publishers Weekly

"A fascinating story, unknown even to many diehard baseball fans"—Glenn Altschuler, Florida Courier

"Ruck's study of black and Latino baseball is excellent history and even better sociology… the writing is authoritative and transparent, the documentation solid… Highly recommended. All readers."—CHOICE

"Rob Ruck's new book beautifully blends the intertwined histories of African American and Latin baseball, and their usually ill-fated interactions with Major League Baseball."—The Journal of American History 

"With recent films like 'Sugar' and books like The Bullpen Gospels receiving attention, add Raceball to the list of media and art that's finally telling the full story without the 'Field of Dreams' sugarcoating. If you're a fan of baseball or just a fan of North American history without the white blind spots, this book is highly recommended."—Amsterdam News

"Thanks to writers like Rob Ruck, we are reminded of the many ways that the politics of race and empire have shaped the game of baseball since its very beginning on the battlefields of the US Civil War. Ruck's Raceball provides an accessible and fascinating narrative of baseball as a transnational sport--propelled by US hegemony as well as anti-colonial aspirations."—Solidarity.org

"In sum, the book provides a substantive and provocative introduction to an important aspect of the American national pastime and its social, economic and international implications."—The Americas: A Quarterly Review of Inter-American Cultural History

"Rob Ruck pioneered historical research and writing about black and Latin baseball, and Raceball proves that Ruck remains at the top of his game."—Brad Snyder, author of A Well-Paid Slave
 
"Some are well-versed when it comes to the Negro Leagues. Others are aficionados about the rise of Latinos in baseball. But Rob Ruck is one of the few writers who can be called an expert in both fields. Perceptive and insightful, Raceball is a pleasure to read."—Tim Wendel, author of The New Face of Baseball and High Heat
 
"Rob Ruck, one of our greatest historians of sport, has given us a gift for the ages: a history of baseball that captures its multicultural dynamics in original and profoundly illuminating ways. Synthesizing a lifetime of pathbreaking research, Raceball presents a brilliant new account—in black, white, and brown—of what can no longer be regarded as merely the national game."—Marcus Rediker, author of The Slave Ship
 
"Rob Ruck is the ultimate authority when it comes to an in-depth look at Latino baseball in America. Raceball is a profound look at why Latinos have replaced African American baseball players, helping the reader understand the game as a business. Definitely a must-read for those who love the game, regardless of origin, race, or ethnicity."—Juan Marichal, MLB Hall of Famer
 
"A seamless mix of sports and politics that educates and entertains in the way that great political writing—and great sports writing—aspires to do."—Dave Zirin, author of Bad Sports and A People's History of Sports in the United States

"Rob Ruck writes with passion and precision about the always conflicting ways of American professional baseball, a spectacle for profit that enriches some players at the expense of the vast majority of those who don't make it. Ruck still loves it, as I do, which makes for the appealing tension of the story he tells."—Roberto González Echevarría, author of The Pride of Havana: A History of Cuban Baseball and Cuban Fiestas, Sterling Professor of Hispanic and Comparative Literature, Yale University

"Ruck writes for the fan—of baseball and of the compelling, dramatic rendering of history—in this impressive, lively book. He shows how the lines dividing races and nations shaped what happened on the field, enforcing separation, giving way at times to pressure from those wanting to play ball and to play fair, and producing new reflections of the world's inequalities even as things changed." —David Roediger, author of How Race Survived U.S. History, Babcock Professor of History at the University of Illinois

"Strongly recommended, like Burgos, above, for avid baseball readers as well as those studying African American or Latino studies."—Library Journal
or
Not Currently Available for Direct Purchase