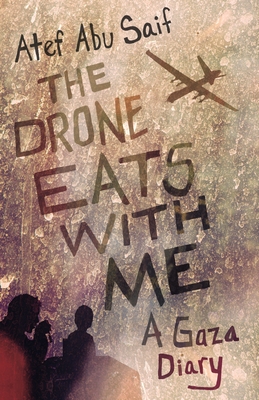 The Drone Eats with Me (Paperback)
A Gaza Diary
Beacon Press, 9780807049105, 264pp.
Publication Date: July 5, 2016
* Individual store prices may vary.
Description
An ordinary Gazan's chronicle of the struggle to survive during Israel's 2014 invasion of Gaza

The Drone Eats with Me is an unforgettable rendering of everyday civilian life shattered by the realities of twenty-first-century warfare. Israel's 2014 invasion of Gaza lasted 51 days, killed 2,145 Palestinians (578 of them children), injured over 11,000 people, and demolished more than 17,000 homes. Atef Abu Saif, a young father and novelist, puts an indelibly human face on these statistics, providing a rare window into the texture of a community and the realities of a conflict that is too often obscured by politics.
About the Author
Atef Abu Saif was born in Jabalia Refugee Camp in the Gaza Strip in 1973. He is the author of five novels, including A Suspended Life, which was shortlisted for the 2015 International Prize for Arab Fiction. He lives with his family in Gaza.
Praise For The Drone Eats with Me: A Gaza Diary…
"This stunning memoir reads more like poetry than prose."
—San Francisco Chronicle

"An indelibly memorable book...the saddest thing about The Drone Eats with Me is how long it's likely to remain timely."
—The Christian Science Monitor

"Saif sets politics aside in order to focus on both the human tragedy that continues to play out there and the power of hope. An important addition to Middle Eastern literature."
—Booklist, Starred Review

"'Without a TV, we stand by the window and watch Gaza, together. Fields of darkness spread out in all directions. The ghost of a city. The only lights are those of the drones and F16s hovering above it all.' The Drone Eats with Me is a devastating contemporary war journal. This is what war is like in the twenty-first century—the voice of a civilian in the onslaught of drone warfare, a voice we have never heard before."
—Michael Ondaatje, author of Divisadero

"In this luminous account of Israel's 2014 invasion of Gaza, Atef Abu Saif creates a literary equivalent to Goya's Disasters of War. The Drone Eats with Me deserves to become a modern classic of war literature. But for all the surrealist absurdity of the horrors Abu Saif chronicles, the book pulses throughout with the sublime, mundane, and ferocious love for life."
—Molly Crabapple, author of Drawing Blood

"Atef Abu Saif's journal of the incessant bombing of the Gaza Strip during the summer of 2014 presents a voice we usually do not hear. Saif gives names and faces to the anonymous people presented in the daily news. His personal account, presented clearly and passionately, is testimony that must be heard."
—Mary Fran Buckley, Eight Cousins (Falmouth, MA)

"Written with the unapologetic immediacy of a journalist and father, The Drone Eats With Me is an essential guide to life in modern Gaza. Atef Abu Saif's chronicle of living in the age of drone warfare will stir the reader's heart."
—Erin Goss, Left Bank Books (St. Louis, MO)

"I hope this book is read with an open heart and mind by Americans of all religions and from all regions, and across the world, too. It's not an easy read, but I feel better and more informed having read it...Saif's memoir about a family attempting normalcy during modern-day wartime takes you into a world we read plenty of headlines about but may not understand when it comes to day-to-day life."
—Sue Roegge, Chapter2Books (Hudson, WI)

"It's difficult to read, the way many war memoirs are, but it feels important to witness what this man experienced. Thoughtful and beautifully written, this book will leave you with a lot to think about."
—Ingrid Goatson, Boulder Book Store (Boulder, CO)