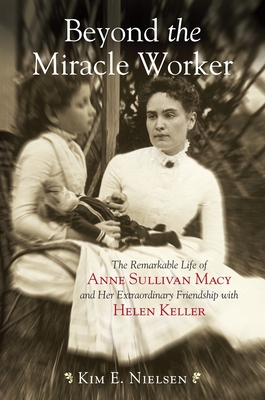 Beyond the Miracle Worker (Paperback)
The Remarkable Life of Anne Sullivan Macy and Her Extraordinary Friendship with Helen Keller
Beacon Press, 9780807050507, 320pp.
Publication Date: March 1, 2010
* Individual store prices may vary.
Description
After many years, historian and Helen Keller expert Kim Nielsen realized that she, along with other historians and biographers, had failed Anne Sullivan Macy. While Macy is remembered primarily as Helen Keller's teacher and mythologized as a straightforward educational superhero, the real story of this brilliant, complex, and misunderstood woman, who described herself as a "badly constructed human being," has never been completely told.

Beyond the Miracle Worker, the first biography of Macy in nearly fifty years, complicates the typical Helen-Annie "feel good" narrative in surprising ways. By telling the life from Macy's perspective-not Keller's-the biography is the first to put Macy squarely at the center of the story. It presents a new and fascinating tale about a wounded but determined woman and her quest for a successful, meaningful life.

Born in 1866 to poverty-stricken Irish immigrants, the parentless and deserted Macy suffered part of her childhood in the Massachusetts State Almshouse at Tewksbury. Seeking escape, in love with literature, and profoundly stubborn, she successfully fought to gain an education at the Perkins School for the Blind.

As an adult, Macy taught Keller, helping the girl realize her immense potential, and Macy's intimate friendship with Keller remained powerful throughout their lives. Yet as Macy floundered with her own blindness, ill health, and depression, as well as a tumultuous and triangulated marriage, she came to lean on her former student, emotionally, physically, and economically.

Based on privately held primary source material, including materials at both the American Foundation for the Blind and the Perkins School for the Blind, Beyond the Miracle Worker is revelatory and absorbing, unraveling one of the best known-and least understood-friendships of the twentieth century.
About the Author
Kim E. Nielsen is an award-winning educator, the recipient of a National Endowment for the Humanities We the People stipend, a Fulbright lecturer, the author of many journal articles, and frequent public speaker. Her books include Helen Keller: Selected Writings (2005), The Radical Lives of Helen Keller(2004) and Un-American Womanhood: Antiradicalism, Antifeminism and the First Red Scare (2001). She also served as an advisory editor to the forthcomingEncyclopedia of American Disability History (2009). She lives in Green Bay, Wisconsin where she is Professor of History & Women's Studies at the University of Wisconsin-Green Bay.
Praise For Beyond the Miracle Worker: The Remarkable Life of Anne Sullivan Macy and Her Extraordinary Friendship with Helen Keller…
"Kim E. Nielsen's richly textured biography provides a more interest­ing and complex narrative of Macy's early years and the later life that she and Keller shared…Nielsen writes about disabil­ity and America's past as well as any scholar today, and she does so unsentimentally and with subtlety, sensitive to the nuance and ambiguity that characterize the best history and biography."—Journal of American History 
 
A remarkable story of a vulnerable woman in a culture that allowed women neither freedom nor power. Still, somehow Anne, an almost blind orphan living in a poorhouse, managed to secure an education and carve out an independent life for herself and her student, Helen Keller. Anne Sullivan Macy is a feminist hero.—Mary Pipher, author of Reviving Ophelia and Seeking Peace

"A considerate yet equitable biography of a complex woman whose singular contributions to the burgeoning field of education for the blind have often been misjudged."—Booklist

"Nielsen overcomes all the obstacles her recalcitrant subject throws in her path, and creates a portrait of Sullivan's life that is complex with all its contradictions and inconsistencies."—Georgina Kleege, Disability Studies Quarterly

"Engaging and excellently researched . . . Nielsen shows how tragic Annie's 'secret' and 'shameful' past had been-a drama worthy of Dickens. . . . The extraordinary story of Annie Sullivan and Helen Keller is an exemplary reminder that perseverance in the face of obstacles can yield miracles."—Sidney Callahan, America

"How remarkable it is to learn about the complicated, flesh-and-blood person behind the feisty legend at the water pump. Kim Nielsen's biography reveals so much about one of the greatest teachers of all time, and her compassionate and honest writing made my heart go out to Annie Sullivan."—Rachel Simon, author of Riding the Bus with My Sister

"Fascinating and beautifully crafted, Beyond the Miracle Worker reinterprets Macy's life, challenging the mythology of her work with Helen Keller to reveal a powerful, rich, and surprising personal story. . . . Conveying the complexity and humanity of Macy and her world, this is an appealing biography for general readers and scholars alike."—Susan Burch, author of Signs of Resistance: American Deaf Cultural History, 1900 to World War II

"Rejecting hagiography, Nielsen offers a complex portrait of the woman Helen Keller called 'Teacher.' Especially interesting are Nielsen's reflections on Sullivan's own vision impairment and her lifelong struggle to support herself. It's time we all move beyond the sentimental trope of the 'miracle worker' as we consider the actual predicaments of those who care for and instruct people with disabilities."BR>—Ralph James Savarese, author of Reasonable People: A Memoir of Autism and Adoption

"Kim Nielsen's absorbing biography of Anne Sullivan Macy not only captures the complexity of Sullivan's character, but also offers fresh insights into her relationship with her famous pupil. Thoroughly researched, persuasive, and readable, Beyond the Miracle Worker is both a compelling story and an important contribution to women's history and the history of the disabled."—Elisabeth Gitter, author of The Imprisoned Guest: Samuel Howe and Laura Bridgman, the Original Deaf-Blind Girl

"Nielsen's engaging and comprehensive account of Annie Sullivan reveals a woman of great intellect and complexity who overcame many challenges in her own right. This book will irrevocably change what you thought you knew about the 'Helen-Annie' story."—Judith Heumann, Disability Rights Advocate and former U.S. Assistant Secretary Department of Education

"A significant contribution...Nielsen has provided a learned, readable narrative of Macy, one that succeeds admirably in foregrounding a woman who, during her own life, stood in the shadow of Keller. Their relationship was complex and fluid, but nothing if not tender, and Nielsen's careful scholarship does justice both to the intricacies and to the warmth of the friendship." —Daniel S. Goldberg, H-Disability: An H-Net Discussion Network