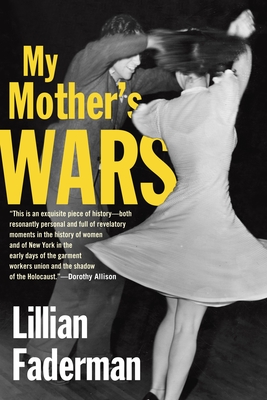 My Mother's Wars
Hardcover

* Individual store prices may vary.
Other Editions of This Title:
Paperback (7/14/2015)
MP3 CD (7/5/2016)
Description
An acclaimed writer on her mother's tumultuous life as a Jewish immigrant in 1930s New York and her life-long guilt when the Holocaust claims the family she left behind in Latvia
 
A story of love, war, and life as a Jewish immigrant in the squalid factories and lively dance halls of New York's Garment District in the 1930s, My Mother's Wars is the memoir Lillian Faderman's mother was never able to write. The daughter delves into her mother's past to tell the story of a Latvian girl who left her village for America with dreams of a life on the stage and encountered the realities of her new world: the battles she was forced to fight as a woman, an immigrant worker, and a Jew with family left behind in Hitler's deadly path.

The story begins in 1914: Mary, the girl who will become Lillian Faderman's mother, just seventeen and swept up with vague ambitions to be a dancer, travels alone to America, where her half-sister in Brooklyn takes her in. She finds a job in the garment industry and a shop friend who teaches her the thrills of dance halls and the cheap amusements open to working-class girls. This dazzling life leaves Mary distracted and her half-sister and brother-in-law scandalized that she has become a "good-time gal." They kick her out of their home, an event with consequences Mary will regret for the rest of her life.

Eighteen years later, still barely scraping by as a garment worker and unmarried at thirty-five, Mary falls madly in love and has a torrid romance with a man who will never marry her, but who will father Lillian Faderman before he disappears from their lives. America is in the midst of the Depression, Hitler is coming to power in Europe, and New York's garment workers are just beginning to unionize. Mary makes tentative steps to join, despite her lover's angry opposition. As National Socialism engulfs Europe, Mary realizes she must find a way to get her family out of Latvia, and she spends frenetic months chasing vague promises and false rumors of hope. Pregnant again, after having submitted to two wrenching back-room abortions, and still unmarried, Mary faces both single motherhood and the devastating possibility of losing her entire Eastern European family.

Drawing on family stories and documents, as well as her own tireless research, Lillian Faderman has reconstructed an engrossing and essential chapter in the history of women, of workers, of Jews, and of the Holocaust as immigrants experienced it from American shores.

 
 
Praise For My Mother's Wars…
"This is an exquisite piece of history—both resonantly personal and full of revelatory moments in  the history of  women, and of  New York in the early days of  the garment workers union and the shadow of the Holocaust.  The sympathy and understanding Faderman shows for her immigrant mother, and her whole family, reminded me again of what I love about memoir. This is not just a story; these are lives on the page."  —Dorothy Allison

"Faderman's story of her immigrant mother is so vividly imagined that you can taste the borscht Mary eats, squirm at the claustrophobia of her tiny rented room, and be swept up in the sensual delight that will betray her."  —Janice Steinberg, author of The Tin Horse
 
"This book is a work of originality, written with such imaginative sympathy that I read it with unabating pleasure from beginning to end." —Vivian Gornick, author of Fierce Attachments
 
"Lillian Faderman is an extraordinary storyteller, one of the few who can tell a painful story with a complex ending—and imbue it with humor, sensuality, and earthy grace, in every sentence." —Amy Bloom, author of Away
 
"The sympathy and understanding Faderman shows for her immigrant mother and her whole family reminded me again of what I love about memoir. This is not just a story; these are lives on the page." —Dorothy Allison, author of Bastard Out of Carolina
 
"My Mother's Wars tells the aching story of immigrant factory workers in the decades preceding World War II—sad lives made sadder by the terrifying knowledge that their families in Europe are being extinguished. The book is part memoir, part reconstruction . . . and all artistry." —Edith Pearlman, author of Binocular Vision

"Faderman is a skilled storyteller and a careful documentarian . . . the historical details in the book have been provided by extensive research. It is these historical details and Faderman's lyrical storytelling skill that make this book such an inviting read." —Carol Poll, Jewish Book Council
 
"A remarkable work of reconstruction . . . As usual, Faderman's seemingly effortless prose is the result of years of patient research. As far as possible, she has made sure that the past will be accurately remembered."  —The Gay & Lesbian Review
 
"To be sure, the Holocaust figures crucially in [Lillian Faderman's] new memoir . . . but her book is more than a testimony of the Holocaust— it is a love story, a family memoir and, above all, an American tale."  —Jonathan Kirsch, The Jewish Journal
 
"[A] strikingly intelligent and emotionally wrenching narrative."  —Philip Jason, The Washington Independent Review of Books
 
"A gripping personal testimony. Author Lillian Faderman shares her mother's story of immigrating to America with high hopes of dancing, only to be swept up in the undercurrents of New York, and the struggles of being a worker in the garment industry. . . . A must for history and memoir collections focusing on personal tales." —Midwest Book Review
 
"Faderman expertly explores a jarring view into the immigrant life of Jewish Holocaust survivors living in the US."  —Nick Pachelli, The Advocate
 
"As Faderman vividly chronicles her mother's intense personality and complex experiences, she also freshly illuminates the Jewish immigrant experience."  —Booklist

"Faderman commands her material in this page-turner—no small feat with a subject so close to home." —Make/shift
Beacon Press, 9780807050521, 264pp.
Publication Date: March 5, 2013
About the Author
Lillian Faderman is an internationally known scholar of ethnic history, and of lesbian history and an acclaimed memoirist. She is the author of many books, including To Believe in Women, Odd Girls and Twilight Lovers, Surpassing the Love of Men, and I Begin My Life All Over. Among her many honors are Yale University's James Brudner Award for exemplary scholarship in lesbian and gay studies, the Monette-Horwitz Award, and the American Association of University Women's National Distinguished Scholar Award. 
or
Not Currently Available for Direct Purchase