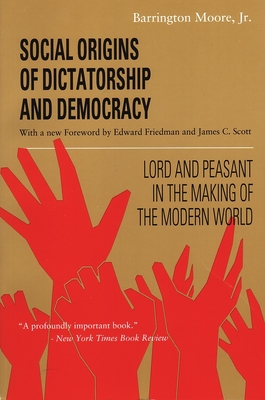 Social Origins of Dictatorship and Democracy
Lord and Peasant in the Making of the Modern World
Paperback

* Individual store prices may vary.
Description
This classic work of comparative history explores why some countries have developed as democracies and others as fascist or communist dictatorships
 
Originally published in 1966, this classic text is a comparative survey of some of what Barrington Moore considers the major and most indicative world economies as they evolved out of pre-modern political systems into industrialism. But Moore is not ultimately concerned with explaining economic development so much as exploring why modes of development produced different political forms that managed the transition to industrialism and modernization. Why did one society modernize into a "relatively free," democratic society (by which Moore means England)? Why did others metamorphose into fascist or communist states? His core thesis is that in each country, the relationship between the landlord class and the peasants was a primary influence on the ultimate form of government the society arrived at upon arrival in its modern age.
 
"Throughout the book, there is the constant play of a mind that is scholarly, original, and imbued with the rarest gift of all, a deep sense of human reality . . . This book will influence a whole generation of young American historians and lead them to problems of the greatest significance."
—The New York Review of Books
Praise For Social Origins of Dictatorship and Democracy: Lord and Peasant in the Making of the Modern World…
A landmark in comparative history and a challenge to scholars of all lands who are trying to learn how we arrived at where we are now. -New York Times Book Review
Beacon Press, 9780807050736, 592pp.
Publication Date: September 1, 1993
About the Author
Barrington More, Jr. is a Lecturer in Sociology at Harvard University and Senior Research Fellow for the University's Russian Centre. He was educated at Williams College, where he took a degree in Greek and Latin, and at Yale University where he gained a PhD in sociology. His book Social Origins of Dictatorship and Democracy received the Woodrow Wilson Foundation Award in political science and the MacIver Award in sociology. He is also the author of Soviet Politics: The Dilemma of Power, Terror and Progress: USSR, Political Power and Social Theory and, with Robert P. Wolff and Herbert Marcuse, A Critique of Pure Tolerance. His most recent book, Reflections on the Causes of Human Misery and Upon Certain Proposals to Eliminate Them, was given the Ralph Waldo Emerson Award of Phi Beta Kappa.