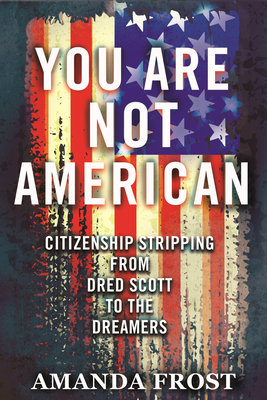 You Are Not American
Citizenship Stripping from Dred Scott to the Dreamers
Hardcover

* Individual store prices may vary.
Other Editions of This Title:
Digital Audiobook (1/25/2021)
Paperback (2/22/2022)
Compact Disc (4/27/2021)
MP3 CD (4/27/2021)
Description
Citizenship is invaluable, yet our status as citizens is always at risk—even for those born on US soil.

Over the last two centuries, the US government has revoked citizenship to cast out its unwanted, suppress dissent, and deny civil rights to all considered "un-American"—whether due to their race, ethnicity, marriage partner, or beliefs. Drawing on the narratives of those who have struggled to be treated as full members of "We the People," law professor Amanda Frost exposes a hidden history of discrimination and xenophobia that continues to this day.

The Supreme Court's rejection of Black citizenship in Dred Scott was among the first and most notorious examples of citizenship stripping, but the phenomenon did not end there. Women who married noncitizens, persecuted racial groups, labor leaders, and political activists were all denied their citizenship, and sometimes deported, by a government that wanted to redefine the meaning of "American." Today, US citizens living near the southern border are regularly denied passports, thousands are detained and deported by mistake, and the Trump administration is investigating the citizenship of 700,000 naturalized citizens. Even elected leaders such as Barack Obama and Kamala Harris are not immune from false claims that they are not citizens eligible to hold office.

You Are Not American grapples with what it means to be American and the issues surrounding membership, identity, belonging, and exclusion that still occupy and divide the nation in the twenty-first century.
Praise For You Are Not American: Citizenship Stripping from Dred Scott to the Dreamers…
"A sharp history that shows the precarious nature of American citizenship."
—Kirkus Reviews, Starred Review

"A highly informative work that gives depth and humanity to an often-overlooked issue."
—Library Journal, Starred Review

"This troubling investigation of American exclusionism hits the mark."
—Publishers Weekly

"A sobering chronicle of the US government's attempts—both successful and unsuccessful—to expatriate its citizens, and in so doing, define itself by exclusion."
—Christian Science Monitor

"Dana Stoutenburg provides a well-paced delivery as he relates the personal stories, historical references, cultural implications, and present-day challenges. Timely and relevant, the audiobook asks vital questions about identity, connection, and power."
—AudioFile Magazine

"Beautifully and engagingly written, Amanda Frost's You Are Not American describes the disturbing history of citizen stripping in the United States through the eyes of those involved in the country's most important court cases on the topic. Frost shows how the manipulation of the rules for losing citizenship reflected some of this country's most gripping political struggles—over slavery, women's suffrage, communism, immigration, and world wars—and how far we have yet to go to assure the promise of birthright citizenship enshrined in the US Constitution's Fourteenth Amendment. A must-read!"
—Richard L. Hasen, author of Election Meltdown

"You Are Not American could not be more timely in its exploration of 'citizenship stripping' in American history. Through lively chapters exploring particularly illuminating examples, Frost exposes how the US government has used the power to expatriate those it considers not fully 'American' to discriminate and exclude based on race, religion, marital status, or viewpoint. Compelling reading."
—Caroline Fredrickson, author of The Democracy Fix

"Amanda Frost powerfully analyzes repeated instances in US history when US citizenship was stripped—or was attempted to be stripped—to achieve a combination of racial and political ends. Amanda Frost outlines how African Americans, Latina/os, women, Japanese Americans, and others suffered the loss of citizenship and the rights that all US citizens possess. As the nation faces a racial reckoning, You Are Not American should be required reading lest these deplorable racial episodes are forgotten."
—Kevin R. Johnson, dean, University of California at Davis School of Law

"As the debate over immigration and citizenship grows more corrosive, Amanda Frost has provided a useful and highly readable corrective to misinformation. 'Birthright citizenship' and its role in building American democracy are under assault in the twenty-first century. At such a time, reading You Are Not American is an important act of citizenship."
—Garrett Epps, author of Democracy Reborn

"This book reads like a dream; not only is the reader absorbed by each story, but the author has skillfully woven those stories into a fabric to show the big picture. Cumulatively, the reader gets an appreciation for the hard-fought legal battles to achieve that condition that many of us take for granted: American citizenship."
—Lea S. Vandervelde, author of Redemption Song

"One of the defining struggles of the American experience has been over who gets to claim the rights and opportunities of citizenship. In You Are Not American, Amanda Frost clarifies the stakes of these battles in a moving, masterful, and deeply humane account of why we keep fighting about issues that test our core commitment to liberty and equality for all—our very capacity for democracy."
—Daniel J. Sharfstein, author of Thunder in the Mountains
Beacon Press, 9780807051429, 248pp.
Publication Date: January 26, 2021
About the Author
Amanda Frost is a professor of law at American University, and she writes and teaches in the fields of constitutional, immigration, and citizenship law. Her work has been published in numerous academic journals, as well as The Atlantic, the New York Times, The American Prospect, the Washington Post, and Slate. Connect with her on Twitter @amanda_frost1.