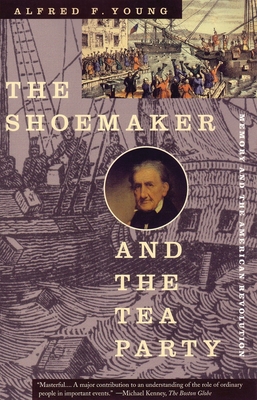 The Shoemaker and the Tea Party: Memory and the American Revolution (Paperback)
Memory and the American Revolution
Beacon Press, 9780807054055, 288pp.
Publication Date: March 17, 2000
Description
George Robert Twelves Hewes, a Boston shoemaker who participated in such key events of the American Revolution as the Boston Massacre and the Tea Party, might have been lost to history if not for his longevity and the historical mood of the 1830's. When the Tea Party became a leading symbol of the Revolutionary ear fifty years after the actual event, this 'common man' in his nineties was 'discovered' and celebrated in Boston as a national hero. Young pieces together this extraordinary tale, adding new insights about the role that individual and collective memory play in shaping our understanding of history.
About the Author
Alfred F. Young is senior research fellow at the Newberry Library in Chicago and professor emeritus of history at Northern Illinois University. He lives in Oak Park, Illinois.
Praise For The Shoemaker and the Tea Party: Memory and the American Revolution…
Anyone interested in the American Revolution must put this at the top of their reading list. Anyone who believes that revising history is a suspect activity can begin their reeducation here. -Gary Nash, author of History on Trial: Culture Wars and the Teaching of the Past

"Every schoolchild knows (or used to know) about the Boston Tea Party and its place in American Revolutionary history. But what was it really like at Griffin's Wharf on that famous night of December 16, 1773, when a band of patriots dumped the cargo of three British ships into the harbor? In The Shoemaker and the Tea Party, the historian Alfred F. Young tells the story by recounting the hitherto-obscure life of George Hewes, a struggling cobbler....The author makes the turmoil of the Colonial era in New England seem real and vivid....[A] thoughtful and revealing book." -Herbert Kupferberg, Parade Magazine

"Significant and engaging....The reader not only receives a splendid case study in the workings of personal memory more than 160 years ago, but fresh insights into the process whereby survivors become heroes and patriotic myths are made." -Michael Kammen, The New England Quarterly

"A wonderful model for anyone trying to reconstruct the life of an ordinary person involved in extraordinary historical events. Young's meditation on the construction of memory is extremely thoughtful and provocative." -Howard Zinn, author of A People's History of the United States
Advertisement