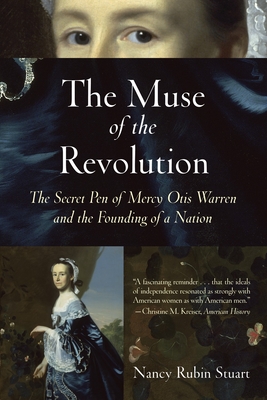 The Muse of the Revolution
The Secret Pen of Mercy Otis Warren and the Founding of a Nation
Paperback

* Individual store prices may vary.
Other Editions of This Title:
Hardcover (7/1/2008)
Description
Praised by her mentor John Adams, Mercy Otis Warren was America's first woman playwright and female historian of the American Revolution. In this unprecedented biography, Nancy Rubin Stuart reveals how Warren's provocative writing made her an exception among the largely voiceless women of the eighteenth century.
Praise For The Muse of the Revolution: The Secret Pen of Mercy Otis Warren and the Founding of a Nation…
Stuart reminds us that the U.S. Constitution—notably the Bill of Rights—carries Mercy Otis Warren's fingerprints as much if not more than those of most constitutional delegates. . . . This wonderfully researched and readable book has done an excellent job of giving another view of what it took to make this country.—Library Journal, starred review

"A valiant resurrection of an important early American author."—Kirkus

"A fascinating reminder . . . that the ideals of independence resonated as strongly with American women as with American men."—Christine M. Kreiser, American History

"Death by lightning, duels, treason, smallpox, 16-page rants written with quill pens, nervous breakdowns. This may sound like the stuff of an overwrought period novel, but it's straightforward fact in Nancy Rubin Stuart's nuanced biography of Mercy Otis Warren."—Kathleen Willcox, Bust

"Stuart has artfully set the story in the context of the Revolution . . . . A lively introduction to the great Mercy Otis Warren."—Edith Gelles, Wilson Quarterly

"Should be required reading in American history classes . . . . Warren was one of the great scribes of our American Revolutionary era."—Larry and Saralee Woods, American Spirit

"Warren emerges as a fully fleshed-out woman with literary insecurities, intractable opinions and a high-strung temper as well as deep affection for her husband and sons. Stuart includes fascinating period details, focusing primarily on Warren's home-front experiences of rampant inflation, scarcity of goods, high taxes and profiteering during the Revolution as well as typical 18th-century illnesses and family anxieties. Most poignantly, Stuart depicts Warren's loneliness and despair after the deaths of three of her five sons. This account is valuable as an eyewitness play-by-play of the American Revolution."—Publishers Weekly
Beacon Press, 9780807055175, 328pp.
Publication Date: July 1, 2009
About the Author
Nancy Rubin Stuart is an award-winning author, journalist and writer-producer who specializes in women and social history. Her previous books includeThe Reluctant Spiritualist: The Life of Maggie Fox, American Empress: The Life and Times of Marjorie Merriweather Post, and Isabella of Castile: The First Renaissance Queen. In connection with her work she has appeared on several national television series and on NPR's "Morning Edition." Her articles have appeared in the New York Times, the Los Angeles Times and many national magazines. She currently serves as one of the directors of the Women Writing Women's Lives Seminar at the Graduate Center of the City University of New York. While researching Mercy Otis Warren, she received a 2005 William Randolph Hearst Fellowship from the American Antiquarian Society. She lives in Manhattan with her husband.