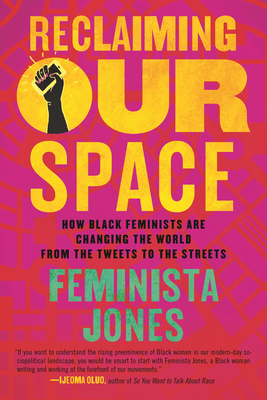 Reclaiming Our Space
How Black Feminists Are Changing the World from the Tweets to the Streets
Paperback

* Individual store prices may vary.
Other Editions of This Title:
Digital Audiobook (1/28/2019)
MP3 CD (1/29/2019)
Compact Disc (1/29/2019)
Description
A treatise of Black women's transformative influence in media and society, placing them front and center in a new chapter of mainstream resistance and political engagement

In Reclaiming Our Space, social worker, activist, and cultural commentator Feminista Jones explores how Black women are changing culture, society, and the landscape of feminism by building digital communities and using social media as powerful platforms. As Jones reveals, some of the best-loved devices of our shared social media language are a result of Black women's innovations, from well-known movement-building hashtags (#BlackLivesMatter, #SayHerName, and #BlackGirlMagic) to the now ubiquitous use of threaded tweets as a marketing and storytelling tool. For some, these online dialogues provide an introduction to the work of Black feminist icons like Angela Davis, Barbara Smith, bell hooks, and the women of the Combahee River Collective. For others, this discourse provides a platform for continuing their feminist activism and scholarship in a new, interactive way.

Complex conversations around race, class, and gender that have been happening behind the closed doors of academia for decades are now becoming part of the wider cultural vernacular—one pithy tweet at a time. With these important online conversations, not only are Black women influencing popular culture and creating sociopolitical movements; they are also galvanizing a new generation to learn and engage in Black feminist thought and theory, and inspiring change in communities around them.

Hard-hitting, intelligent, incisive, yet bursting with humor and pop-culture savvy, Reclaiming Our Space is a survey of Black feminism's past, present, and future, and it explains why intersectional movement building will save us all.
Praise For Reclaiming Our Space: How Black Feminists Are Changing the World from the Tweets to the Streets…
"There's a beautiful optimism about the power of social media throughout various chapters . . . Recommended for university-level courses on gender studies and new media studies as well as for general readers interested in the intersection of pop culture, feminist theory, racial justice, and activism."
—Library Journal, Starred Review

"Smart, savvy, and unapologetically fierce."
—Kirkus Reviews

"Jones's entertaining book . . . astutely analyzes the nuances of black female identity."
—Publishers Weekly

"If you want to understand the rising preeminence of black women in our modern day sociopolitical landscape, you would be smart to start with Feminista Jones, a black woman writing and working at the forefront of our movements."
—Ijeoma Oluo, author of the New York Times bestseller So You Want To Talk About Race

"Reclaiming Our Space is an invaluable contribution to long-overdue conversations about race, gender, and intersectionality in America. Feminista Jones combines empathy and wisdom with intellectual rigor and historical analysis to explain clearly and compellingly the central role that Black feminists play in the fight for democracy and social justice."
—Soraya Chemaly, director of the Women's Media Center Speech Project and author of Rage Becomes Her

"Reclaiming Our Space is a refreshing affirmation of Black women, centering our societal roles in a way I have never read before. For those of us whose race and gender exist at a precarious intersection, Reclaiming Our Space is a godsend that will inform not only how we are approached and regarded by others through social media platforms but how we interact with each other and value ourselves."
—CaShawn Thompson, creator of #BlackGirlMagic

"It's impossible to overstate the cultural impact of Feminista Jones . . . . A bold and candid voice."
—Eve L. Ewing, author of Electric Arches and Ghosts in the Schoolyard

"As often as I find myself disillusioned by today's political climate, Feminista Jones reminds us that Black women have always been and continue to be at the forefront of social change both online and IRL. Reclaiming Our Space is a thorough and accessible history of Black feminism that reflects on our past as a means of encouraging us to move toward a better future."
—Franchesca Ramsey, host of MTV Decoded and author of Well, That Escalated Quickly: Memoirs and Mistakes of an Accidental Activist

"In a world where many call themselves 'feminist,' educator, healer, and community leader Feminista Jones provides tangible steps for those seeking to do a better job of showing up and holding space for Black women. Reclaiming Our Space is required reading for brothers who fashion themselves supporters of our sisters, as well as those who don't yet know they need to be. It's also soul food for the rest of y'all desiring to move toward a better future."
—David Johns, executive director of the National Black Justice Coalition
Beacon Press, 9780807055373, 192pp.
Publication Date: January 29, 2019
About the Author
Feminista Jones is a Philadelphia-based social worker, feminist writer, public speaker, and community activist. She is an award-winning blogger and the author of the novel Push the Button and the poetry collection The Secret of Sugar Water. She was named one of the 100 Most Influential People in Philadelphia and one of the Top 100 Black Social Influencers by The Root. Her writing has been featured in the New York Times, Washington Post, and Time, Essence, and Ebony magazines.