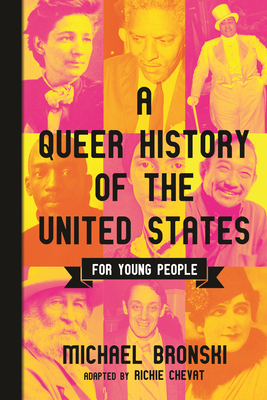 A Queer History of the United States for Young People (ReVisioning History for Young People #1)
Paperback

* Individual store prices may vary.
Other Editions of This Title:
Paperback (5/15/2012)
Hardcover (5/10/2011)
Paperback (1/2/2080)
Description
Named one of the Best Nonfiction Books of 2019 by School Library Journal

Queer history didn't start with Stonewall. This book explores how LGBTQ people have always been a part of our national identity, contributing to the country and culture for over 400 years.

It is crucial for lesbian, gay, bisexual, transgender, and queer youth to know their history. But this history is not easy to find since it's rarely taught in schools or commemorated in other ways. A Queer History of the United States for Young People corrects this and demonstrates that LGBTQ people have long been vital to shaping our understanding of what America is today.

Through engrossing narratives, letters, drawings, poems, and more, the book encourages young readers, of all identities, to feel pride at the accomplishments of the LGBTQ people who came before them and to use history as a guide to the future. The stories he shares include those of

* Indigenous tribes who embraced same-sex relationships and a multiplicity of gender identities.
* Emily Dickinson, brilliant nineteenth-century poet who wrote about her desire for women.
* Gladys Bentley, Harlem blues singer who challenged restrictive cross-dressing laws in the 1920s.
* Bayard Rustin, Dr. Martin Luther King Jr.'s close friend, civil rights organizer, and an openly gay man.
* Sylvia Rivera, cofounder of STAR, the first transgender activist group in the US in 1970.
* Kiyoshi Kuromiya, civil rights and antiwar activist who fought for people living with AIDS.
* Jamie Nabozny, activist who took his LGBTQ school bullying case to the Supreme Court.
* Aidan DeStefano, teen who brought a federal court case for trans-inclusive bathroom policies.
* And many more!

With over 60 illustrations and photos, a glossary, and a corresponding curriculum, A Queer History of the United States for Young People will be vital for teachers who want to introduce a new perspective to America's story.
Praise For A Queer History of the United States for Young People (ReVisioning History for Young People #1)…
"Readers will find a straightforward, documented, nonsensational celebration of the contributions of LGBTQ people in the US . . . No previous knowledge is assumed: definitions are provided, context is established, and quaint contemporary mores are explained . . . Above all, there is continuous reassurance that the definition of 'normal' has always been in flux, that numerous LGBTQ people have been important figures in American history, and that young LGBTQ people of today will make crucial contributions to future queer history."
—Booklist, Starred Review

"This adaptation for teens of the author's 2012 Stonewall Award–winning A Queer History of the United States is doubly valuable; it serves well as a general read and fills a clear curricular need. Each carefully selected profile bolsters the case for queer leadership and activism as a driving force of progress."
—School Library Journal, Starred Review

"Alongside watershed moments like the 1969 Stonewall uprising and the HIV/AIDS crisis of the 1980s and 1990s, the text brings to light less well-known people, places, and events: the 1625 free love colony of Merrymount, transgender Civil War hero Albert D. J. Cashier, and the 1951 founding of the Mattachine Society, to name a few."
—Kirkus Reviews

"Readers seeking role models from the past will find an edifying resource and invitation for further exploration into untold stories."
—Publishers Weekly

"With its focus on individuals who dared to fight for their rights, A Queer History of the United States for Young People will serve as a touchstone for LGBTQ readers seeking proof of the greatness that preceded them and confidence in the success that awaits in their future."
—Shelf Awareness

"Bronski's A Queer History of the United States for Young People is a necessary, comprehensive, and accessible primer for queer history. In a political climate that seeks to disappear LGBTQ people and our contributions to society, it's more important than ever to cultivate a relationship with our queer past. Taking guidance from the LGBTQ forebears profiled in this book gives us permission to imagine otherwise and strive beyond the status quo."
—Alok Vaid-Menon, gender non-conforming artist and author of Femme in Public

"It's no easy task to craft a nuanced story of queer history for young readers, but Michael Bronski and Richie Chevat have pulled it off. Weaving together stories of diverse historical and contemporary figures, this book peoples the queer past and present, with hope for the future."
—Leila J. Rupp, author of Understanding and Teaching U.S. Lesbian, Gay, Bisexual, and Transgender History

"This volume is both timely and timeless: a deep, scholarly dive into our history. It should sit at the table next to Zinn's People's History—required, essential reading for all people."
—Saundra Mitchell, editor of All Out and Out Now, and author of All the Things We Do in the Dark
Beacon Press, 9780807056127, 336pp.
Publication Date: June 11, 2019
About the Author
Michael Bronski is Professor of the Practice in Activism and Media in the Studies of Women, Gender and Sexuality at Harvard University. He has written extensively on LGBT issues for four decades, in both mainstream and queer publications including The Los Angeles Times, The Boston Globe, The San Francisco Chronicle, The Advocate, Boston Review, Lambda Book Report, Z, and The Nation.

Richie Chevat writes fiction and nonfiction for adults and children. His adaptations for young readers include Our Choice by Al Gore and The Omnivore's Dilemma by Michael Pollan. He lives in New Jersey.