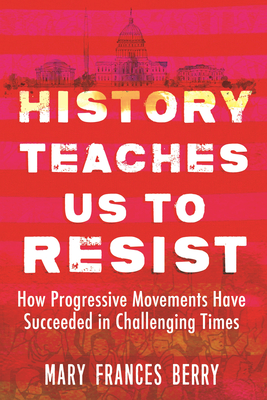 History Teaches Us to Resist
How Progressive Movements Have Succeeded in Challenging Times
Paperback

* Individual store prices may vary.
Other Editions of This Title:
Digital Audiobook (3/12/2018)
MP3 CD (3/13/2018)
Hardcover (3/13/2018)
Compact Disc (3/13/2018)
Description
Historian and civil rights activist proves how progressive movements can flourish even in conservative times.

Despair and mourning after the election of an antagonistic or polarizing president, such as Donald Trump, is part of the push-pull of American politics. But in this incisive book, historian Mary Frances Berry shows that resistance to presidential administrations has led to positive change and the defeat of outrageous proposals, even in challenging times. Noting that all presidents, including ones considered progressive, sometimes require massive organization to affect policy decisions, Berry cites Indigenous peoples' protests against the Dakota pipeline during Barack Obama's administration as a modern example of successful resistance built on earlier actions.

Beginning with Franklin D. Roosevelt, Berry discusses that president's refusal to prevent race discrimination in the defense industry during World War II and the subsequent March on Washington movement. She analyzes Lyndon Johnson, the war in Vietnam, and the antiwar movement and then examines Ronald Reagan's two terms, which offer stories of opposition to reactionary policies, such as ignoring the AIDS crisis and retreating on racial progress, to show how resistance can succeed.

The prochoice protests during the George H. W. Bush administration and the opposition to Bill Clinton's "Don't Ask, Don't Tell" policy, as well as his budget cuts and welfare reform, are also discussed, as are protests against the war in Iraq and the Patriot Act during George W. Bush's presidency. Throughout these varied examples, Berry underscores that even when resistance doesn't achieve all the goals of a particular movement, it often plants a seed that comes to fruition later.

Berry also shares experiences from her six decades as an activist in various movements, including protesting the Vietnam War and advocating for the Free South Africa and civil rights movements, which provides an additional layer of insight from someone who was there. And as a result of having served in five presidential administrations, Berry brings an insider's knowledge of government.

History Teaches Us to Resist is an essential book for our times which attests to the power of resistance. It proves to us through myriad historical examples that protest is an essential ingredient of politics, and that progressive movements can and will flourish, even in perilous times.
Praise For History Teaches Us to Resist: How Progressive Movements Have Succeeded in Challenging Times…
"A well-informed handbook of effective resistance."
—Kirkus Reviews

"Berry effectively combines her roles as historian and activist to show how previous achievements of social justice were won and to encourage future activists."
—Publishers Weekly

"Mary Frances Berry's History Teaches Us to Resist could not have arrived at a better moment . . . . Berry reminds us that in learning from the past and building on it, we should not hold our breaths but always hold out hope."
—Black Perspectives

"This is a superb essay on the role of activism during times that the political climate did not favor reform . . . written with flair and immediacy."
—CHOICE

"Dr. Mary Frances Berry provides an essential book for our troubled times and reminds us that 'past is prologue.' Every progressive activist and lawyer will want to pore over the engrossing behind-the-scenes details of the accounts in this book to learn how activists navigated reactionary periods in American political life. History Teaches Us to Resist is an encouraging reminder that, with strategic discipline, progressives have always found creative ways to advance the work of justice and equality—even in the worst of times."
—Sherrilyn Ifill, president and director-counsel, NAACP Legal Defense Fund

"As every day brings more news of the Trump administration's unprecedented assaults on democracy, millions of Americans veer between the horror of utter defeat and magical thinking that our institutions will save us. In her characteristic no-nonsense style, Mary Frances Berry teaches us that power is never absolute and that democracy is not self-correcting. With a historian's field of vision and a veteran activist's understanding of tactics and strategy, Berry excavates how resistance to some of the most powerful men in modern America shaped the freedom struggles that have benefited us all—and in so doing provides a crucial road map for the work that lies ahead."
—Kimberlé Williams Crenshaw

"At this excruciating moment of crisis and looming catastrophe, Mary Frances Berry reminds us that our most powerful weapon in the struggle ahead is simply us. This is a book of hard-won lessons and real inspiration, something to read and then keep in your backpack for ready reference as we take to the streets and mobilize to storm the heavens."
—William Ayers, author of "You Can't Fire the Bad Ones!" and 18 Other Myths About Teachers, Teachers' Unions, and Public Education

"A powerful, timely, and necessary read about resistance during hostile times."
—Dante Barry, cofounder and executive director, Million Hoodies Movement for Justice

"I can imagine no one more qualified than Dr. Mary Frances Berry to write this crucially needed and powerful book. As an award-winning historian, as someone with firsthand experience serving in multiple presidential administrations, and as an activist for over fifty years in movements ranging from civil rights and anti–Vietnam War protest to Free South Africa and LGBTQ rights, to name a few, Berry has exceptional experience and vital knowledge about creating resistance movements. We need to listen, learn, and act."
—Anthony D. Romero, executive director, American Civil Liberties Union
Beacon Press, 9780807057674, 232pp.
Publication Date: February 5, 2019
About the Author
Dr. Mary Frances Berry is the Geraldine R. Segal Professor of American Social Thought and professor of history at the University of Pennsylvania. She is former chairwoman of the US Commission on Civil Rights, an Honorary Fellow of the American Society for Legal History, the author of twelve books, and the recipient of thirty-five honorary degrees. Dr. Berry has appeared on Real Time with Bill Maher, The Daily Show, Tavis Smiley, PBS NewsHour, and various MSNBC and CNN shows.