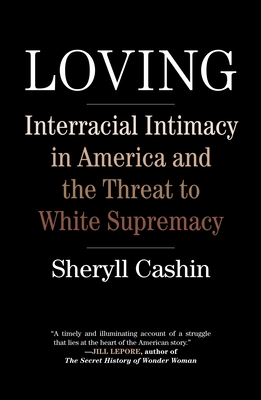 Loving
Interracial Intimacy in America and the Threat to White Supremacy
Hardcover

* Individual store prices may vary.
Other Editions of This Title:
Digital Audiobook (6/5/2017)
Compact Disc (10/24/2017)
Paperback (2/13/2018)
Description
The landmark story of how interracial love and marriage changed American history—and continues to alter the landscape of American politics

When Mildred and Richard Loving wed in 1958, they were ripped from their shared bed and taken to court. Their crime: miscegenation, punished by exile from their home state of Virginia. The resulting landmark decision of Loving v. Virginia ended bans on interracial marriage and remains a signature case—the first to use the words "white supremacy" to describe such racism.

Drawing from the earliest chapters in US history, legal scholar Sheryll Cashin reveals the enduring legacy of America's original sin, tracing how we transformed from a country without an entrenched construction of race to a nation where one drop of nonwhite blood merited exclusion from full citizenship. In vivid detail, she illustrates how the idea of whiteness was created by the planter class of yesterday and is reinforced by today's power-hungry dog-whistlers to divide struggling whites and people of color, ensuring plutocracy and undermining the common good.

Not just a hopeful treatise on the future of race relations in America, Loving challenges the notion that trickle-down progressive politics is our only hope for a more inclusive society. Accessible and sharp, Cashin reanimates the possibility of a future where interracial understanding serves as a catalyst of a social revolution ending not in artificial color blindness but in a culture where acceptance and difference are celebrated.
Praise For Loving: Interracial Intimacy in America and the Threat to White Supremacy…
"A concise, powerful reflection on the 50th anniversary of the landmark case."
—Kirkus Reviews

"A timely and illuminating account of a struggle that lies at the heart of the American story."
—Jill Lepore, author of The Secret History of Wonder Woman

"In this sweeping history of what was formerly known as 'miscegenation,' Sheryll Cashin beautifully unfolds the history of interracial intimacy from the earliest days of the colonies until the current reemergence of the white supremacy movement. At the center of this narrative, Cashin places the Loving v. Virginia Supreme Court case of 1967 which finally overturned all statutes penalizing interracial marriages. Through a wonderfully readable set of stories, including references to popular culture, Cashin provides an accessible, essential, and ultimately hopeful view of racial relationships in America."
—Henry Louis Gates Jr.

"White supremacy has long foiled love, and love has long foiled white supremacy. Sheryll Cashin offers us this essential historical revelation in Loving. This fascinating and accessible story puts the fifty-year-old Loving v. Virginia decision in much-needed historical perspective and shares its unknown post-history. In the end, Loving offers an optimistic showpiece of the possibilities of an antiracist America divorced from white supremacy where 'dexterous' acceptors of difference can marry, can befriend, can love the identical hearts under our different-looking skins. Loving gives us the historical tools and urges us to renew our old fight for the human right to love."
—Ibram X. Kendi, author of Stamped from the Beginning: The Definitive History of Racist Ideas in America

"Cashin makes a compelling argument that interracial intimacy, though in and of itself inadequate for eradicating white supremacy, contributes to a racial dexterity the likes of which will be crucial to that task in years to come. With rich historicity and sharp analysis, she explores the ways in which interracial romance has long served as a bogeyman for racists but is now helping to create a critical mass of whites who may, finally, see fit to join with their black and brown partners, lovers, friends, and colleagues to forge a new and better nation."
—Tim Wise, author of White Like Me: Reflections on Race from a Privileged Son and Dear White America: Letter to a New Minority

"Sheryll Cashin tells a historical story that is at times chilling, at times heartening, and always astonishing. But it's her vision of the future, embodied in Cashin's term 'cultural dexterity,' that makes Loving something even greater: a road map to a bright American future."
—Daniel Okrent, author of Last Call: The Rise and Fall of Prohibition

"[T]his important book deserves attention. Interracial intimacy is one of the most important story lines of contemporary Black history. Cashin is an apt observer and excellent storyteller. Her perspective deserves a place alongside other prominent voices of contemporary Black history."
—Matthew J. Johnson, The Journal of African American History
Beacon Press, 9780807058275, 232pp.
Publication Date: June 6, 2017
About the Author
Sheryll Cashin, professor of law at Georgetown University, is author of The Agitator's Daughter, The Failures of Integration, and Place, Not Race. She is a frequent commentator on law and race relations, appearing on NPR, CNN, ABC News, and MSNBC. Cashin was a law clerk to Supreme Court Justice Thurgood Marshall and served in the Clinton White House as an advisor on urban and economic policy.
Coverage from NPR
or
Not Currently Available for Direct Purchase