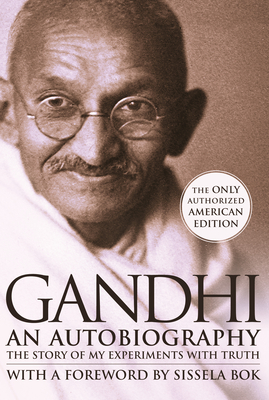 An Autobiography
The Story of My Experiments with Truth
Paperback

* Individual store prices may vary.
Description
Mohandas K. Gandhi is one of the most inspiring figures of our time. In his classic autobiography he recounts the story of his life and how he developed his concept of active nonviolent resistance, which propelled the Indian struggle for independence and countless other nonviolent struggles of the twentieth century.

In a new foreword, noted peace expert and teacher Sissela Bok urges us to adopt Gandhi's "attitude of experimenting, of tesing what will and will not bear close scrutiny, what can and cannot be adapted to new circumstances,"in order to bring about change in our own lives and communities.

All royalties earned on this book are paid to the Navajivan Trust, founded by Gandhi, for use in carrying on his work.
Praise For An Autobiography: The Story of My Experiments with Truth…
"Here is an autobiography more captivating than fiction and more stimulating than romantic adventure. It is the most revealing study of the human soul that I have ever read."
—The Christian Century

"An absorbing book that stands alone in frankness and plain honesty...Its place among the classics of autobiography cannot be in doubt."
—The New Statesman

"An amazingly frank self-revelation of the greatest and humblest modern man."
—The Annals

"It is...only by reading the whole long and detailed day-by-day record that readers can sense the magic of Gandhi's being and discover him fully."
—Saturday Review

"(Gandhi's) autobiography remains invaluable for its account of the shaping of a new path to collective resistance to injustice."
—From the foreword by Sissela Bok
Beacon Press, 9780807059098, 560pp.
Publication Date: November 1, 1993
About the Author
Mohandas K. Gandhi (1869-1948) was a lawyer and the prominent figure behind India's push for independence from British rule. He followed the philosophies of pacifism, believing in the importance of the nonviolent approach to protesting. He documented his influential life in An Autobiography: The Story of My Experiments with Truth.

Born and raised in Western India to a Hindu family, Gandhi received barrister training in London. He first experienced institutional racial discrimination in South Africa, which spurred him to his first actions in leading group-based nonviolent civil disobedience.  He later returned to India and led protests against British colonialism, excessive taxation, and racial discrimination.

Known as 'the Father of the Nation," Gandhi was instrumental in the fight for religious pluralism and Indian independence.  He was assassinated in 1948.