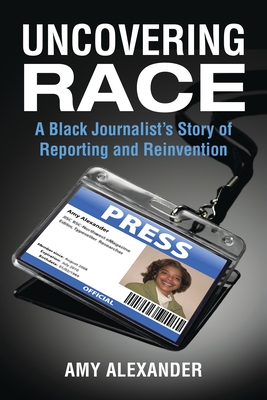 Uncovering Race: A Black Journalist's Story of Reporting and Reinvention (Paperback)
A Black Journalist's Story of Reporting and Reinvention
Beacon Press, 9780807061022, 238pp.
Publication Date: June 16, 2015
Description
From an award-winning black journalist, a tough-minded look at the treatment of ethnic minorities both in newsrooms and in the reporting that comes out of them, within the changing media landscape.
About the Author
Amy Alexander is an award-winning content producer. The 2008 Alfred Knobler Fellow at the Nation Institute, she has contributed to many prominent publications, including the Miami Herald, Boston Globe, Village Voice, Washington Post, and the Nation. She has also written for Salon.com and TheRoot.com, and was associate producer of NPR's Tell Me More, with Michel Martin. Her three previous books include Lay My Burden Down, coauthored with Alvin Poussaint, MD. She lives in Silver Spring, Maryland. From the Hardcover edition.
Praise For Uncovering Race: A Black Journalist's Story of Reporting and Reinvention…
"Amy Alexander writes with the precision of the seasoned journalist she is and the expansiveness of the wise cultural critic she has become. Her book is at once a trenchant look at the competitive world of the highest reaches of journalism and an on-the-ground narrative of the transformations in the ways we understand race, identity, and work. Her experience is unique, but her perspective is universal."─Henry Louis Gates Jr., author of Colored People
 
"Amy Alexander has done it! A gifted storyteller . . . she has written the essential memoir for journalists of color. . . . A powerful and irresistible narrative that introduces us to one of the most important African American journalists in the United States and helps us better understand the world of print and online journalism."—Ruben Navarrette Jr., author of A Darker Shade of Crimson
 
"In wrestling with two difficult subjects—the challenges faced historically by people of color in the American news media, and the recent usurpation of traditional journalism by the Internet—Alexander writes with a clearly felt sense of passion and urgency, and she thoughtfully discusses key events of the last few decades, such as the Rodney King incident and its aftermath and the questionable role of media stars during traumatic events such as Hurricane Katrina and the Haiti earthquake."—Kirkus Reviews

"A timely and compelling look at issues of race and lack of diversity that have dogged America's newsrooms for generations."—Tananarive Due, American Book Award winner

"Amy Alexander's analysis of the damage done to public awareness and understanding throughout the 20th century because of the failure of traditional journalism to adequately integrate staff could not come at a better time. It reminds consumers today that though they now have access to an integrated rainbow of sources of news online the responsibility now shifts to them to integrate the sources of news and opinion they aggregate."—Bill Kovach, author of The Elements of Journalism: What Newspeople Should Know and The Public Should Expect
Advertisement