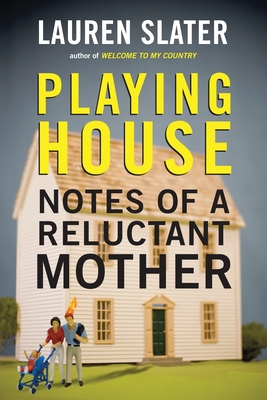 Playing House (Paperback)
Notes of a Reluctant Mother
Beacon Press, 9780807061121, 206pp.
Publication Date: July 14, 2015
* Individual store prices may vary.
Description
Acclaimed author Lauren Slater ruminates on what it means to be family.

Lauren Slater's rocky childhood left her cold to the idea of ever creating a family of her own, but a husband, two dogs, two children, and three houses later, she came around to the challenges, trials, and unexpected rewards of playing house. In these autobiographical pieces, Slater presents snapshots of domestic life, populating them with the gritty details and jarring realities of sharing home, life, and body in the curious institution called "family." She asks difficult questions and probes unsettling truths about sex, love, and parenting. In these pages, Slater introduces us to her struggles with her mother, her determination to make a home of her own, her compromises in deciding to marry (her conflicts manifesting as an affair on the eve of her wedding), her initial struggle to connect with her newborn child, and the dilemmas of mothering with a mental illness. She writes openly about her decision to abort her second pregnancy and her later decision to have a second child after all. She tells us about the searing decision to have elective double mastectomy and how her love for her husband was magically rekindled after she saw him catch fire in a chemical accident.

It's not all mastectomies and chemical fires, though. Slater digs into the everyday challenges of family living, from buying a lemon of a car and fighting back menacing weeds to gaining weight and being jealous of the nanny. Beautifully written, often humorous, and always revealing, these stories scrutinize the complex questions surrounding family life, offering up sometimes uncomfortable truths.
About the Author
Lauren Slater is a psychologist and writer. She is the author of several books, including Blue Dreams: The Science and the Story of the Drugs That Changed Our Lives, The $60,000 Dog: My Life with Animals, Playing House: Notes of a Reluctant Mother, Welcome to My Country, and Opening Skinner's Box: Great Psychological Experiments of the Twentieth Century. Slater lives in Harvard, Massachusetts.
Praise For Playing House: Notes of a Reluctant Mother…
"A fiercely, lyrically honest memoir." —Kirkus Reviews

"An extraordinary essay collection.. Her sheer bravado and willingness to lay every aspect of her personal life bare is a hallmark of her writing style, and it's on full display in each of these pieces….A brilliant example of the resonant power of "women's writing," Slater's emotional revelations will strike chords in readers unable to turn away from these difficult but sincere domestic truths. Slater's candid collection has huge book-group appeal." —Booklist

"…throughout these 18 essays, most of which map the difficult territory of family, sex, and aging, Slater's voice is aggressively, even unsettlingly, candid." —Boston Globe

"Slater weaves together a series of essays demonstrating that even the unprepared and initially unwilling may create a family life that does not go up in flames (except when fire actually does break out, in which case a redemptive moment can be seized). A marked lack of vanity permeates the author's intensely personal yet universally resonant pieces, which cover everything from the indignities of a makeover to a wrenching decision to have an abortion." —Library Journal, Best Books of 2013: Memoir

"The beauty of Lauren Slater's prose is shocking. . . . Slater's vision is, ultimately, one of unity and possibility."—Claire Messud, Newsday

"Slater's own zigzagging from devotion to resentment (and back) gives these essays their power. Who hasn't felt the competing and incompatible yearnings to be a domestic goddess and at the same time an independent and self-fulfilled individual, free from the endless demands of children?"—Kate Tuttle, The Boston Globe


From the Hardcover edition.