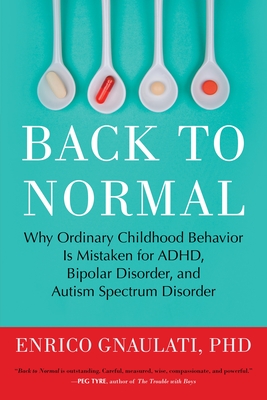 Back to Normal
Why Ordinary Childhood Behavior Is Mistaken for ADHD, Bipolar Disorder, and Autism Spectrum Disorder
Paperback

* Individual store prices may vary.
Description
A veteran clinical psychologist exposes why doctors, teachers, and parents incorrectly diagnose healthy American children with serious psychiatric conditions.
 
In recent years there has been an alarming rise in the number of American children and youth assigned a mental health diagnosis. Current data from the Centers for Disease Control reveal a 41 percent increase in rates of ADHD diagnoses over the past decade and a forty-fold spike in bipolar disorder diagnoses. Similarly, diagnoses of autism spectrum disorder, once considered, has increased by 78 percent since 2002.

Dr. Enrico Gnaulati, a clinical psychologist specializing in childhood and adolescent therapy and assessment, has witnessed firsthand the push to diagnose these disorders in youngsters. Drawing both on his own clinical experience and on cutting-edge research, with Back to Normal he has written the definitive account of why our kids are being dramatically overdiagnosed—and how parents and professionals can distinguish between true psychiatric disorders and normal childhood reactions to stressful life situations.

Gnaulati begins with the complex web of factors that have led to our current crisis. These include questionable education and training practices that cloud mental health professionals' ability to distinguish normal from abnormal behavior in children, monetary incentives favoring prescriptions, check-list diagnosing, and high-stakes testing in schools. We've also developed an increasingly casual attitude about labeling kids and putting them on psychiatric drugs. 

So how do we differentiate between a child with, say, Asperger's syndrome and a child who is simply introverted, brainy, and single-minded? As Gnaulati notes, many of the symptoms associated with these disorders are similar to everyday childhood behaviors. In the second half of the book Gnaulati tells detailed stories of wrongly diagnosed kids, providing parents and others with information about the developmental, temperamental, and environmentally driven symptoms that to a casual or untrained eye can mimic a psychiatric disorder. These stories also reveal how nonmedical interventions, whether in the therapist's office or through changes made at home, can help children.

Back to Normal reminds us of the normalcy of children's seemingly abnormal behavior. It will give parents of struggling children hope, perspective, and direction. And it will make everyone who deals with children question the changes in our society that have contributed to the astonishing increase in childhood psychiatric diagnoses.
Praise For Back to Normal: Why Ordinary Childhood Behavior Is Mistaken for ADHD, Bipolar Disorder, and Autism Spectrum Disorder…
"Back to Normal is outstanding. Careful, measured, wise, compassionate, and powerful."
—Peg Tyre, author of The Trouble with Boys

"An appeal to level-headedness."
—Amanda Schaffer, The New Yorker's Elements blog

"Does your stormy adolescent suffer from incipient bipolar disorder or is she simply sleep-deprived, hormonal and struggling with identity issues typical of her age? Does she need mood stabilizers, or a bedtime and therapy? Is your smart, tantrum-inclined 5-year-old an Asperger's kid, destined for a difficult lonely life, or is he just very, very bright and sensitive? Drawing on first-rate research and scholarship, Dr. Gnaulati makes a very strong case for going 'back to normal,' and taking care of our more challenging children in the ways that are most likely to help them, and the least likely to traumatize them."
—Daniel Goldin, The Huffington Post
 
"A valuable guide for parents and educators that includes tips on choosing a therapist and parenting strategies."
—Kirkus Reviews

"Highly recommended for parents, caregivers, educators, physicians, and specialists working with children of all ages."
—Virginia Johnson, Library Journal

"This is an exceptionally original and useful book.  It offers fresh perspectives on a wide range of childhood behaviors that are of concern to today's parents, educators, and mental health professionals.  Addressing labels ranging from ADHD and autism to bipolar disorders, Gnaulati challenges the widespread rush to see pathology and medicate; he suggests, instead, how various behaviors may actually be expressions of normal development. With a rare combination of creative insight and common sense, Gnaulati helps us appreciate children as they grow and cope with the stresses of modern life."
—William Crain, author of Reclaiming Childhood: Letting Children Be Children in Our Achievement-Oriented Society

"Back to Normal provides a compelling, insightful, and timely explanation of the multiple forces that lead to over-diagnosis and misdiagnosis of our children. It offers parents a much-needed guide to help distinguish behaviors that truly warrant medical intervention from those that may stem from other issues and require different approaches. Well done, Dr. Gnaulati!"
—Diane M. Kennedy & Rebecca S. Banks, authors of Bright Not Broken: Gifted Kids, ADHD and Autism  

"Dr. Gnaulati suffers from an acute case of common sense. His work with thousands of children and adolescents and his scrupulous reviews of the literature lead him to question the fashionable rush to pathologize young people, to misdiagnose them, and to medicate them unnecessarily. He casts a bright light on psychiatric mispractice and reminds us of how common sense psychotherapy that attends to feelings arising in the contexts of family and school can restore the dignity of the child, alleviate anxiety, and modulate the dangerous tendency of adults to misunderstand,  scapegoat, and rush to judgment. This is a brilliantly incisive reexamination of treatment practices by a ferociously humane practitioner."
—John M. Broughton, Associate Professor of Psychology and Education at Teachers College, Columbia University

"This compelling, readable book examines disordered behavior in the context of the insane policies and expectations imposed on today's children. Dr. Gnaulati describes in heart-rending detail how pressure to perform and conform in kindergarten is literally driving normal young children—especially boys—to frustration and distraction, making them hate school, and leading to a plague of misdiagnosis and unnecessary medication. Every parent and grandparent of a child labeled ADHD, bipolar, or on the autism spectrum should read this humane, common-sense guide."
 —Edward Miller, founding partner of the Alliance for Childhood and co-author of Crisis in the Kindergarten
 
"This book is a welcome antidote to an alarming trend." —Publishers Weekly
Beacon Press, 9780807061152, 256pp.
Publication Date: September 2, 2014
About the Author
Enrico Gnaulati is a clinical psychologist based in Pasadena, California. His work has been featured on Al Jazeera America, KPCC Los Angeles, and online at the Atlantic and Salon.
or
Not Currently Available for Direct Purchase