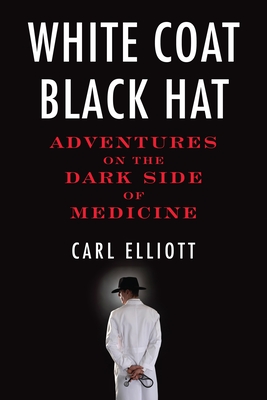 White Coat, Black Hat
Adventures on the Dark Side of Medicine
Paperback

* Individual store prices may vary.
Description
By New Yorker and Atlantic writer Carl Elliott, a readable and even funny account of the serious business of medicine.

A tongue-in-cheek account of the changes that have transformed medicine into big business. Physician and medical ethicist Carl Elliott tracks the new world of commercialized medicine from start to finish, introducing the professional guinea pigs, ghostwriters, thought leaders, drug reps, public relations pros, and even medical ethicists who use medicine for (sometimes huge) financial gain. Along the way, he uncovers the cost to patients lost in a health-care universe centered around consumerism.
Praise For White Coat, Black Hat: Adventures on the Dark Side of Medicine…
"Elliott grips the reader's attention all the way."
—Scientific American

"Dr. Elliott's entertaining and extremely readable essays will have you convinced that in comparison to the shenanigans that go into the creation of a single prescription pill, fingerprint erasure might actually be a little dull."
—Abigail Zuger, MD, New York Times

"If you think your doctors prescribe medications for you on the basis of their unbiased judgment and objective medical research, this book will disabuse you of that old-fashioned fantasy. In his superb exposé, Carl Elliott shows how the big drug companies have bribed and corrupted the medical establishment so that we no longer know which drugs are effective or why our doctors prescribe them."
—Marcia Angell, author of The Truth About the Drug Companies: How They Deceive Us and What to Do About It

"Beneath the white coats and sterile labs of the great American heath care system, Carl Elliott finds a drug-addled, gang-run, con game—sometimes bizarre, often hilarious. The noble arc that runs from Hippocrates to Sherwin Nuland washes out in a 'business model' apparently inspired by Timothy Leary, John Gotti, and that infomercial pitch guy for ShamWow."
—Jack Hitt, contributing editor for This American Life and author of Off the Road

"Enjoyable to read and laced with sardonic wit, this is an eye-opening work that all consumers of health care should read."
—Library Journal

"Carl Elliott has written a deep, daring, and sometimes very funny book about aspects of medicine you've never seen, and probably never will unless you take the time to crack this cover. You'll discover what it means when healers forget—or maybe never grasped—their main mission and pollute not only medicine but all those within its circle. Elliott's book describes the conundrum of modern medical practice wittily, incisively, and beautifully. This book should be required reading for anyone who has ever been a patient—in other words, for everyone."
—Lauren Slater, author of Opening Skinner's Box and Prozac Diary
Beacon Press, 9780807061442, 232pp.
Publication Date: September 13, 2011
About the Author
Carl Elliott is a professor at the Center for Bioethics at the University of Minnesota. His work has appeared in The New Yorker, Atlantic Monthly, the Believer, Slate, the London Review of Books, and the American Prospect. His six previous books include Better Than Well, Prozac As a Way of Life, Rules of Insanity, and A Philosophical Disease. 
or
Not Currently Available for Direct Purchase