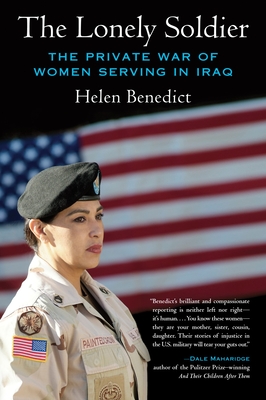 The Lonely Soldier
The Private War of Women Serving in Iraq
Paperback

* Individual store prices may vary.
Other Editions of This Title:
Hardcover (4/1/2009)
Description
The Lonely Soldier--the inspiration for the documentary The Invisible War--vividly tells the stories of five women who fought in Iraq between 2003 and 2006--and of the challenges they faced while fighting a war painfully alone.

More American women have fought and died in Iraq than in any war since World War Two, yet as soldiers they are still painfully alone. In Iraq, only one in ten troops is a woman, and she often serves in a unit with few other women or none at all. This isolation, along with the military's deep-seated hostility toward women, causes problems that many female soldiers find as hard to cope with as war itself: degradation, sexual persecution by their comrades, and loneliness, instead of the camaraderie that every soldier depends on for comfort and survival. As one female soldier said, "I ended up waging my own war against an enemy dressed in the same uniform as mine."

In The Lonely Soldier, Benedict tells the stories of five women who fought in Iraq between 2003 and 2006. She follows them from their childhoods to their enlistments, then takes them through their training, to war and home again, all the while setting the war's events in context.

We meet Jen, white and from a working-class town in the heartland, who still shakes from her wartime traumas; Abbie, who rebelled against a household of liberal Democrats by enlisting in the National Guard; Mickiela, a Mexican American who grew up with a family entangled in L.A. gangs; Terris, an African American mother from D.C. whose childhood was torn by violence; and Eli PaintedCrow, who joined the military to follow Native American tradition and to escape a life of Faulknerian hardship. Between these stories, Benedict weaves those of the forty other Iraq War veterans she interviewed, illuminating the complex issues of war and misogyny, class, race, homophobia, and post-traumatic stress disorder. Each of these stories is unique, yet collectively they add up to a heartbreaking picture of the sacrifices women soldiers are making for this country.

Benedict ends by showing how these women came to face the truth of war and by offering suggestions for how the military can improve conditions for female soldiers-including distributing women more evenly throughout units and rejecting male recruits with records of violence against women. Humanizing, urgent, and powerful, The Lonely Soldier is a clarion call for change.
Praise For The Lonely Soldier: The Private War of Women Serving in Iraq…
Benedict's book, filled with compelling and heartbreaking stories, is a groundbreaking testament to the bravery, resilience, and almost insurmountable obstacles faced by women stationed in Iraq.—Deirdre Sinnott, ForeWord

"Whether the soldiers' language is plainspoken or poetic, Helen Benedict's book gives them a place to tell their stories. . . . The Lonely Soldier has strong merit as an account of women's military experience in this long and reckless war."—Amy Herdy, Ms.

"Benedict's brilliant and compassionate reporting is neither left nor right—it's human. . . . You know these women—they are your mother, sister, cousin, daughter. Their stories of injustice in the U.S. military will tear your guts out."—Dale Maharidge, author of the Pulitzer Prize-winning And Their Children after Them

"The Lonely Soldier will shock you and enrage you and bring you to tears. It's must reading for everyone who cares about women, justice, fairness, the military, and the United States."—Katha Pollitt, award-winning columnist, The Nation

"A stunning chronicle of abuses suffered by women enlisted in the U.S. Army and serving in Iraq."—Los Angeles Times

"It is hard to determine what is most disturbing about this book—the devious and immoral tactics used by leaders and recruiters to get women to join the military, the terrible poverty and personal violence women were escaping that led them to be vulnerable to such manipulation, the raping and harassing of women soldiers by their superiors and comrades once they got to Iraq, or the untreated homelessness, illnesses, and madness that have haunted [these] women since they came home. . . . A crucial accounting of the shameful war on women who gave their bodies, lives, and souls for their country."—Eve Ensler, playwright, performer, activist, and author of The Vagina Monologues
Beacon Press, 9780807061497, 280pp.
Publication Date: April 1, 2010
About the Author
Helen Benedict, a professor of journalism at Columbia University, has written frequently on women, race, and justice. Her books include Virgin or Vamp: How the Press Covers Sex Crimes and the novels The Opposite of Love, The Sailor's Wife, Bad Angel, and A World Like This. Her work on soldiers won the James Aronson Award for Social Justice Journalism.
or
Not Currently Available for Direct Purchase