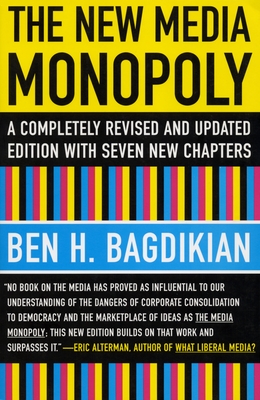 The New Media Monopoly (Paperback)
A Completely Revised and Updated Edition With Seven New Chapters
Beacon Press, 9780807061879, 320pp.
Publication Date: May 15, 2004
* Individual store prices may vary.
Description
When the first edition of The Media Monopoly was published in 1983, critics called Ben Bagdikian's warnings about the chilling effects of corporate ownership and mass advertising on the nation's news "alarmist." Since then, the number of corporations controlling most of America's daily newspapers, magazines, radio and television stations, book publishers, and movie companies has dwindled from fifty to ten to five.

The most respected critique of modern mass media ever issued is now published in a completely updated and revised twentieth anniversary edition.

'Ben Bagdikian has written the first great media book of the twenty-first century. The New Media Monopoly will provide a roadmap to understanding how we got here and where we need to go to make matters better.'
-Robert McChesney, author of Rich Media, Poor Democracy
About the Author
Pulitzer Prize-winning journalist Ben H. Bagdikian is dean emeritus of the Graduate School of Journalism at the University of California at Berkeley. His other books include Double Vision: Reflections on My Heritage, Life, and Profession.
Praise For The New Media Monopoly: A Completely Revised and Updated Edition With Seven New Chapters…
No book on the media has proved as influential to our understanding of the dangers of corporate consolidation to democracy and the marketplace of ideas; this new edition builds on those works and surpasses them. -Eric Alterman, author of What Liberal Media?

"A groundbreaking work that charts a historical shift in the orientation of the majority of America's communications media-further away from the needs of the individual and closer to those of big business." -Bruce Manuel, Christian Science Monitor