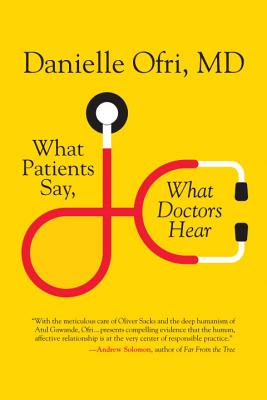 What Patients Say, What Doctors Hear
Hardcover

* Individual store prices may vary.
Other Editions of This Title:
Paperback (2/6/2018)
MP3 CD (10/24/2017)
Description
Can refocusing conversations between doctors and their patients lead to better health?

Despite modern medicine's infatuation with high-tech gadgetry, the single most powerful diagnostic tool is the doctor-patient conversation, which can uncover the lion's share of illnesses. However, what patients say and what doctors hear are often two vastly different things.

Patients, anxious to convey their symptoms, feel an urgency to "make their case" to their doctors. Doctors, under pressure to be efficient, multitask while patients speak and often miss the key elements. Add in stereotypes, unconscious bias, conflicting agendas, and fear of lawsuits and the risk of misdiagnosis and medical errors multiplies dangerously.

Though the gulf between what patients say and what doctors hear is often wide, Dr. Danielle Ofri proves that it doesn't have to be. Through the powerfully resonant human stories that Dr. Ofri's writing is renowned for, she explores the high-stakes world of doctor-patient communication that we all must navigate. Reporting on the latest research studies and interviewing scholars, doctors, and patients, Dr. Ofri reveals how better communication can lead to better health for all of us.
Praise For What Patients Say, What Doctors Hear…
"Her revealing doctor-patient stories often make her seem like the doctor that every patient wishes they had, and she draws on patient accounts to illustrate the problems that can arise in communication between doctor and patient. This book, however, goes far beyond Ofri's personal experiences with patients. She delves into the relevant research on communication, citing some ingenious experiments on listening...A much-needed, convincing argument that, regarding doctor-patient communication, the stakes are very high and that what patients say is all too often not what doctors hear—and vice versa."
—Library Journal

"This book has convinced me that the communication skills, which reveal a physician's compassion, empathy, and respect, will also have a significant effect on the health outcomes of patients."
—Eyenet Magazine

"With disarming candor and penetrating insight, Dr. Ofri illuminates the enormous power of what might seem at first a mundane and insignificant element in the practice of medicine: communication."
—Deborah Tannen, professor of linguistics at Georgetown University and author of You Just Don't Understand and You're Wearing THAT?

"With the meticulous care of Oliver Sacks and the deep humanism of Atul Gawande, Danielle Ofri has written a book about the role of communication in medicine. She presents compelling evidence that even as doctoring appears to be dominated by technology, the human, affective relationship is at the very center of responsible practice."
—Andrew Solomon, author of Far from the Tree

Praise for Danielle Ofri

"Taut, vivid prose...She writes for a lay audience with a practiced hand."
—Katie Hafner, New York Times

"A gifted storyteller."
—Sarah Halzack, Washington Post

"The world of patient and doctor exists in a special sacred space. Danielle Ofri brings us into that place where science and the soul meet. Her vivid and moving prose enriches the mind and turns the heart."
—Jerome Groopman, author of How Doctors Think

"I highly recommend [Danielle Ofri's work] for physicians, would-be doctors, and anyone interested in medicine in all its behind-the-scenes glory."
—Sandeep Jauhar, author of Intern: A Doctor's Initiation

"Danielle Ofri's sensitivity to every aspect of her patients' lives is immensely impressive and moving. If only more doctors could be (and write) like this!"
—Oliver Sacks, author of Awakenings

"[Ofri's writing] about the emotional life of doctors and their patients, captivated me so much...Read[s] like a deftly crafted and luminously written novel."
—Caroline Leavitt, Boston Globe
Beacon Press, 9780807062630, 248pp.
Publication Date: February 7, 2017
About the Author
Danielle Ofri, MD, PhD, is an associate professor of medicine at the New York University School of Medicine and has cared for patients at New York's Bellevue Hospital for more than two decades. She is the author of, most recently, What Doctors Feel: How Emotions Affect the Practice of Medicine, as well as the critically acclaimed Singular Intimacies, Incidental Findings, Medicine in Translation, and the e-book original volume Intensive Care. Writing in the Guardian in the spring of 2016, Andrew Solomon singled out Ofri as the only woman among an extraordinary new generation of doctor writers, saying, "Ofri has produced four impressive books and numerous articles, all striking for their reversion to empathy, their willingness to sense not only the physical life of a patient, but also the emotional." She lives in New York City.
or
Not Currently Available for Direct Purchase