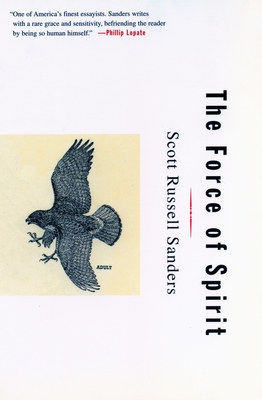 The Force of Spirit (Paperback)
Beacon Press, 9780807062975, 192pp.
Publication Date: September 18, 2001
Description
Scott Russell Sanders reveals how the pressure of the sacred breaks through the surfaces of ordinary life-a life devoted to grown-up children and aging parents, the craft of writing, and the natural world. Whether writing to his daughter and his son as each prepares to get married, or describing an encounter with a red-tailed hawk in whose form he glimpses his dead father, or praising the disciplines of writing and carpentry and teaching, Sanders registers, in finely tuned prose, the force of spirit.
About the Author
Scott Russell Sanders is the author of The Paradise of Bombs; Wilderness Plots: Tales About the Settlement of American Land; The Force of Spirit; and Hunting for Hope, among several other works of fiction and nonfiction. He was a distinguished professor of English literature at Indiana University until he retired in 2009. He currently lives with his wife Ruth in Bloomington, Indiana.
Praise For The Force of Spirit…
Sanders's voice is honest and witty and rich with the joy of storytelling; he confronts gently, but with determination, many of the dilemmas of our time and the enigmatic nature of our worlds. The Force of Spirit urges the reader to sit back, to enjoy the pleasure of reading, then to consider and reconsider carefully. -Pattiann Rogers, author of Eating Bread and Honey

"In the tradition of Montaigne, Thoreau, Wendell Berry, and Annie Dillard, Sanders has established himself as one of the few masters of the personal essay." -Tom Montgomery-Fate, The Boston Globe

"Sanders is the writer I turn to when I feel the need to slow down, pay attention, ponder the blessings of life and acknowledge them with due respect, apprehension, joy. His newest gathering of essays . . . only enhances my admiration for his values, vision, and eloquence." -Jim Mustick, A Common Reader

"One of America's finest essayists. Sanders writes with a rare grace and sensitivity, befriending the reader by being so human himself." —Phillip Lopate

"Sanders's voice is honest and witty and rich with the joy of storytelling; he confronts gently, but with determination, many of the dilemmas of our time and the enigmatic nature of our worlds. The Force of Spirit urges the reader to sit back, to enjoy the pleasure of reading, then to consider and reconsider carefully." —Pattiann Rogers, author of Eating Bread and Honey

"In the tradition of Montaigne, Thoreau, Wendell Berry, and Annie Dillard, Sanders has established himself as one of the few masters of the personal essay." —Tom Montgomery-Fate, The Boston Globe

"Sanders is the writer I turn to when I feel the need to slow down, pay attention, ponder the blessings of life and acknowledge them with due respect, apprehension, joy. His newest gathering of essays . . . only enhances my admiration for his values, vision, and eloquence." —Jim Mustick, A Common Reader
Advertisement