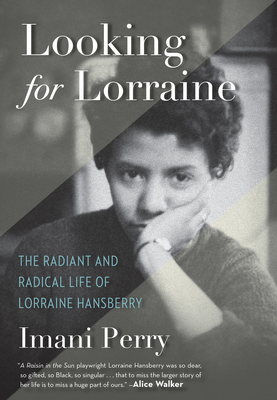 Looking for Lorraine
The Radiant and Radical Life of Lorraine Hansberry
Hardcover

* Individual store prices may vary.
Other Editions of This Title:
Digital Audiobook (9/17/2018)
Paperback (9/17/2019)
MP3 CD (9/18/2018)
Compact Disc (9/18/2018)
Description
Winner of the 2019 PEN/Jacqueline Bograd Weld Award for Biography

Winner of the Lambda Literary Award for LGBTQ Nonfiction

Winner of the Shilts-Grahn Triangle Award for Lesbian Nonfiction

Winner of the 2019 Phi Beta Kappa Christian Gauss Award

A New York Times Notable Book of 2018

A revealing portrait of one of the most gifted and charismatic, yet least understood, Black artists and intellectuals of the twentieth century.

Lorraine Hansberry, who died at thirty-four, was by all accounts a force of nature. Although best-known for her work A Raisin in the Sun, her short life was full of extraordinary experiences and achievements, and she had an unflinching commitment to social justice, which brought her under FBI surveillance when she was barely in her twenties. While her close friends and contemporaries, like James Baldwin and Nina Simone, have been rightly celebrated, her story has been diminished and relegated to one work—until now. In 2018, Hansberry will get the recognition she deserves with the PBS American Masters documentary "Lorraine Hansberry: Sighted Eyes/Feeling Heart" and Imani Perry's multi-dimensional, illuminating biography, Looking for Lorraine.

After the success of A Raisin in the Sun, Hansberry used her prominence in myriad ways: challenging President Kennedy and his brother to take bolder stances on Civil Rights, supporting African anti-colonial leaders, and confronting the romantic racism of the Beat poets and Village hipsters. Though she married a man, she identified as lesbian and, risking censure and the prospect of being outed, joined one of the nation's first lesbian organizations. Hansberry associated with many activists, writers, and musicians, including Malcolm X, Langston Hughes, Duke Ellington, Paul Robeson, W.E.B. Du Bois, among others. Looking for Lorraine is a powerful insight into Hansberry's extraordinary life—a life that was tragically cut far too short.

A Black Caucus of the American Library Association Honor Book for Nonfiction

A 2019 Pauli Murray Book Prize Finalist
Praise For Looking for Lorraine: The Radiant and Radical Life of Lorraine Hansberry…
"Perry approaches her subject with both empathy and a sharp, critical eye; this is a biography that exercises several muscles at once. Perry's sentences are intimate, warm, and crisp; in considerning Hansberry in all of her prismatic multiplicities, Perry has written a singular book."
—Nell Irvin Painter, Sam Stephenson, and Rachel Syme, judges for the PEN/Jacqueline Bograd Weld Award

"Perry seeks to deepen our appreciation in this richly dimensional portrait of a brightly blazing artist, thinker, and activist . . . . Perry does not dwell on the minutiae of traditional biographical coverage of what, when, and where, focusing, instead, on who and why, on inner drama rather than exterior events. Mining writings private and published, collecting memories, tracking the reverberations of Hansberry's personality, words, and actions, and, at times, entering the narrative, Perry illuminates with arresting impact Hansberry's thoughts, feelings, and revolutionary social consciousness . . . . Perry's ardent, expert, and redefining work of biographical discovery brings light, warmth, scope, and enlightening complexity to the spine-straightening story of a brilliant, courageous, seminal, and essential American writer."
—Booklist, Starred Review

"An intimate portrait of the artist as a black woman at the crossroads . . . Perry infuses the narrative with a sense of urgency and enthusiasm because she believes Hansberry has something to teach us in these 'complicated times.' Impressively, she tells her subject's story in a tightly packed 200 pages. Perry also smartly delves into the inspirations for Hansberry's brilliant A Raisin in the Sun and engagingly explores Hansberry's profound friendships with James Baldwin and Nina Simone . . . Throughout this animated and inspiring biography, Perry reminds us that the 'battles Lorraine fought are still before us: exploitation of the poor, racism, neocolonialism, homophobia, and patriarchy.'"
—Kirkus Reviews, Starred Review

"A must-read for fans of black and queer history, literary, biography, and women's history."
—Library Journal, Starred Review

"Its strongest chapters — on A Raisin in the Sun and Lorraine's coming into her own as a public intellectual — are masterly syntheses of research and analysis. It's a joy for devotees to encounter some record of Hansberry's influences, including the Chicago poet Gwendolyn Brooks, the Irish playwright Sean O'Casey and the French philosopher Simone de Beauvoir. . . . Perry makes a welcome case for a fresh assessment of Hansberry's nondramatic works: her short stories, many published pseudonymously in lesbian magazines, and her many letters and op-eds on politics and literature for The Village Voice and The New York Times."
—The New York Times Book Review

"A work of scholarship and love . . . . Perry takes us into [Hansberry's] interior life with a deft hand and a richness of language that makes every page of this book a pleasure to read . . . . [A] wonderful biography of the radical Lorraine Hansberry."
—The Progressive

"Looking for Lorraine is phenomenal. I didn't know how hungry I was for this intimate portrait until now. It feels as though Ms. Hansberry has walked into my living room and sat down beside me. What an honor and joy to read this. The writing is whip-smart, yet lovely and clear-eyed. What gifts this book, Ms. Perry, and Lorraine Hansberry are to the world."
—Jacqueline Woodson, National Ambassador for Young People's Literature and National Book Award Winner for Brown Girl Dreaming

"This is one of those books you need to read. Lorraine Hansberry was so dear, so gifted, so black, so singular in so many ways, that to miss the story of her life is to miss a huge part of ours. She left us way too soon, and yet the gift of her presence, so briefly among us, is still felt in the art she left behind. But not only in the art, but in the life. A life at last made comprehensible by this loving, attentive, thoughtful book."
—Alice Walker

"I have always admired the brilliant Lorraine Hansberry. Now I treasure her even more. Imani Perry's magnificently written and extremely well researched Looking for Lorraine reclaims for all of us the Lorraine Hansberry we should have had all along, the multifaceted genius for whom A Raisin in the Sun was just the tip of the iceberg. Though Hansberry's life was brief, her powerful work remains vital and urgently necessary. One can say the same of this phenomenal book, which hopefully will lead more readers to both Hansberry's published and unpublished works."
—Edwidge Danticat, author of Brother, I'm Dying

"This powerful and profound book is the definitive treatment of a literary genius, political revolutionary, and spiritual radical—Lorraine Hansberry. Imani Perry takes us beyond the widespread misunderstandings of Hansberry's complicated text into the zone of artistic greatness and moral courage—where Lorraine Hansberry belongs!"
—Dr. Cornel West
Beacon Press, 9780807064498, 256pp.
Publication Date: September 18, 2018
About the Author
Imani Perry, winner of the 2022 National Book Award for Nonfiction for South to America: A Journey Below the Mason-Dixon to Understand the Soul of a Nation, is the Hughes-Rogers Professor of African American Studies at Princeton University, where she is also affiliated with the Programs in Gender and Sexuality Studies and Law and Public Affairs. Perry is the author of five books and numerous scholarly articles. Her fields of inquiry include legal history, cultural studies, literary studies, and music. She holds a PhD from Harvard in American Studies, a JD from Harvard Law School, an LLM from Georgetown University Law Center, and a BA from Yale College. She is also a creative nonfiction essayist and a book reviewer. A native of Birmingham, Alabama, Perry spent most of her childhood in Massachusetts, as well as time in Chicago. Perry currently lives in the Philadelphia area with her two sons.
Coverage from NPR
or
Not Currently Available for Direct Purchase