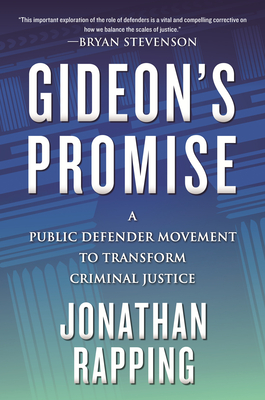 Gideon's Promise
A Public Defender Movement to Transform Criminal Justice
Hardcover

* Individual store prices may vary.
Other Editions of This Title:
Digital Audiobook (8/17/2020)
Paperback (5/4/2021)
MP3 CD (5/5/2020)
Compact Disc (5/5/2020)
Description
A blueprint for criminal justice reform that lays the foundation for how model public defense programs should work to end mass incarceration.

Combining wisdom drawn from over a dozen years as a public defender and cutting-edge research in the fields of organizational and cultural psychology, Jonathan Rapping proposes a radical cultural shift to a "fiercely client-based ethos" driven by values-based recruitment training, awakening defenders to their role in upholding an unjust status quo, and a renewed pride in the essential role of moral lawyering in a democratic society.

Public defenders represent over 80% of those who interact with the court system, a disproportionate number of whom are poor, non-white citizens who rely on them to navigate the law on their behalf. More often than not, even the most well-meaning of those defenders are over-worked, under-funded, and incentivized to put the interests of judges and politicians above those of their clients in a culture that beats the passion out of talented, driven advocates, and has led to an embarrassingly low standard of justice for those who depend on the promises of Gideon v. Wainwright.

However, rather than arguing for a change in rules that govern the actions of lawyers, judges, and other advocates, Rapping proposes a radical cultural shift to a "fiercely client-based ethos" driven by values-based recruitment and training, awakening defenders to their role in upholding an unjust status quo, and a renewed pride in the essential role of moral lawyering in a democratic society.

Through the story of founding Gideon's Promise and anecdotes of his time as a defender and teacher, Rapping reanimates the possibility of public defenders serving as a radical bulwark against government oppression and a megaphone to amplify the voices of those they serve.
Praise For Gideon's Promise: A Public Defender Movement to Transform Criminal Justice…
"Useful reading for anyone interested in helping to change a deeply flawed system."
—Kirkus Reviews

"[Gideon's Promise] is very much a manual for public defenders, at all levels, who want to end mass incarceration. But this is not just a book for public defenders. If you have any interest in the civil rights movement of our time, this book is for you."
—Gideon's Soldiers

"Jonathan Rapping is a true freedom fighter, heroically championing the rights of the condemned and the accused for more than two decades. His courageous and visionary leadership at Gideon's Promise is helping to build a movement of public defense lawyers determined to fight for those who have been discarded in the era of mass incarceration and to transform our criminal punishment system into a justice system—a transformation that is long overdue."
—Michelle Alexander, author of The New Jim Crow

"Public defenders are routinely overlooked in the struggle to end mass incarceration. In this inspiring new book, Jonathan Rapping seeks to change that. He shows us that we can—and must—build a world full of public defenders who fight relentlessly for their clients, partner with communities to resist injustice, and lead movements for radical change."
—James Forman Jr., author of Locking Up Our Own

"With jaw-dropping stories that both infuriate and inspire, Jonathan Rapping takes the reader on a journey through the murky trenches of American criminal justice and pitches public defenders as the unrecognized heroes who can lead us to a better place. Provocative and persuasive, Gideon's Promise is the book a 'woke' Atticus Finch would have written."
—Paul Butler, author of Chokehold

"In Gideon's Promise, Jonathan Rapping tugs at both the heartstrings and our consciences as he challenges America's true commitment to justice. He gracefully articulates the importance of public defenders in our system of justice and rings the alarm at how the system is failing not only the poor but justice itself. With a clear, resonant style, he walks the reader through the grotesque abuses of some of our most vulnerable, while offering solutions that can lift us up to our highest ideals."
—Stacey Abrams, author of Minority Leader

"Over the last half century, America's reactionary investment of billions into police, prosecution, and prisons has resulted in over-incarceration and an extreme, unjust, unreliable system. This important exploration of the role of defenders is a vital and compelling corrective on how we balance the scales of justice."
—Bryan Stevenson, author of Just Mercy

"If we truly believe black lives matter—indeed, that the lives of anyone who has been left behind matter—we must ensure they have a voice in the criminal legal system where so much damage is done. Gideon's Promise cautions us that these voices can never be heard without phenomenal public defenders who must speak for them. If we really care about the dignity of those impacted by our criminal justice policies, we must heed the call of this critically important book and view public defenders as indispensable to any solution."
—Ben Crump, author of Open Season

"As Bryan Stevenson did in Just Mercy, Jonathan Rapping transports us to the front lines of the criminal justice system with a breathtaking book that will both inform and inspire. With superb storytelling, great heart, and overwhelming clarity, Gideon's Promise is must-reading for anyone interested in social justice in America."
—Gilbert King, author of Devil in the Grove
Beacon Press, 9780807064627, 256pp.
Publication Date: August 18, 2020
About the Author
Jonathan Rapping is the founder and president of Gideon's Promise, an organization dedicated to changing the culture and practice of public defense in America. He is a recipient of a MacArthur Foundation "Genius" Grant, which recognized him for his work as a criminal justice innovator. Rapping is a Professor at Atlanta's John Marshall Law School and Harvard Law School and lives in Atlanta, GA with his wife and their two children. Connect with him and his organization at gideonspromise.org and on Twitter (@Gideons_Promise).