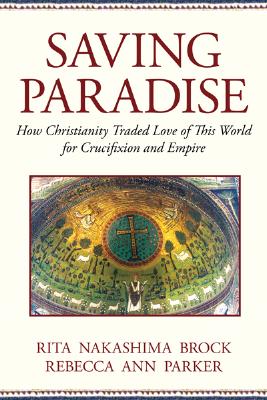 Saving Paradise
How Christianity Traded Love of This World for Crucifixion and Empire
Hardcover

* Individual store prices may vary.
Description
When Rita Brock and Rebecca Parker began traveling the Mediterranean world in search of art depicting the dead, crucified Jesus, they discovered something that traditional histories of Christianity and Christian art had underplayed or sought to explain away: it took Jesus Christ a thousand years to die.

During their first millennium, Christians filled their sanctuaries with images of Christ as a living presence in a vibrant world. He appears as a shepherd, a teacher, a healer, an enthroned god; he is an infant, a youth, and a bearded elder. But he is never dead. When he appears with the cross, he stands in front of it, serene, resurrected. The world around him is ablaze with beauty. These are images of paradise-paradise in this world, permeated and blessed by the presence of God.

But once Jesus perished, dying was virtually all he seemed able to do.

Saving Paradise offers a fascinating new lens on the history of Christianity, from its first centuries to the present day, and asks how its early vision of beauty evolved into one of torture. In tracing the changes in society and theology that marked the medieval emergence of images of Christ crucified, Saving Paradise exposes the imperial strategies embedded in theologies of redemptive violence and sheds new light on Christianity's turn to holy war. It reveals how the New World, established through Christian conquest and colonization, is haunted by the loss of a spiritual understanding of paradise here and now.

Brock and Parker reconstruct the idea that salvation is paradise in this world and in this life, and they offer a bold new theology for saving paradise. They ground justice and peace for humanity in love for the earth and open a new future for Christianity through a theology of redemptive beauty.
Praise For Saving Paradise: How Christianity Traded Love of This World for Crucifixion and Empire…
Only rarely is a single book an event. This book is such a rarity. Rita Brock and Rebecca Parker show that solid scholarship can be expressed with passion and literary grace as they recover the beauty of an earth-loving Christianity lost for a thousand years beneath dry creeds and formulae and poisonous myths of sacralized violence.—Daniel C. Maguire, author of A Moral Creed for All Christians

"Every Christian theologian and preacher should read this book and be profoundly challenged."—James H. Cone, author of Malcolm & Martin & America

"Saving Paradise challenges us to recover an ancient world view that is life transforming and earth affirming. It reminds us of a biblical perspective that does not reserve paradise for the dead but invites the living to find grace, justice, peace and compassion-here and now-amid the jangling discord of violence and war. It may mark the beginning of a paradigm shift in contemporary Christian understanding and interfaith dialogue."—Reverend James A. Forbes, Jr., president and founder of the Healing of the Nations Foundation, senior minister emeritus of the Riverside Church of New York City

"How did Christianity become a religion of finitude and guilt rather than one of promise and celebration? Brock and Parker ran with the evidence, showing us the importance of art, ritual, devotional practices, and liturgical space for early Christians. This tangible past transformed their research and led them to see that paradise in this world lies at the heart of Christianity." —Diane Apostolos-Cappadona, author of Dictionary of Christian Art

"This powerful, unprecedented, and compelling book brings real Christianity out of the shadows. It lights up the religious roots of American society at a time when progressives need to challenge conservative politicians who use Christianity as a false prop for their ideology."—George Lakoff, author of Don't Think of an Elephant!
Beacon Press, 9780807067505, 576pp.
Publication Date: July 1, 2008
or
Not Currently Available for Direct Purchase